Melt away the winter blues with these fun ideas.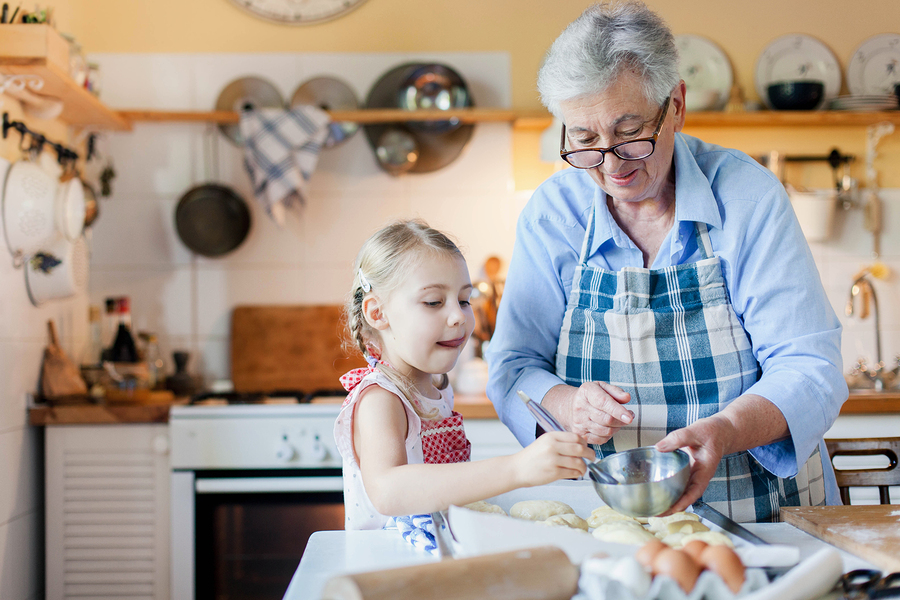 If you are looking for refreshing ways to keep your mind and body active during the cold weather months, we have a few winter-friendly suggestions that may help. Discover how you can melt away the winter blues with these fun and easy cold-weather activities for seniors:
Try a new recipe or bake a favorite dessert
Cozy up with a good book
Create a home-made gift for a loved one
Catch up with family or friends on the phone
Get active with an indoor workout
Pick up a new hobby
Volunteer
Spend time the young people in your life
Learn more about incorporating each of these winter activities into your day below.
Try a new recipe or bake a favorite dessert
Making a delicious meal is one winter weather activity for seniors that can keep you toasty warm. Cooking often not only feels cozy in the winter, but it's good for you too. When you're measuring and reading recipes, it can stimulate the brain and help fight cognitive decline and memory loss – not to mention all the homecooked nutrition that you'll enjoy. If you're not sure what to cook up next, browse through our assortment of healthy recipe ideas, including:
Cozy up with a good book
If getting lost in a story sounds like a nice way to spend a cold winter's day, be sure to put reading at the top of your winter activity bucket-list. Not only is reading an enjoyable hobby for seniors, or anyone, but it also can improve brain function, reduce stress, and help you fall asleep at night. For new literature inspiration, we recommend reviewing the New York Times Bestsellers lists or hop over to our blog for must-read books about hearing loss.
Create a home-made gift for a loved one
If you love knitting, quilting, or crocheting, why not spend these quiet winter days by a warm fire with your chosen activity in hand? It can be just for fun or a purpose, like creating a sentimental gift or donation for someone in need. For instance, you could knit hats to donate to a local homeless shelter, make a quilt for a friend or family member, or crochet a sweater to keep yourself toasty all winter long.
Catch up with family or friends on the phone
If the cold or inclement winter weather is keeping you indoors, consider reaching out to family or friends over the phone. Long, uninterrupted phone calls are the perfect cold weather activity to help you catch up with the people you care about. Setting a weekly or bi-weekly time to chat throughout the season – and the entire year – can help ensure you maintain the bonds with people close to you.
If hearing loss is keeping you from picking up the phone, consider a CapTel Captioned Telephone. This captioned phone for hearing loss can help you catch every word your caller says by showing you on your phone screen. Review these signs to see if a captioned telephone is right for you, and then browse through our guide to selecting a hearing loss telephone model that fits your needs.
Get active with an indoor workout
Indoor exercises can help get the heart pumping and your muscles moving! The U.S. Centers for Disease Control and Prevention suggests that older adults exercise about 150 minutes per week for optimal health. During winter, it's often easiest to accomplish this is with indoor-friendly workouts for seniors like yoga, strength training, and indoor cycling.
To ensure your safety, be sure to check in with your doctor first before trying out a new exercise program.
Pick up a new hobby
Creative hobbies for seniors often provide more than a fun way to pass the time – they can also be good for your health. If you've been tempted to pick up a new skill or try out a new pastime, winter is the perfect time to do so! With so many health benefits of hobbies such as playing games, dancing, and gardening, consider embracing opportunities to develop a new interest that can help you flourish.
Volunteer
Volunteering your time and talents can improve your mood this winter while also helping those in need. There are many ways to get involved in the community, whether it's helping out in a soup kitchen, joining a nonprofit volunteer effort, organizing a donation drive, or something else. Choosing an organization or cause that you are already passionate about can make it even easier to give your time or resources. If you're passionate about helping or supporting children in need, review these five ways to volunteer to help kids.
Spend time with the young people in your life
Stay warm and cozy this winter by spending time indoors with the young ones in your life. These five fun activity ideas with your grandkids can inspire you to make the most of your time together. Making kid-friendly crafts, baking cookies, or playing a board game together are wonderful ways to deepen your bond while making lasting memories!
These cold-weather activities for seniors are fun ways to spend your winter free time. For more senior-friendly tips and ideas, continue to our blog.
To find out whether a CapTel Captioned Telephone is right for you or someone you care about, visit our website or call 800.233.9130 today.