Nourish your body and soul with this time-honored comfort food.
Nothing says comfort like a hot, steamy bowl of oatmeal. Its rich and hearty texture, and deliciously satisfying taste make it a mealtime staple on kitchen tables across the country.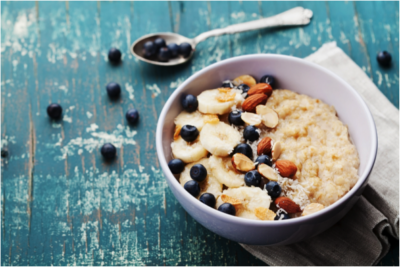 But it's not only enduring comfort that keeps people coming back. Oatmeal also has many health benefits, including:
Lowers cholesterol
Alleviates constipation
Controls blood sugar
Experts warn against packets of instant oatmeal, however. They can be filled with excess sugar and sodium that override its intended health benefit. Instead, stick to plain rolled or steel-cut oats for the best results.
Craving a wholesome bowl of oats? Check out these healthy oatmeal recipes for breakfast, lunch, or dinner:
1. Breakfast: Cinnamon Raisin Oatmeal
This sweet yet healthy oatmeal recipe starts with adding pieces of cinnamon raisin bread while the oatmeal simmers. You can even toss in an extra teaspoon of raisins for more bursts of sweetness. The best part? Cinnamon and raisins may help you in the fight against cavities and high blood sugar. A win-win!
2. Lunch: Veggie & Pesto Oatmeal
This savory, healthy oatmeal recipe calls for spinach, yellow onions, luscious pesto, and garlic – another healthy ingredient that's good for your body. The sunny-side up egg topper adds protein and flavor that will help curb your afternoon snack cravings.
3. Dinner: Spicy Moroccan Oatmeal
Make your taste buds dance tonight with this exotic blend of vegetables, beans, spices, and lemon juice – a refreshing source of vitamin C. Topped with a fresh sprig of mint, this healthy oatmeal recipe may soon be a new favorite on your rotating dinner menu.
Hungry for more? Concoct an original comforting recipe with inspiration from these healthy oatmeal mix-ins:
Graham crackers
Coconut
Peanut butter
Seeds
Granola
Maple syrup
Fresh or dried fruit
Steamed or roasted vegetables
Honey
Chopped nuts
Canned pumpkin
Cheese
Dark chocolate
Spices
Whether you're starting or ending your day – or somewhere in between – these healthy oatmeal recipes for every meal will give your body the fuel it needs to thrive. For more articles on health and wellness, senior living, and hearing loss, visit our ever-growing blog today.