No Cost Captioning Service

Free Installation Support
Read and understand while hearing your caller's voice.
CapTel phones work with a no-cost Captioning Service to show every word your caller says. It's like closed captions on TV, for your phone!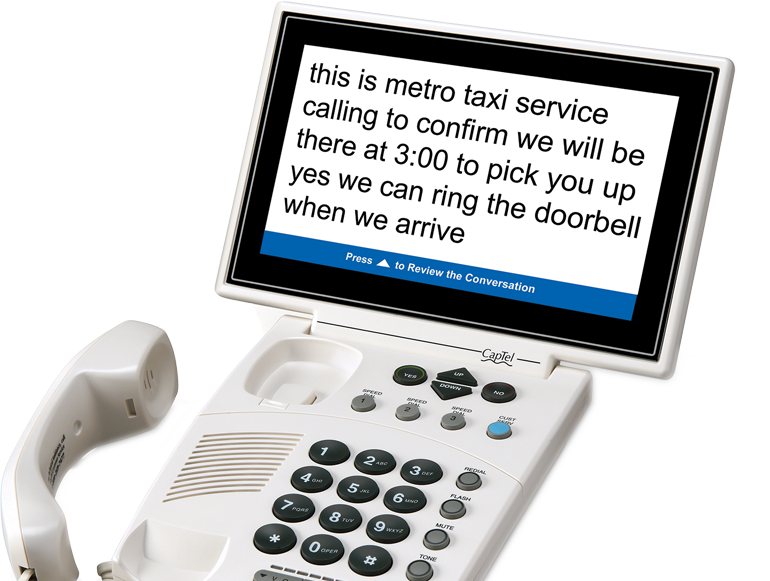 "Mom is happy that she can now communicate with her family and friends"
"I don't know how I could manage without my CapTel phone. It's been a blessing."
"I have not been able to talk on the phone for 10 years. Now I talk to my daughter in New York and my brother in Alaska. Thank you, CapTel."
"I really am so grateful for the CapTel telephone and the service. I cannot put it into words how wonderful it has been."
"CapTel has helped me very much and relieves the stress I used to have when talking on the phone. It's great!"
CapTel 840i
Designed for people who are comfortable with a traditional-style telephone, the CapTel 840i features a large easy-to-read display with built-in answering machine.
CapTel 2400i
For people who prefer touch-screen technology, the CapTel 2400i has a large colorful display, dial-by-picture capability, and a built-in answering machine. Includes Bluetooth® connectivity and speakerphone.
CapTel 880i
Ideal for people with low vision, who have difficulty viewing standard-sized captions, the CapTel 880i has extra large font sizes & display options for easy reading.

CapTel captioning service is provided as part of a federally-funded program, regulated by the FCC, that is designed specifically to help individuals with hearing loss access the telephone.
FEDERAL LAW PROHIBITS ANYONE BUT REGISTERED USERS WITH HEARING LOSS FROM USING INTERNET PROTOCOL (IP) CAPTIONED TELEPHONES WITH THE CAPTIONS TURNED ON. IP Captioned Telephone Service may use a live operator. The operator generates captions of what the other party to the call says. These captions are then sent to your phone. There is a cost for each minute of captions generated, paid from a federally administered fund. No cost is passed on to the CapTel user for using the service.
(v5.4 7-18)
Proud Sponsor
CapTel is active in communities nationwide, helping raise awareness for people with hearing loss. Look for CapTel in your neighborhood!