Ladle up wholesome goodness with these nutritious ideas you can make at home.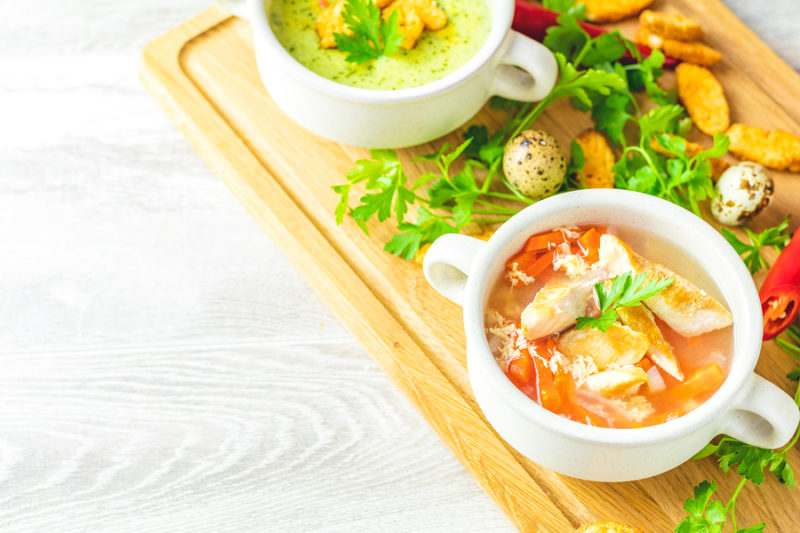 Soups offer a perfect opportunity to add more healthy ingredients like vegetables, beans, herbs, and spices to your diet in a delicious, flavorful bowl you can savor on a cold winter day. They can also be a great way to get everyone around the table to eat their veggies! The health benefits of soup extend to all ages, especially if you choose healthy soup recipes like these:
Lentil Soup
Chipotle Black Bean Tortilla Soup
Garden Vegetable Soup
Creamy Roasted Cauliflower Soup
Veggie Thai Curry Soup
Roasted Carrot Soup
Let's discover these healthy soup recipes and learn more about the health benefits of soup ingredients inside them.
1. Lentil Soup
When it comes to eating well for less, you can't do much better than lentils! They're high in protein and fiber, contain powerful polyphenols, and are associated with lower risk of heart disease. The trick to excellent lentil soup is to make it ultra-savory with spices, notably cumin and coriander. Lentils pair particularly well with veggies such as onion, garlic, celery, and carrot. You could also consider adding in kale, which boasts plenty of health benefits of its own.
2. Chipotle Black Bean Tortilla Soup
Black beans are another nutritional powerhouse in the legume family. Protein and fiber, protection for bones, and improved blood pressure are a few health benefits of this soup and other recipes with black beans. Combining them with veggies and tortilla chips adds a satisfying texture along with a little crunch in this zesty recipe. You can also add lean chicken pieces for more protein and added flavor.
3. Garden Vegetable Soup
When you're in the mood to load up on healthy veggies, you can't beat a classic garden soup. This recipe from Alton Brown is simple, flexible, and highly-rated. Modify it to taste by adding your favorite veggies, spices, and beef or chicken if you want to incorporate more protein. You can also make it even healthier by opting for low-sodium broth. Top with a sprinkle of freshly grated parmesan cheese and serve alongside a slice of warm, crusty bread for a hearty dinner that will warm your heart – and toes – this season.
4. Creamy Roasted Cauliflower Soup
Low in calories, high in vitamins and minerals, and good for the heart, memory, bones, and more, cauliflower is a nutritious addition to a healthy living plan. The vegetable's naturally mild flavor is given more depth by roasting, and it combines well with the other flavor-packed ingredients like garlic and parsley. Blending everything at the end makes a creamy healthy soup recipe that everyone will enjoy.
5. Veggie Thai Curry Soup
Are you a spice lover? Bring some exotic flavors into your kitchen with this produce-packed Thai curry. Create the red curry paste from ingredients like chili, lemongrass, turmeric, and garlic, which all boast plenty of flavor and health benefits. The addition of lime adds a bright, tangy dimension to this healthy soup. Tossing in chopped tofu made from soy adds plenty of protein, iron, and calcium to boot.
6. Roasted Carrot Soup
The final healthy soup recipe on our list features wholesome carrots. Roasting these bright orange veggies brings out a deep, rich sweetness. It does the same for onions, another star in this recipe, and the combination (plus spices) results in an explosion of flavors. To suit this dish to your taste, you can experiment with adding any other veggies or spices or try using coconut milk instead of yogurt. Carrots are known for containing plenty of vitamin A, which is good for eye health and immunity, and they're loaded with antioxidants noted for their  cancer preventing health benefits.
Whether you make these or other healthy soup recipes this season, you're sure to feel nourished and warm all winter long. Check out more healthy living ideas on our blog today!