Indulge this weekend guilt-free with these low-cal versions of the Italian classic.
Did you know that U.S. adults spend about $33 billion at quick-service pizza restaurants each year? Though it can be tempting to call in an order for a quick takeout meal, it is often healthier – and more delicious – to make a homemade pizza at home instead. In honor of National Pizza Day, have one of these healthy homemade pizza recipes instead of takeout tonight!
Mushroom and Arugula Pizza
Who says a good pizza must have meat? If you want a healthier pie without sacrificing flavor, go for the savory medley of mushroom and arugula. In this lightened-up recipe, the mushrooms lend a hearty, meat-like texture without all the saturated fat and sodium of traditional pizza sausage or pepperoni. Rich in anti-inflammatory and disease-fighting vitamins and minerals, the superfood compounds in arugula also give this recipe a peppery finish that does your body good.
Mediterranean Cauliflower Pizza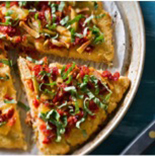 If you are sensitive to gluten or are just looking for a lower carb pizza option, the Mediterranean Cauliflower Pizza may be right up your alley. This healthy homemade pizza is made with a cauliflower crust that closely resembles a traditional pie, but has an added benefit of rich nutrients that experts believe can reduce your risk of heart disease and cancer. The Mediterranean good-for-you toppings, like sundried tomatoes and olives, offer an exotic mix of colors and textures. Try adding artichokes and crumbling feta or goat cheese on top for even more rave reviews.
Tomato-Ricotta Pizza
This dish may soon to be one of your favorite healthy pizza recipes! A homemade tomato-ricotta pizza tastes light and fresh when made with ripened red tomatoes and high-quality ricotta. The cooked tomatoes provide rich, disease-fighting antioxidants, like lycopene, while ricotta is high in protein and calcium. This healthy pizza option is lower in calories but still has the time-honored flavors you're sure to savor.
Hasselback Zucchini "Pizzas"
If you're looking for a simple homemade pizza that's good for you, check out these Hasselback Zucchini "Pizzas." Using zucchini instead of a crust, this healthy twist on the Italian classic can easily be a finger-food appetizer or a meal. It features all the traditional pizza flavors of pepperoni, cheese, and sauce, but with the weight-loss promoting benefits of low-calorie, high fiber zucchini.
Try these healthy homemade pizza recipes when you want to indulge in a pie without sacrificing a balanced diet. The only question now is – which one will you try first?
For more healthy recipes aimed to help you live your best life, check out these best healthy oatmeal recipes for every meal here.