Discover five healthy reasons to get your groove on!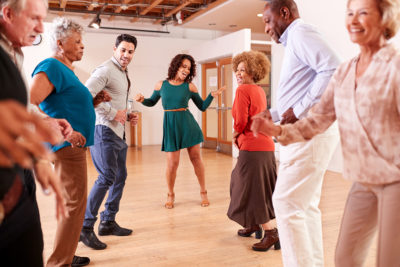 Whether you're a jitterbug champion or you think you have two left feet, hitting the dance floor is a good idea because it's healthy! Dancing offers a wide range of life-improving benefits particularly for seniors. Of course, it's best to check with your doctor before starting any new activity, including dancing.
What are the health benefits of dancing? They range from physical to mental and emotional. Here are just some of the health benefits of dancing for seniors:
Improves strength and balance
Lessens joint pain
Boosts heart health
Sharpens your brain
Gives you energy & happiness
Read on to learn more about these possible health benefits of dancing for seniors.
Improves strength and balance
Any style of dance can help improve muscular strength and endurance. Whether your vibe is jazz, ballroom, swing, Latin, modern, or something else, dive in and give it your all! The muscle strength and improved flexibility also lead to better balance, potentially helping to prevent falls. Feeling comfortable and confident in your body's movements both on and off the dance floor is one of the best gifts of dance.
Lessens joint pain
If you suffer from painful joints, especially knees and hips, you might not feel much like dancing. However, regular low-impact dance has been shown to reduce joint pain and improve flexibility, which is another health benefit of dancing for seniors. If your doctor says it's okay, consider adding dance to your weekly routine to see if it's helpful for your joint pain. It's always smart to start slowly as you ease yourself into new exercises and ramp up the intensity over time.
Looking for another joint-friendly exercise for seniors? Jump in the pool! Learn more about the health benefits of swimming on our blog.
Boosts heart health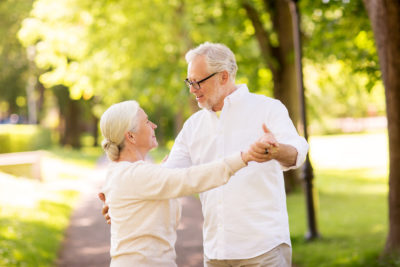 Dance is well-known as a cardiovascular workout, especially the fast-paced styles that get your heart rate up. Boosting your heart health through moderate-intensity dance is linked to lower mortality risk from cardiovascular disease. To take advantage of this health benefit of dancing, you may be interested in joining a dance cardio class designed for aerobic benefits, like Zumba or Jazzercise.
Check out more about cardio dance exercises for seniors and get ready to sashay the night away!
Sharpens your brain
Exercise, in general, promotes neuron growth and healthy brain function. Dance, in particular, is associated with a lower risk of dementia, making it yet another appealing long-term health benefit. But that's not the only way dancing can help sharpen your brain. It's excellent for short-term sharpness as well! According to medical journals, dance activates the temporal and prefrontal cortexes of the brain, helping you think faster.
Learn more ways to keep your brain sharp with these memory games and puzzles for seniors on our blog.
Gives you energy & happiness
Dancing is one of the best ways to physically express happiness, and it also helps keep you happy. The source of this joy and energy can be a combination of the physical movement itself, the social connections you make through dance, and the music you're dancing to. Three quality-of-life boosters in one! For those struggling with depression, dance is shown to be a positive form of therapy.
If you enjoy the camaraderie of dance, check out these social tips for people with hearing loss to help you get the most from your interactions with others.
With so many health benefits of dancing for seniors, you may feel compelled to grab a friend or partner to learn the foxtrot, waltz, or tango! Check out more health and wellness research and tips on our blog.