Sashay the night away with these senior-friendly cardio dance styles.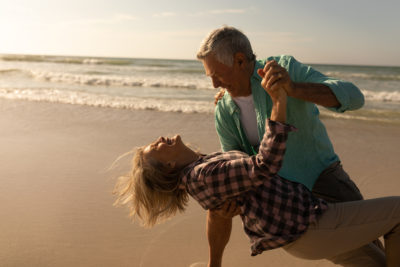 September is National Square Dance Month, which means it's time to put on your dancing shoes and bust a move! Whether its square or any other kind of dancing, getting your groove on is a wonderful activity for seniors (or people of all ages). It comes with many feel-good health benefits, including boosting mental agility and enhancing balance. In honor of this month of dance, we're covering senior-friendly dance moves that might interest you. As with any new activity, it's best to check with your doctor to ensure that dancing is safe for you before you give these a try:
Square dancing
Jazzercise
Tap dancing
Line dancing
Ballroom dancing
Dance cardio
Learn more about these different dance exercises for seniors below.
Square dancing
This country style of dance is fast-moving, which makes it a great cardio workout for seniors and all ages. Four couples, or eight dancers total, arrange themselves in a square. Partners dance together while a caller tells them what moves to complete next. Some of the most common square-dancing steps include the Circle Left, where all eight dancers join hands and walk in a left circle. In the Do Si Do, you face your partner and step past each other passing right shoulders. Without turning around, you step back-to-back then back up, and pass left shoulders until you are in front of your partner again.
Learn more about the fundamental calls for square dancing here.
Jazzercise
Jazzercise® has been around since 1969 as a popular dance style for a full-body cardio workout. Started by Judi Sheppard Missett, Jazzercise is the first dance party workout that was on the scene well before Zumba. It doesn't require a partner or any special equipment other than comfortable attire and plenty of water for staying hydrated. The idea is simply to follow a choreographed series of moves set to upbeat music. Some of today's classes involve dancing along with combined elements of yoga, kickboxing, and strength training. With low-impact and "lite" fitness class options available, Jazzercise is a great option for seniors, or anyone, who want to add more cardio to their routine.
To find a Jazzercise class for seniors near you, enter your location into the red bar on this page. Searching "jazzercise for seniors near me" in Google or your favorite search engine is another place to start. Finally, you may also want to check your local senior center, YMCA, or other health centers to see if they offer Jazzercise.
Tap dancing
Fans of Broadway musicals and classic movies may really enjoy this next dance exercise for seniors. If Gene Kelly's performance in Dancing in the Rain makes you want to boogie, then consider tap dancing! This full-body workout elevates the heart rate for a healthy cardiovascular exercise where you can burn between 200-600 calories per hour. Tap dancing also helps build leg strength, balance, and agility – all while having fun and socializing with others. To get started with tap, look for an adult beginner class in your area, and invest in a comfortable pair of tap shoes to begin.
If you're interested in learning more about what to expect at a tap dancing class, review these four beginner's moves you might learn in your first few sessions.
Line dancing
With line dancing, you get the social aspects of dance without leading or following a partner. One of the most common line dances is the Cupid Shuffle. In this dance, you'll start with eight counts of side steps in both directions followed with eight counts of heel steps in place. Lastly, you'll do eight counts of stepping in place to turn ¼ to the left – and repeat it all! Find a tutorial for the Cupid Shuffle as well as the Wobble and Cowboy Boogie here.
If you are interested in this fun and easy dance exercise for seniors, consider finding a class in your area or looking online for tutorial videos or articles.
Ballroom dancing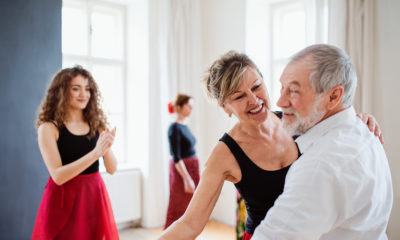 Ballroom dancing is another fantastic way to socialize and exercise at the same time. Consider taking a senior-friendly dance class to meet others with similar interests. Whether you're into salsa, the foxtrot, or a good old-fashioned waltz, a ballroom dance class can help you break a sweat with friends or your significant other. Don't have a partner? No problem! Most instructors will choose to pair up students once the class begins. If you take a private lesson, your instructor will be your partner.
Find video tutorials on the dance moves for common ballroom dances such as the cha-cha, rumba, salsa, and foxtrot here. When you're ready to try a class, look for ballroom dancing studios in your area.
Dance cardio
A modern twist on aerobics, dance cardio for seniors allows you to reap the benefits of movement, whether at home or in a class. This contemporary dance routine usually incorporates classic workouts such as lunges and abdominal work but takes traditional choreography up a notch for a full-body experience.
Just getting started with dance cardio? Review these three basic moves to try at home, as well as classes that may be offered in your community.
These dance exercises for seniors can be a fun way to boost your mental and physical health. With so many ways to twist and shake the night away, perhaps this National Square Dance Month will inspire you to try something new.
As a reminder, be sure to talk to your doctor before incorporating new forms of exercise into your routine. For more senior living ideas and tips, head to our blog.