Make these grab-and-go healthy breakfasts when you're on-the-run.
While many say that breakfast is the most important meal of the day, we've all had those mornings when we're too stretched for time to enjoy a nutritious bite to eat. The solution: healthy breakfast ideas you can have ready in a flash! Try one of these seven healthy breakfast ideas below in honor of Better Breakfast Month:
Whole-grain breakfast sandwich
Apples and bananas
Overnight oats
Fruit and protein smoothie
Low-sugar parfait
Nutritious blueberry muffins
Breakfast burrito
Follow the links in the entries to see recipes to make these healthy breakfast ideas.
Whole-grain breakfast sandwich
Instead of hopping in a drive-through line for a breakfast sandwich, build your own using healthy ingredients! The beauty of this quick and healthy breakfast idea is that it's so customizable to your tastes. For instance, try this sautéed veggie and egg recipe or this mushroom melt. Or create a combination of your own. Choose whole-grain bagels or whole-wheat English muffins as your base, try to feature a veggie or two with your egg, avoid processed meats, and you'll be on your healthy way.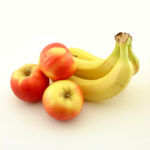 Apples and bananas
These two fruits are nature's original handheld meals! You can't find a more simple healthy breakfast idea than grabbing one – or both – from the fruit bowl to munch on-the-go. If you have a few extra minutes before you head out the door, pair either with nut butter or low-fat cottage cheese. You'll be giving yourself a healthy dose of added protein, fat, and calories that can help sustain you until lunchtime.
Overnight oats
Oatmeal takes time to cook, but that's not the case with overnight oats! As the name implies, you do all your prep the night before, and it's ready by breakfast. They're usually eaten cold, so all you need to do is take it out of the fridge and grab a spoon. Just like breakfast sandwiches, overnight oats are ultra-customizable, since oats will soak up whatever flavors you decide to mix in. For instance, try peanut butter overnight oats, or a standard recipe with mix-ins like fruit, cinnamon, and seeds. Oats are incredibly nutritious and heart-healthy, with the power to lower cholesterol, blood sugar, and weight.
Fruit and protein smoothie
On those rushed mornings, get the day started with a quick and healthy frozen smoothie for breakfast. Select your fruits (and even veggies!) of choice, blend them up with a liquid, and optionally stir in protein powder to round out the nutrient mix. For a fun experiment, see how many different colors of smoothies you can make—be it yellow mango-pineapple, red strawberry-watermelon, blue berry, or green from a kick of kale or avocado. Flip through these 39 smoothie recipes to get inspired!
Low-sugar parfait
Another healthy breakfast idea is one that almost looks too good to eat!  A parfait layers yogurt with add-ins like granola and fruit. However, many packaged yogurts are packed full of sugar, so it's best to choose an unsweetened variety like plain Greek or regular. Instead, you can get your sweetness from natural fruit sources like blueberries, strawberries, apples, and more. Try one of these healthy parfait recipes to help fulfill your cravings for indulgent treats like peach cobbler and apple pie!
Nutritious blueberry muffins
The burst of sweet fruit flavor in this quick and healthy breakfast idea will make you forget you're eating something nutritious. These blueberry muffins use whole-wheat instead of all-purpose flour to add fiber and nutrients.  Honey or maple syrup in place of granular sugar helps add a bit of natural sweetness and reduce the overall sugar content. These nutritious handheld confections are also studded with blueberries that are so healthy that we wrote a whole article on their benefits. Make these delicious muffins ahead from just a few basic ingredients (you may already have everything you need in your kitchen!), and they'll be all set to grab-and-go in the morning.
Breakfast burrito
And that's a wrap! Literally—a quick and healthy breakfast wrap is another idea that you can customize with your favorite ingredients and take them on-the-go. Fill them with potatoes, onions, peppers, salsa, egg, beans, avocado, mushroom, tomato, spices, and whatever else you might dream up. On a day off, try prepping a large mix of ingredients so you can quickly assemble and go in the morning. Choose whole-wheat tortillas with plenty of healthy fiber, and use an assortment of different fillings using inspiration from these healthy breakfast burrito recipes.
Looking for more articles on healthy eating? Find them on our health and wellness blog.
To learn how CapTel phone captioning technology can help you stay connected to friends and family, call 800.233.9130 today.