Keep your mind sharp with these traditional and app-based brain exercises.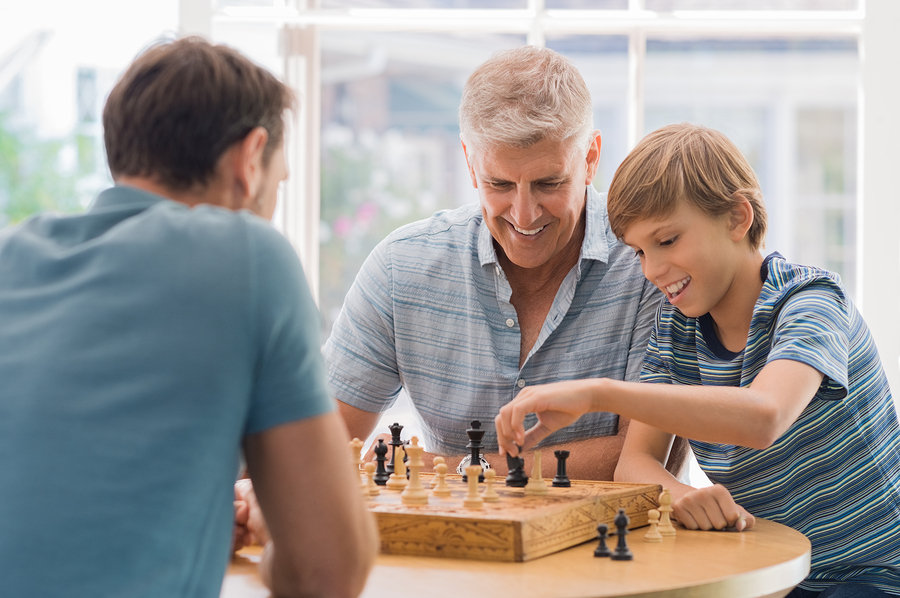 Memory games for seniors are one way to keep your mind sharp – and have fun while you're at it! In addition to boosting memory, brain exercises can also help improve other cognitive functions like attention and processing speed. From traditional to online app-based options, here are a few memory games and puzzles to consider when looking for one for you:
Chess
Sudoku
Lumosity®
Dakim®
Concentration (Memory or Match)
Learn more about how each of these brain-training games can help seniors stay sharp below.
1. Chess
Chess is a game of strategy, and so it's no surprise that it's also a brain sharpener! During a chess match, your problem-solving and recognition areas of the brain are activated, especially when you play it often over time. In addition to boosting your memory, chess may also be beneficial to play along with your grandkids! A study of schoolchildren found that the playing chess may improve IQ, math skills, critical thinking, and even verbal skills.
Check out more things to do with your grandkids this winter here.
2. Sudoku
What pairs better than a Sudoku puzzle and a morning cup of coffee? This online or paper-based numbers puzzle makes our list of memory games for seniors because it can help protect cognitive function and teach your brain a new way to think. Through logical decision-making and pattern recognition, this brain exercise requires you to fill in nine boxes of numbers without repeating. You don't need any math or trivia knowledge, it's relaxing to play, lets you take your time, and feels fulfilling to solve. Find Sudoku free in your local newspaper and other print publications, online, or purchase puzzle books from a convenience store.
3. Lumosity
As brain exercise apps go, Lumosity is one of the most well-known options out there. Once you create a free account online, you'll have access to a wide variety of fun mini-games designed to help people of all ages improve their cognitive functioning in the following key areas: memory, attention, flexibility, speed, and problem-solving. Lumosity states that its memory games and puzzles are based on scientific research on the best ways to enhance cognitive performance.
Browse Lumosity memory games and puzzles for seniors, including matching and other recall brain exercises.
4. Dakim
With the online app Dakim, you can choose from over 100 memory games and puzzles geared toward improving recall, language, attention, and concentration skills. They use patented "NuroLogic Technology," which is designed to function as a personal trainer for your brain, providing real-time feedback and modifications which will give you a comprehensive mental workout.
5. Concentration (Memory or Match)
You may remember Concentration (sometimes called Memory or Match) as a favorite board game for kids, but it's also a fun and highly interactive memory game for seniors. The goal is to find two matching cards choose from a grid pattern. The trick is remembering where each unmatched card is located. It's easy to play on your own or with a partner – kids love this one too! You can modify this brain exercise using traditional playing cards or try this online version for free.
Looking for more fun activities to help stay sharp? Check out this article with eight more exercises for your mind.
Memory games and puzzles for seniors can be both challenging and enjoyable. Experiment with these ideas or other brain exercises to see which one you like the best. For more articles on senior living, head to our blog today.