Improve your travel experience with these handy accessories!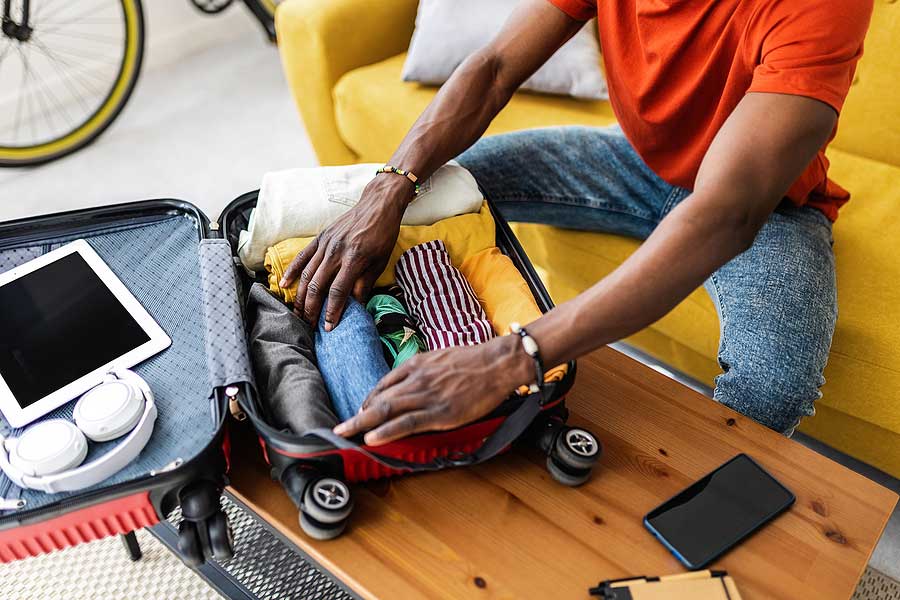 Traveling with hearing loss can be a fantastic experience, especially when you're well-prepared! If you've made travel resolutions this year, now's the time to start planning your trips and stocking up on the things you'll need.
We've rounded up a few accessories you can add to your list to make traveling with hearing loss more seamless and fun!
They include:
A smartphone (with apps)
Multi-use chargers
Earplugs
Travel sunscreen
A packable sun hat
Extra hearing aid supplies
Waterproof coat & dry bag
Portable power bank
You might already have some of the items on this list, so let's dive into the ways they'll come in handy while traveling with hearing loss.
A smartphone (with apps)
If you already have a smartphone, most of the work for this tip is already done! But a lot of the value of these useful devices is in all the helpful apps available with them. Check out these eight hearing loss travel apps that can help you do everything from transcribing live conversations to measuring the noise levels around you.
Multi-use chargers
An excellent travel charging adapter can go with you anywhere! Ideally, they should have the correct plugs for multiple countries, multiple USB ports so you can charge several devices at once (e.g. phone and hearing aids), and safety features to protect your gadgets from power surges.
Earplugs
When you're traveling with hearing loss, it's good to prepare for any type of noise situation you may find yourself in. The resort next door could have a fireworks show, or you might walk past a construction site with noisy power tools, or the airport might be louder than you expected. Not a problem when you have earplugs in your pocket!
Travel sunscreen
Are you craving a sunny vacation? The sun's rays are warm and comforting but don't forget to factor in skin protection. Our tips on caring for your ears while away from home include bringing a good sunscreen and remembering to apply it to your ears. If you're heading to a tropical spot, be sure to check that your brand is also reef-safe to preserve the beautiful nature you're enjoying.
A packable sun hat
In tandem with the above tip, a sun hat can help protect your ears, eyes, and the rest of your face from those damaging UV rays. A quality, packable sun hat will fold easily into the rest of your luggage, without sacrificing style.
Extra hearing aid supplies
If you're traveling with hearing loss and wear hearing aids, there's a collection of accessories to remember specifically for them. Your hearing aid packing list might include a small dehumidifier, extra charging cords and batteries, and a simple cleaning kit so you can be fresh and ready to go on your adventures each day.
Waterproof coat & dry bag
This tip is especially important if you're going on a tropical vacation or to a place with frequent rain or snow. Keeping your hearing technology dry should be a top priority. Invest in a good raincoat and a small dry bag that can fit your phone, hearing tech, and other essentials. This way, you can go to the beach, the pool, snorkeling expeditions, waterfall hiking, or just out and about on a rainy day, worry-free!
Portable power bank
If you expect to be on the move a lot during your getaway, it's smart to have a power source with you! With a portable power bank, you can charge your devices no matter where you are — hiking up a mountain, sailing the high seas, or riding public transportation.
Feeling ready to hit the road (or the airport)? Now all you have to do is pick your destination! Check out some of the best road trip destinations or family vacation spots for travelers with hearing loss.