Spread some holiday cheer with these festive entertaining ideas.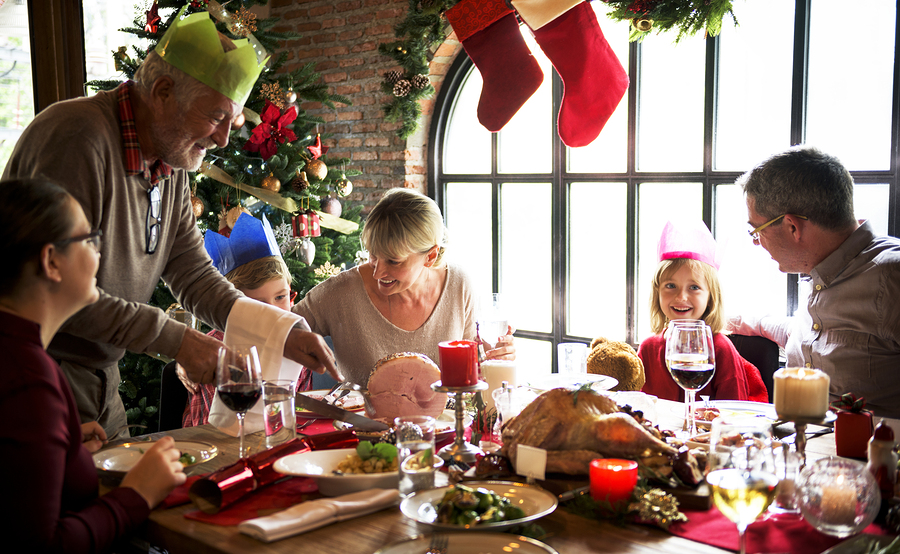 Hosting a party or gathering comes with the reward of togetherness, laughter, and fun memories with family and friends. If you're planning to invite others to your home this season, consider some of these holiday party entertaining ideas for seniors to make your get-together a success!
Craft decorations with the grandkids
Gather around the table for a healthy meal
Serve a festive cocktail (or "mocktail")
Play memory-boosting games
Host a donation drive
Organize a "white elephant" exchange
Learn more about implementing these holiday party entertaining ideas for seniors below.
Craft decorations with the grandkids
In the days leading up to your holiday party, or during the party itself if you have young guests attending, you can transform your home into a festive, welcoming space by inviting them to participate in a crafting session. If you're entertaining during the fall, try harvest-themed Thanksgiving decorations like colorful paper leaves, a corn centerpiece, or decorated pumpkins. If you're decorating for winter or Christmas, you can make pinecone wreaths, paper pine trees, and suspended snowflakes.
Check out more fall and winter activities to do with your grandkids on our blog.
Gather around the table for a healthy meal
Enjoying a homecooked meal around the table with people you care about is one of the best holiday party entertaining ideas for seniors! Instead of calorie-rich dishes, consider taking your party menus in a healthier direction this year. Browse through some of our ideas like these healthy Thanksgiving recipes, healthy soup recipes, and healthy dessert recipes for inspiration. Or, make classic holiday recipes with healthier ingredient substitutions for a nutritious spin on festive favorites.
Check out these tips for navigating holiday gatherings with hearing loss to help you enjoy celebratory meals together this season.
Serve a festive cocktail (or "mocktail" that doesn't contain alcohol)
You don't need a fully stocked bar when entertaining guests over the holidays. Instead, consider picking a simple yet festive drink recipe as the featured cocktail for your party. Whether your beverage of choice contains alcohol or not, you can arrange the mixers with a recipe card for guests to mix themselves. For instance, grab ingredients for this Moscow Mule recipe (and those who choose can add vodka to taste). Or select one of these cranberry cocktail recipes for a beautiful festive color. On a chilly fall or winter evening, hot mulled cider is sure to keep your guests cozy and warm.
Play memory-boosting games
This holiday party entertaining idea for seniors – or anyone – is sure to be a hit with guests of all ages. Memory-boosting group card games, like Texas Hold 'Em with your adult friends or Go Fish or Memory for younger guests, will exercise your brain as you enjoy the company of others. If you enjoy word-based games, play a fun game of Boggle or Scrabble to help improve vocabulary and cognitive function. If you have between 6-28 guests, you could even turn the night into a murder mystery where each guest becomes a character, and you work together to solve the mystery.
Host a donation drive
If you'd like to infuse the giving spirit of the holidays into your festive gathering, consider hosting a holiday donation drive. Whether you'd like to collect food, clothing, funds, or other necessities for an organization in need, let your guests know what contributions they can bring to benefit the cause you've chosen. After the party, gather all the donations and deliver them to your local food bank or charity.
Learn more ways to be charitable on our blog and consider helping these charities that support hearing loss!
Organize a "white elephant" exchange
This idea is a fun way to incorporate gift-giving in your holiday party without the pressure for attendees to bring an armful of presents for everyone. With a white elephant gift exchange, everyone will bring one gift (not intended for any specific person). During the exchange, players will choose and unwrap gifts from the gift pool, then decide whether to keep it or steal someone else's gift. The organizer of the game can specify rules, like a suggested gift value and whether they should be good gifts or if "prank" presents are okay.
With these holiday party entertaining ideas for seniors, you'll be ready to show your guests a good time this season. Make your invitations by calling with a CapTel captioned telephone. To learn how these phones for hearing loss can help you stay connected to family and friends, visit our website or call 800.233.9130 today.