Plan a fun-filled fall weekend with these seasonal kid-friendly ideas.
Fall is officially here! Many people choose autumn as their favorite time of year, and it's no wonder: it heralds cool air, cozy clothing, and lots of fun seasonal activities. If you're planning to enjoy this wonderful season with little ones in tow, consider planning some of these fun fall activities to do with your grandkids!
Go fruit picking
Decorate pumpkins
Enjoy the leaves
Teach a family recipe
Navigate a corn maze
Attend a fall festival
Make autumn crafts
Keep reading to learn more about these fall activities to do with your grandkids below.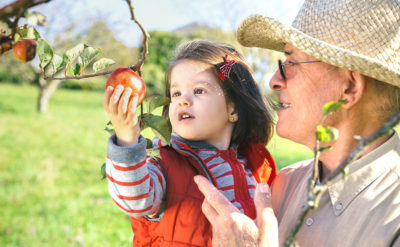 Go fruit picking
Apple picking and pumpkin picking are two classic fall activities where you can get outdoors and have some fun (with something to show for it afterward!). Choose apples, and you can use the fruits of your labor for apple bobbing or whip up a pie. If you choose the pumpkins, you can take them home and use them for the next fall activity to do with your grandkids.
Decorate pumpkins
Decorating pumpkins can be tailored, depending on your grandkids' ages. Little ones might not be quite ready to create intricate designs with a carving knife, but they can paint faces, glue on straw hair, and try a myriad of other no-carve decorating ideas. You can even "dare" them to help you scoop out the slimy insides for a fun fall activity sure to make them squeal with laughter! Older kids can step it up by carving a classic jack-o-lantern in a design of their imagination or follow a pattern. They can even post it online and compete for Instagram likes!
Enjoy the leaves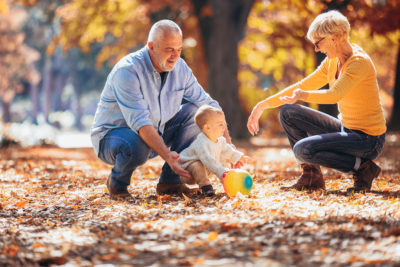 Fall is all about the brightly colored foliage, and there are plenty of ways to enjoy it with the grandkids. Get active together by going on a walk in search of a great view of the multi-colored trees. Or, stay in your backyard and rake up a leaf pile to jump in. You could also take pictures of nature's beauty while you're out and about and create a photo collage together. Save any favorite leaves, and use books to press and preserve them for scrapbooks or art projects. If you make it an annual tradition, the grandkids will be able to look back at their favorite leaves from each year and remember the fun!
Navigate a corn maze
Team up with the grandkids to solve corn maze puzzles and find your way back out. Check this directory for some of the country's bigger mazes, or head to a local farm you know nearby. If the grandkids are a little older and want a few frights in their fall attractions instead, you could take them on a haunted hayride and laugh your way through ghosts and zombies together.
Attend a fall festival
Fall is prime festival season. At most of these events, you'll find a variety of fun and kid-friendly fall activities to do like carnival rides, face-painting, live music, and delicious food and drink from area vendors. Wander around together with mugs of warm apple cider or hot chocolate and see the sights. If you want to make a trip out of it, pick one of these festivals around the country and hit the road!
Before you go, check out this infographic on road trip tips with hearing loss to help you navigate your adventure with ease. If you enjoy road travel in the autumn months, check out these scenic hearing loss-friendly places to travel in the fall.
Teach a family recipe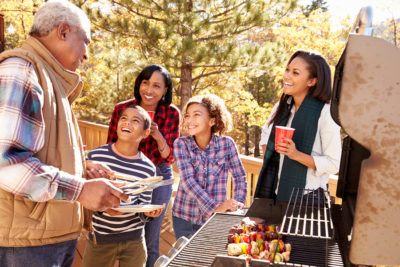 Passing down recipes can be a fun fall activity to do with your grandkids, and it also makes a cherished family tradition that lasts for generations. Choose a recipe you remember from your childhood featuring classic fall produce like apples, pears, squash, sweet potatoes, and other in-season fruits and veggies. Sweet or savory is up to you and your grandkids! Or, you could spend a day designing a three-course meal featuring your favorite family dishes. Soups and pies are simple and delicious fall options to create together.
Make autumn crafts
Decorating the house for fall can be another fall activity that's fun to do with your grandkids. Have them pick a fall craft idea they want to try, then head to your local craft store for supplies. From paper pumpkins and leaf silhouette designs to fall wreaths and Halloween decorations, unleash your collective creativity as you customize each craft!
Are you excited to make the most of the season with these fall activities to do with your grandkids? Keep the fun going as the weather turns colder with these fun things to do with your grandkids this winter from our blog.
If you're looking for ways to enjoy the season after the little ones have gone home, try out these fall activities for seniors. From autumn planting to catching up with friends, there are plenty of seasonally inspired ways to welcome fall.
If hearing loss prevents you from staying connected to those you care about, visit our website or call 800.233.9130 to learn how a CapTel captioned telephone can help.