Enjoy the crisp weather and beautiful fall scenery from coast to coast.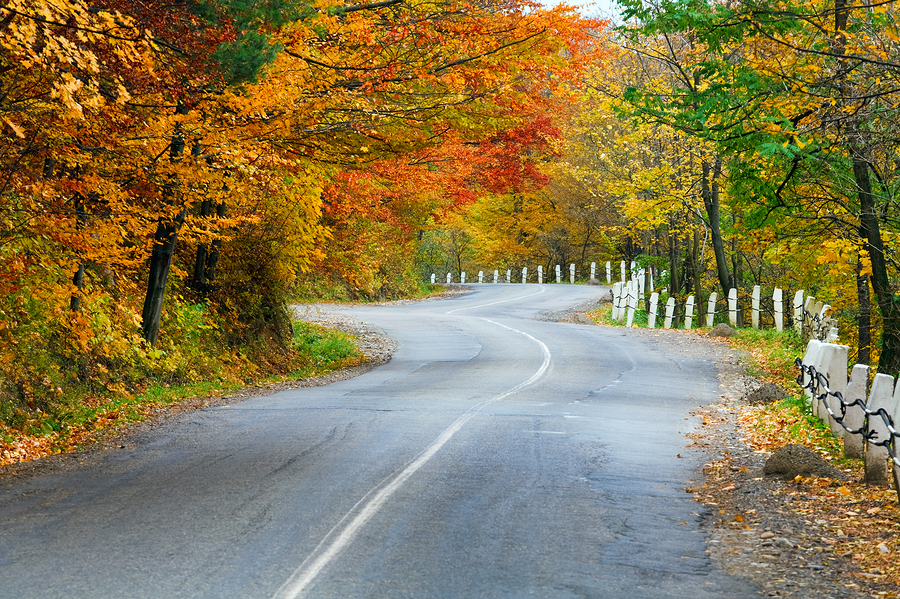 Autumn can be an incredible time to take in nature's bounty. The air is crisp, the fall foliage is lighting up in eye-catching colors, and apple- and pumpkin-spiced everything take center stage. For some of the most breathtaking autumnal scenery across the country, visit one of these stunning hearing loss-friendly places to travel in fall:
The Arkansas Ozarks
Waterbury, Vermont
Portland, Maine
Seattle, WA
The Michigan Gold Coast
Keep reading to learn about these beautiful places to enjoy fall scenery – from coast to coast, and in-between.
1. The Arkansas Ozarks
The rugged beauty of the Ozark Mountain Region spans from mountain vistas to waterfalls, making it a haven for outdoors lovers. Fall in the Ozarks is an extraordinary time of year, especially if you plan for peak fall scenery in late October through early November. For a close-up glimpse of the seasonal beauty, check out Buffalo National River in St. Joe where you'll not only find fall colors, but also caves, cliffs, waterfalls, springs, and multi-colored bluffs that flank the water. Head to any ranger station at the park where you can find an Accessibility Guide that explains the accessibility features of the park's programs and facilities. You'll also find a TDD-equipped telephone at headquarters for visitors with hearing loss.
When you're ready for a day indoors, head a couple of hours east to the Crystal Bridges Museum of American Art in Bentonville to admire their beautiful collection and architecture exhibits. The museum provides assistive listening devices to help guests with hearing loss enjoy lectures and events.
2. Waterbury, Vermont
New England has a well-deserved reputation for jaw-dropping fall scenery, and there's no better place to enjoy it than Waterbury. Waterbury deserves a feature on this list of scenic places to travel in fall thanks to its beautiful foliage – and the delicious apple cider at Cold Hollow Cider Mill. Enjoy a hearing loss-friendly self-guided tour at no charge from 8 a.m. to 6 p.m. Don't forget to load up on fresh maple syrup while you're there!
Check out these other beautiful New England spots in Vermont, Maine, Massachusetts, Connecticut, and beyond where you can enjoy fall scenery.
3. Shenandoah Valley, Virginia
Scenic mountainous landscapes, charming downtowns, and craft spirits tastings dot the picturesque Shenandoah Valley. While you're there, carefully cruise along the narrowly winding Skyline Drive, which spans the Shenandoah National Park. Be prepared to stop for photo ops around every curve! If you can plan your trip route to include the Blue Ridge Parkway, you'll get two beautiful fall foliage drives at once.
Before heading home, check out the accessible complex at Center in the Square in Roanoke, the largest city in the Valley. Here, you can enjoy sights at the fine arts, history, and science museums. You can also take in a show at the Mill Mountain Theatre where amplified audio units and sign language interpretation are available every third Saturday afternoon.
4. Seattle, Washington
Don't worry, West-Coasters: you don't have to cross the country for a fun autumn getaway! The fall weather in Seattle is usually pleasant, with September and October considered a sweet spot before the infamous rains ramp up in November. Explore the Olympic Peninsula to peep some unforgettable fall foliage colors, whether by foot, bike, car, or even kayak.
If you do happen to have a rainy day during your trip, spend it enjoying the arts at Seattle's many accessible venues. Families can enjoy a show at the Seattle Children's Theater, while cinema-lovers can catch an open-captioned movie at theaters around Washington.
Check out these other hearing-loss friendly attractions during your visit to Seattle.
5. The Michigan Gold Coast
Autumn road-trippers in the Midwest shouldn't miss the scenic lakeshore route along Michigan's Gold Coast. Head south under maple and poplar tree tunnels at Grand Haven toward Holland where you can jump on the famed Blue Star Highway. Enjoy mixing views of Lake Michigan and fiery-leafed oak and maple trees along your coastal route where you'll find dozens of hearing looped facilities along the way.
Whether you're already dreaming of these scenic places to travel in fall or you're planning to enjoy the sights close to home instead, enjoy all the autumnal views that mark this season of beauty.
Keep reading our blog for more articles on traveling and living with hearing loss.