Having hearing loss doesn't mean you have to miss out on the most interesting and exciting destinations of the city you live in. This is especially true of Seattle, Washington, where Let's Loop Seattle has provided over 50 attractions, from museums to places of worship, with hearing loops. This allows people with hearing aids to simply turn on the telecoil on their devices to get the full experience without having to rent special devices or sit near the speaker. Here are some of the most hearing loss-friendly activities for Seattleites and tourists:
Whale watching
You spend 4.5 hours aboard the Chilkat Express, a luxurious boat complete with a cage and GPS mapping on this whale watching tour from Puget Sound Express. In addition to seeing orca whales off the coast of Washington, you'll also witness porpoises, dolphins, otters and more. The boat also doesn't have any propellers, making it one of the quietest boats available, so it's easy for everyone to hear onboard.
Asian Art Museum
The Seattle Asian Art Museum offers visitors sign language tours upon request with notice, "art beyond sight" tours, as well as enhanced wheelchair accessibility. Housed in a 1933 Art Deco building in Volunteer Park, you can view exhibits from China, India, Japan, Korea, the Himalayas, the Philippines, Vietnam and Southeast Asia, complete with paintings, sculptures and more.
Boeing tour
The Future of Flight Aviation Center is located about 25 miles away from Seattle and offers you the opportunity to tour the facility that manufactures the 747, 777 and 787 jets. The Aviation Center will take you on a 90 minute tour and teach you all about the legendary jet planes. The tour is wheelchair accessible, service animals are allowed, and interpreters and American sign language are also available upon request.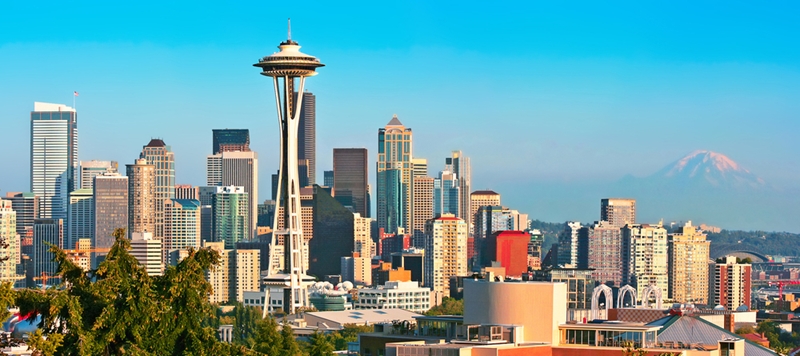 Space Needle
The legendary Space Needle gives the Seattle skyline such a distinctive look. Tourists can go up to the top of the attraction and check out the view of the city, dine at the SkyCity Restaurant and learn about the city. The Space Needle is wheelchair and handicap accessible.
Mount Rainier
The highest mountain of the Cascade Range is open for people to explore. In addition to checking out the mountain itself, tourists can also learn about the forest, waterfalls and lake that surrounds it. Guided tours allow you to see the beautiful landscape in a safe way, complete with snowshoes in the winter and an "on safari" lunch. If you have hearing loss, you can request an interpreter when you book your tour in advance.
Mount St. Helens
If Mount Rainier doesn't impress you, a volcano might. Mount St. Helens is between Seattle and Portland, in case you're taking a West Coast road trip. Your tour guide will teach you about the 1981 eruption and what's currently going on beneath the ground. Though the area surrounding Mount St. Helens is mostly valley, there are still shops and restaurants, so the attraction can be a day-long trip. Accommodations are available upon request for people with hearing or vision impairments while booking your tour.