Find out what you may have missed and get other hearing loss resources from the 2019 HLAA Convention.
The Hearing Loss Association of America (HLAA) 40th Annual Convention took place this past weekend. A four-day event jam-packed with exhibits, educational workshops, and presentations centered around hearing loss and hearing health, this year's convention was truly inspiring! If you couldn't make it to Rochester – or missed one of the exciting offerings – here's a compilation of our favorite moments and hearing loss resources from the convention to explore:
HLAA Convention 40 Year Celebration
CapTel was proud to be the presenting sponsor for the 2019 Convention's Cheers to 40 Years! Anniversary Celebration and Awards Gala. Held at the Hyatt Regency Grand Ballroom, this event recognized the milestone anniversary of the convention and HLAA's mission to educate and advocate for people who experience some degree of hearing loss.
Opening Keynote with Rebecca Alexander
This year's keynote was presented by Rebecca Alexander, disability rights advocate and author of Not Fade Away: A Memoir of Senses Lost and Found. As a young woman, Rebecca was diagnosed with Usher syndrome, a genetic disorder that would leave her blind and deaf by the age of thirty. In her keynote, titled "Breathe in Peace, Breathe out Fear: A Mantra for Self-Acceptance," Rebecca shared her inspirational personal journey of loss, resilience, and self-acceptance.
Walk4Hearing
The HLAA Walk4Hearing began in 2006 as an advocacy and fundraising event for hearing loss. Around 100,000 walkers and 8,300 teams have participated and raised more than $13 million since its inception. With events all over the country, Walk4Hearing's popularity inspired the convention to create their own walk event. Sponsored by CapTel, this year's convention walk took place on the last day of the festivities. It was a brisk 2.3-mile excursion that followed a scenic route along the Genesee Riverway Trail and Genesee River.
Explore more about Walk4Hearing and how these events make a difference here.
Night at the Museum Off-Site Event
This exciting off-site event at the George Eastman Museum gave participants the chance to explore the history and collections of a world-class National Historic Landmark. Built in 1905 by photography pioneer George Eastman, the building was established in 1947 as an educational museum. Today, it holds millions of objects in photography, cinema, and photographic and cinematographic technology.
Traveling the World with Hearing Loss Presentation
One presentation that captivated our attention was, "Hear the World: Traveling with Today's Hearing Technology." Speaker Scott Murray from United Airlines spoke about overcoming traveling challenges with hearing loss and getting the most out of hearing technology and your preferred communication strategies.
As a frequent topic on our blog, check out articles that include travel tips for people with hearing loss – whether it's on the road, on a bus, by air, or during the holidays.
Explaining Genetic Testing for Hearing Loss Workshop
Genetics can play a role in developing hearing loss. The workshop "From Blood to Mutation: Demystifying Genetic Testing for Hearing Loss" explored how genetic testing for hearing loss is completed, from blood sample collection to medical reporting. Presenter Hela Azaiez, Ph.D., of the University of Iowa gave this interesting and educational workshop on family-related hearing loss and gene therapy.
Get in the Loop with this new Hearing Loop Toolkit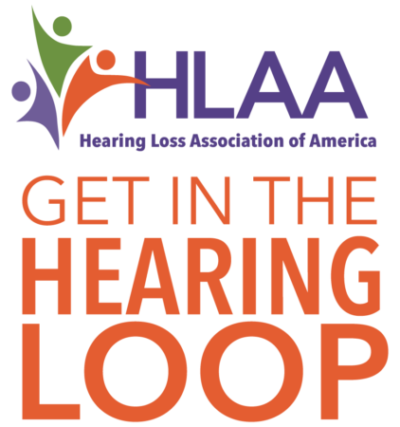 Hearing loops, an assistive listening system, are increasingly becoming the foundation for hearing-friendly venues and communities across the country. Loops are versatile, easy to use, and provide seamless communication in theaters, places of worship, classrooms, and even homes.
If you know of public spaces in your community that could benefit from hearing loops, the Get in the Hearing Loop Toolkit may help. This free resource created by the HLAA includes a compilation of hearing loss resources in one place. Learn more and download these resources here.
The 2019 HLAA Convention was another great weekend full of educational and advocacy opportunities. If you couldn't make it this year, consider planning for next year's event in New Orleans on June 18-21, 2020 – you don't want to miss it! Stay updated on speakers, exhibits, registration, and more on HLAA's website.
For more articles on hearing loss and hearing loss resources, head to our blog. To learn how CapTel phone captioning technology can help you stay connected to friends and family, call 800.233.9130 today.