Prepare for a cross-country adventure or citywide excursion with these bus travel tips.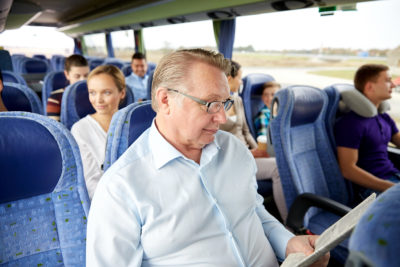 Whether you're taking a cross-country trip or venturing around your city, a bus makes a convenient way to travel. Few methods of transport are easier, more comfortable, or more ubiquitous than buses, and they can be quite convenient when you follow these simple tips for bus travel with hearing loss:
Have the bus route handy
Bring any assistive listening devices with you
Choose how you want to communicate
Get there early
Inform the driver
Keep reading to learn more about these bus travel tips below.
1. Have the bus route handy
If you expect the bus you're riding to make frequent stops, consider having a list of the scheduled stops in case you don't catch verbal announcements. Bus routes are usually available online, often in a convenient printable form. Alternatively, many bus stations have pamphlets with the bus routes available upon request. If you prefer to go paperless, you may be able to sign up for text or email notifications that you can access on your phone.
2. Bring any assistive listening devices along
If you use hearing aids or a personal hearing amplifier, bring them along. Depending on the length of your travel excursion, you may also choose to pack extra supplies like batteries, accessories, or anything else you may need on your journey. Many buses have a generous allowance for luggage and carry-on items that you can conveniently store while en-route.
3. Choose how you'd like to communicate
Another tip for bus travel with hearing loss is to plan ahead on how you'd like to communicate with fellow travelers and bus personnel. Perhaps you'd want to carry a small notebook and a pen to help you and your conversation partner have a clear dialog. Tech-savvy travelers may find that a smartphone notepad app may also be useful. Consider bringing an emergency backup battery or portable charger if you plan to use your smartphone for this purpose.
4. Get there early
For longer trips, you may want to arrive one to two hours early for bus travel. Doing so helps provide ample time to find your way to the appropriate bus terminal and communicate with staff about any questions or accommodations. Sometimes you'll even have time to meet your bus driver ahead of departure. Arriving early may also allow you to choose a seat in the front of the bus to make it easier to communicate with the bus driver and see upcoming stops.
5. Inform the driver
If you are comfortable doing so, let your bus driver know about your hearing loss. They will usually be more than happy to assist you during the ride by making sure you are notified of upcoming stops, getting you priority seating, and reinforcing any announcements you may have missed. Another perk of connecting with your bus driver is that they can be an informational goldmine of interesting tidbits about the area you're touring. They may even be able share some of the best sights along the route or suggest things to do at your destination.
These tips for bus travel with hearing loss can help make traveling by motor coach a breeze. For more articles on travel and living with hearing loss, visit our blog today.
To learn how a CapTel captioned telephone can help people with hearing loss stay connected to family and friends, call us today at (800) 233-9130.