Check out these activities while you're in town for the HLAA Convention!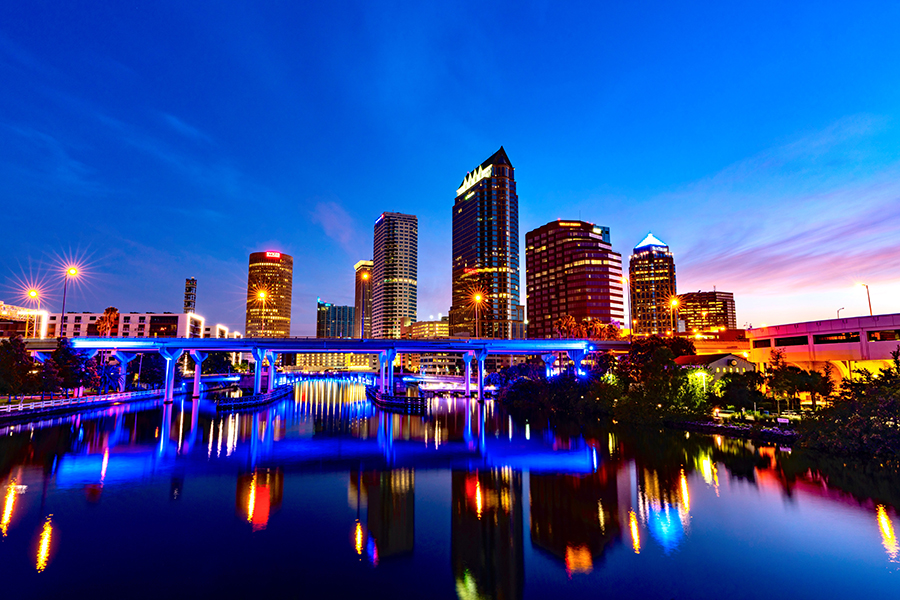 Whether you're attending the 2022 HLAA Convention in June or just visiting Tampa for fun, this Florida city is full of hearing loss-friendly activities! Let's look at some accessible attractions for Tampa visitors to add to their trip list.
Admire animals at ZooTampa
Browse the Tampa Museum of Art
Catch a show at the Tampa Theater
See underwater at the Florida Aquarium
Ride roller coasters at Busch Gardens
Take a hike at Weedon Island Preserve
Swim and relax at the beach
Start planning your Tampa trip by reading more attraction and accessibility details for these hearing-loss-friendly activities below!
Admire animals at ZooTampa
At ZooTampa, you can enjoy exhibits, live shows, and up-close signature encounters with animals like giant tortoises, manatees, rhinos, elephants, giraffes, and more. As long as they have at least two weeks' notice beforehand, the zoo can arrange sign language interpretation for shows and encounters. Printed scripts are always available as well.
Browse the Tampa Museum of Art
Art museums make for wonderful hearing-loss-friendly activities since they're generally quiet spaces to reflect, view art pieces, and read the description labels. Even more fun — you can enjoy a free boat ride to get there from the Tampa Riverwalk! View the museum's current exhibitions here.
Catch a show at the Tampa Theater
If you love films and beautiful historic locations, you'll be pleased to know that the Tampa Theater has the best of both worlds — plus accessibility options to help you enjoy your time! Built in 1926, the theater is a "movie palace" themed like a romantic Mediterranean courtyard underneath the stars. You can visit the concessions stand to ask for assistive listening devices or closed captioning devices for any film screening (as long as the film has already been caption-encoded).
See underwater at the Florida Aquarium
Beneath the water is like a whole different world, and aquariums let you experience it. The Florida Aquarium is rated as one of the best aquariums in the country. Exhibits include a coral reef habitat, an 80-foot glass dome replicating a Florida wetlands environment with things like mangroves and alligators, an immersive stingray beach, eels, jellyfish, a giant Pacific octopus, and much more. Most of the exhibits are, of course, best enjoyed visually!
Ride roller coasters at Busch Gardens
For visitors who love adrenaline-filled activities, Busch Gardens is a famous theme park (that also has its own zoo, if you want to do it all in one day)! There are roller coasters, water rides, a cable car, live performances, and much more. Busch Gardens has plenty of hearing (and other) accessibility options, from assistive listening devices to live show interpretation (with two weeks' notice) and written show scripts.
Take a hike at Weedon Island Preserve
To see a panoramic view of Tampa, wander hiking trails, kayak waterways, and just enjoy Florida's scenery, Weedon Island Preserve is the place! Print a visitor map from the website, pack a picnic, and enjoy a day outdoors in nature.
Swim and relax at the beach
You're in Florida — of course, you have to dedicate at least one day to the beach! Davis Beach is the closest to downtown Tampa, but you're also not too far from other famous beaches like Clearwater (which is #1 on our warm-weather destination list!).
Mark your calendars for June 23-25, 2022, to make the Hearing Loss Association of America's annual convention! With amazing educational workshops, networking events, an exhibit hall and demonstrations of hearing loss technology, it's a great event for anyone who likes to be informed about hearing loss. Extend your trip to enjoy the above hearing-loss-friendly activities in Tampa too!