Savor your favorite holiday foods with these healthy substitutes.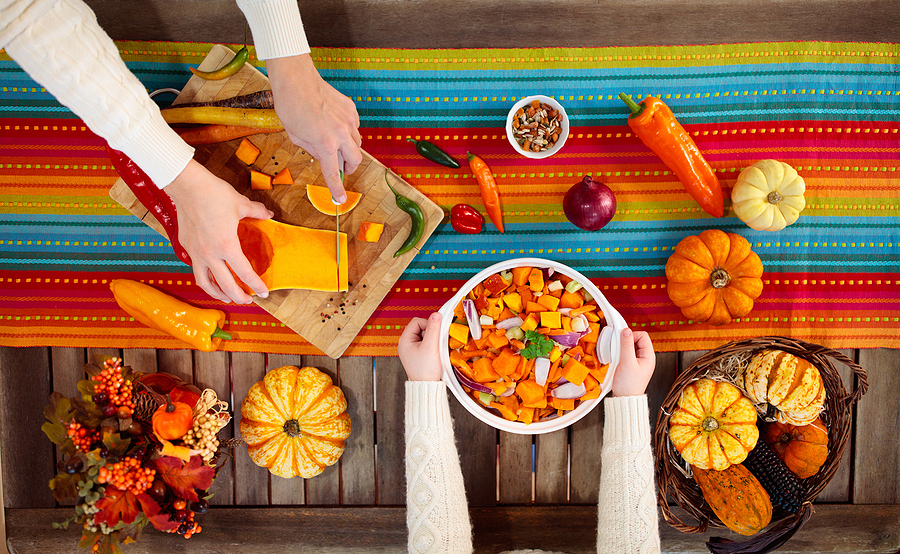 As this year's round of holiday feasting approaches, it's helpful to know how to cook delicious foods that are healthy for you too! Luckily, it's not too difficult to learn how to make traditional holiday foods healthier while still delivering the flavors everyone enjoys.
Here are some of our favorite methods for how to make traditional holiday foods healthier:
Make veggie-forward sides
Choose whole grains
Mix cauliflower into mashed potatoes
Go easy on added sugars
Offer hummus and guacamole dips
Bake instead of fry
Below, learn how to make traditional holiday foods healthier with these methods!
Make veggie-forward sides
Many people consider holiday side dishes the real stars of the table. Make your sides shine with the bright colors and flavors of healthy vegetable dishes. Garlicky green beans are a healthier take on green bean casserole, and you can share your seasonal favorites with a tray of perfectly roasted veggies. You can also impress your guests by offering very fall-holiday-appropriate roasted acorn squash as a side or a main.
Choose whole grains
When you're eating stuffing, you don't even notice the type of bread through all the seasonings, so why not give it a health boost? Choose a brown or whole-grain loaf as the base of your stuffing to reap the benefits of disease-fighting nutrients, protein, and fiber. Tip: you can also sneak extra veggies into stuffing—think mushrooms, onions, carrots, celery, and garlic.
Mix cauliflower into mashed potatoes
Cauliflower is the perfect option to level up the health of mashed potatoes. It's white, so it blends in visually, and it doesn't have a strong flavor, so even kids are unlikely to notice. Try this recipe for healthy cauliflower mashed potatoes with garlic, herbs, and olive oil, and add actual potatoes as you wish! Cauliflower is rich in antioxidants, nutrients, and fiber.
Go easy on added sugars
Most health professionals agree that you should cut back on sugar whenever possible to reduce disease risk. Whether it's leaving the marshmallows off your sweet potatoes this year or serving a healthy apple pie sweetened with maple syrup, there are plenty of simple ways to limit your holiday sugars. Your holiday dessert table is a great place to make some health-conscious swaps by baking some healthier versions of favorite recipes. Making a naturally sweetened cranberry sauce is also an excellent alternative to commercial cranberry jelly's high sugar content.
Bake instead of fry
If you have go-to recipes that you usually make in a frying pan, do a bit of research to see if you can pop them into the oven or an air fryer instead. Baking or roasting allows you to use less oil without sacrificing flavor. See these tips from Cooking Light on how to bake foods instead of frying them.
Offer hummus and guacamole dips
Holiday gatherings often mean rich, creamy, unhealthy dips for family members to snack on before the main event. To keep the tradition but make it healthier, opt for hummus (for health benefits like lower inflammation and better digestive health) or guacamole (for the healthy fats in avocados, although it's not low calorie). Serve them with veggies or a healthy brand of chips, like multigrain tortilla chips.
Looking for a holiday gift idea for someone with hearing loss? Consider a CapTel captioned telephone for the gifts of connection, independence, and more.