Consider these reasons to give a captioned telephone to someone you care about who has hearing loss.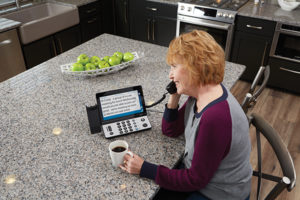 If you know and care about someone with hearing loss, you can give them several beautiful gifts this holiday season—all in a single box. A CapTel captioned telephone makes a wonderful holiday gift idea for people with hearing loss. Here are six reasons why:
The gift of connection
The gift of independence
The gift of clarity
The gift of convenience
The gift of personalization
The gift you'll enjoy too!
Read more about these reasons to add captioned telephones for hearing loss to your holiday gift list below, and how the true gifts you'll be giving are about much more than the phone itself.
Reminder: CapTel captioned telephones are intended ONLY for people with hearing loss, who need captions in order to communicate over the phone.
The gift of connection
Relationships can bring happiness and connectedness to our lives, but friends and family are often scattered around the country or even the globe. In between the face-to-face reunions, telephones are one way to keep in touch. For people with hearing loss, a captioned telephone can help make these moments of connection especially meaningful. If you've noticed that someone you know often struggles to catch every word, asks you to repeat yourself on a call, or avoids phone conversations, these may be signs that they could benefit from a captioned telephone. By reading captions of everything their caller says, they can rest assured that they won't miss a word. They can share quality time connecting, even from afar. Now that is some gift!
The gift of independence
Some people with hearing loss rely on family, friends, or neighbors to help them make phone calls. With a captioned telephone, calls that once felt challenging become easier because of the written captions. These phones for hearing loss lend freedom for the user to make phone calls on their own schedule, without worrying about missing key conversation details. Whether it's scheduling appointments or planning outings with friends, regaining the independence and confidence to make phone calls again is one of the best gifts you can give.
The gift of clarity
Some people with hearing loss may hesitate to express themselves over the phone out of worry that they've misunderstood something their caller said, and they don't want to say the wrong thing in response. By removing the anxiety of potential misunderstandings, a captioned telephone provides the clarity both parties need to communicate with confidence. Other features of captioned phones for clarity, including amplification and tone control, can further enhance and clarify phone calls so that they're easier than ever before.
The gift of convenience
With ongoing access to the no-cost CapTel captioning service 24 hours a day, 7 days a week, 365 days a year, your gift recipient can make and receive calls at their convenience. They'll automatically connect to the captioning service every time they make a call. Incoming callers will either dial their number directly or call the captioning service first, depending on the model. For even further convenience, they'll have access to customer support whenever they need it, with the touch of a button. Other convenient features of CapTel captioned telephones include a large, easy-to-read display, Bluetooth® wireless technology on the CapTel 2400i, and built-in answering machine and phone book.
The gift of customization
Hearing loss isn't one size fits all, and a captioned telephone shouldn't be either. CapTel has several customizable phone options designed to meet your gift recipient where they are. On all models, users can adjust the volume and frequency to levels that best match their hearing preferences. For instance, they can choose low, medium, or high-pitched tones, depending on what is easiest to hear. The CapTel 2400i allows them to adjust the tone and frequency to match their personal audiogram. When it comes to the display screen, your gift recipient can also adjust the font sizes and colors to suit their visual preferences. There are many other ways your gift recipient can customize a CapTel captioned telephone to meet their needs – contact us to learn more about them.
A gift you'll enjoy, too!
You may be giving someone you care about a telephone, but by way of the ripple effect, you're sure to enjoy it too. You'll likely find that connecting with them over the phone is easier and more enjoyable. And just knowing that you've helped make a difference for someone who previously found phone calls challenging is often a gift that keeps on giving. Now that's truly spreading holiday cheer!
This holiday season, consider giving someone you know with hearing loss the gifts of connection, independence, clarity, and convenience with a CapTel captioned telephone. Learn more about how to choose the right captioned telephone here and read our captioned phones for hearing loss FAQs.
To give a CapTel captioned telephone as a gift, visit our website or call 800.233.9130 to order yours today.