Enjoy the coming season outside with friends and family!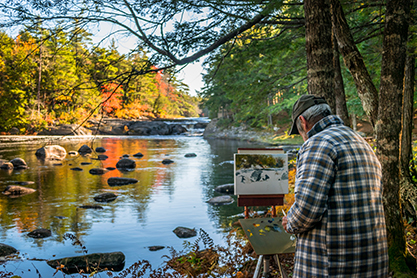 As the crisp air of fall starts to cool things down outside, it's the perfect time to embrace the beauty of the season and engage in fun outdoor fall activities for seniors. From the vibrant hues of changing leaves to the cornucopia of delightful autumn produce starting to ripen, there's a lot to enjoy in nature in the fall.
Here are a few of our favorite outdoor fall activities for seniors:
Picking apples and pumpkins
Strolling around a farmer's market
Taking a scenic nature walk
Collecting natural materials for fall crafts
Getting friends together for a picnic
Doing some fall gardening
Cheering at a sporting event
Attending a fall festival
Let's explore them below!
Picking apples and pumpkins
This classic fall activity is something you can do with friends, your spouse, the kids in your life, or solo — it's fun no matter what! You'll enjoy some light physical exercise as you stroll around the orchards or fields looking for the perfect varieties to bring home. Then, transform these healthy fall foods into delicious recipes like pies and soups!
Strolling around a farmer's market
Autumn is called the harvest season for a reason, and your local farmers and artisans will be thrilled to share their bounty with the community. Find one near you to spend a weekend morning strolling through an array of stalls and chatting with the friendly vendors. Fill your bags with colorful produce, fresh bread, and charming decorations and jewelry from craftspeople.
Taking a scenic nature walk
Immerse yourself in the beauty of nature by making it a habit to regularly embark on scenic fall walks. Research local parks, nature reserves, or trails that showcase the stunning foliage of the season. Walking amidst the changing leaves can be a meditative experience, offering moments of tranquility and an opportunity to reflect as you immerse yourself in your senses and memories. Or, you can invite friends or family members along for company and fill the forest with laughter! Bring your camera to capture nature's beauty and make memories.
Collecting natural materials for fall crafts
Incorporating nature into your home decor can infuse warmth and seasonal flair into your living space. And you don't even have to buy materials when the world outside creates them for free! Turn one of those leisurely walks into a creative endeavor by collecting fallen leaves of varying colors, shapes, and sizes. Use these leaves (plus acorns, pinecones, flowers, wheat stalks etc.) to create charming crafts like leaf collages, wreaths, or pressed flower & leaf art. It's a perfect fall activity to do with grandkids.
Getting friends together for a picnic
Fall outdoor picnics allow seniors to savor the beauty of the season while enjoying good food and great company, usually without excessive heat and bugs that can come with summer picnics. Invite your best friends, pack a picnic basket with your favorite fall baked goods and dishes, then find a serene spot in a park or by a lake. Enjoy the change of scenery and share delicious flavors together!
Doing some fall gardening
While there isn't as much planting to do in fall as there is in spring, avid gardeners still have plenty of options! Fall is the ideal time to plant flowers like tulips and daffodils that will bloom in the spring. Leafy greens are a popular fall vegetable garden staple: crops like lettuce, spinach, Swiss chard, broccoli, and kale can be amazingly cold-resistant. You'll get double health benefits: first from gardening itself and then from eating your harvest.
Cheering at a sporting event
For seniors who enjoy sports, fall presents a perfect opportunity to catch your favorite pro sports team (or grandkids' teams!) at an event. Turn it into a tailgate party by setting up a cozy outdoor space with comfortable chairs, blankets, and a spread of delicious snacks in the parking lot. Even if you're not an avid sports fan, the festive atmosphere and friendly chatter make tailgating a wonderful social activity. Don't forget to pack your earplugs to protect your hearing while you are there.
Attending a fall festival
Many towns and cities host fun fall festivals and events, which often feature live music, art exhibits, seasonal treats, and various activities that cater to people of all ages. Attending a fall festival can be a wonderful way for seniors to connect with members of their communities and immerse themselves in the vibrant spirit of the season. If you're not sure what kinds of events are going on locally, try Googling "fall festival near [your location]" to see what turns up in the results.
These outdoor fall activities for seniors are great opportunities to relax and enjoy yourself with friends and family all season long. While you're out and about, make sure to practice these autumn hearing health tips to keep yourself healthy and safe.