Discover the piquant and nourishing perks of eating the rainbow.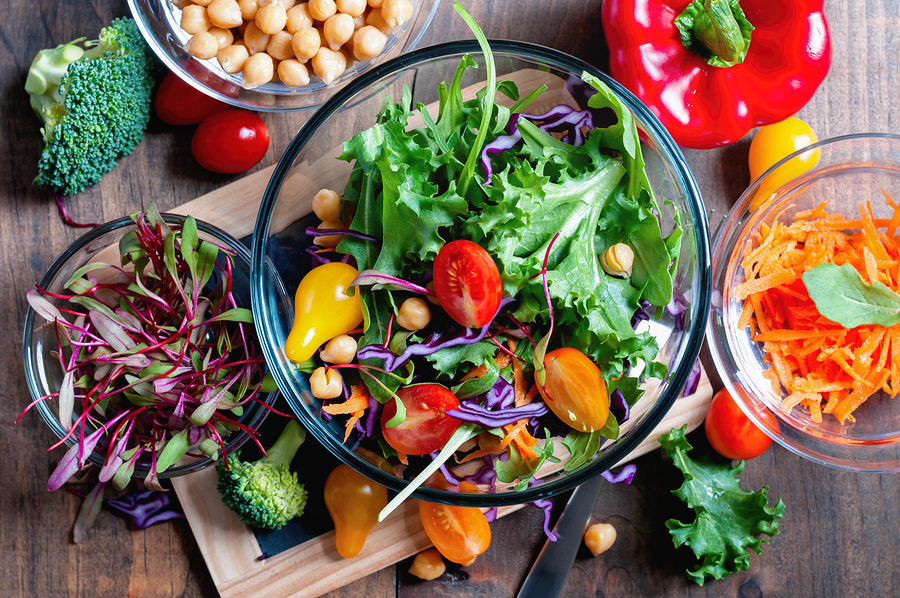 We've all heard about the importance of eating our vegetables, but what really makes them so good for you? For starters, they deliver vital nutrients our bodies need to stay healthy and lower the risk of developing some chronic diseases. For more piquant and nourishing perks of eating the rainbow, here are a few more health benefits of vegetables that might make them even more tempting to savor:
Reduces the risk of heart disease
Keeps digestive system healthy and reduces bloating
Lowers risk of Type 2 Diabetes
Helps your skin look younger and healthier
Continue reading below to learn more about each of these health benefits of vegetables, plus a list of the top veggies to add to your plate.
1. Reduces the risk of heart disease
The Centers for Disease Control and Prevention suggests that heart disease was a factor in one out of every four deaths last year, which is why researchers are looking to food habits for ways to stay healthy. Last year, a Mount Sinai Hospital study revealed that people who followed a mostly plant-based diet significantly reduced their likelihood of developing heart disease. Thanks to the potassium, dietary fiber, and other nutrients in veggies, loading your plate with them can help control blood cholesterol levels, create plenty of red blood cells, and promote a healthy blood pressure that can stave off cardiac events like heart attacks and stroke.
2. Keeps digestive system healthy and reduces bloating
Veggies help keep your digestive system healthy and functioning optimally, and in doing so, they counteract the bloating effect caused by less nutrient-dense food choices and excess sodium. The healthy doses of potassium and water in vegetables also help flush out unwanted salt and toxins while restoring your body's healthy fluid balance. The result? You'll feel great, and you might even look and feel leaner!
3. Lowers risk of type 2 diabetes
Vitamin K is a nutrient you can find in green leafy vegetables like kale, turnip greens, and swiss chard, and it's important because it can lower the risk of developing type 2 diabetes. Vitamin K may also improve insulin sensitivity, making it easier for the body to keep blood sugar levels in check. Check out these high Vitamin K recipes to load up on your daily intake.
Do you love leafy greens? Discover the health benefits of kale and find tasty kale recipes here.
4. Helps your skin look younger and healthier
Vegetables contain phytonutrients, which restore the skin and make it look younger and healthier. Vitamin C in veggies also facilitates collagen formation, which helps reduce the appearance of wrinkles and also speeds up the healing of wounds, burns, and other skin problems.
Healthy Vegetables to Add to Your Diet
All veggies are good for you, but these are particularly power-packed with nutrients:
Beets and beet greens
Microgreens
Swiss Chard
Collard Greens
Asparagus
Spinach
Peas
Bell Pepper
Broccoli
How many of these and other nutritious vegetables should you eat? Daily recommendations are based on your gender, age, and physical activity levels. Use the table from the USDA to determine your ideal amount.
With an abundance of health benefits of vegetables, finding ways to incorporate more of them into your diet is an easy and delicious move toward better health. Find out how to add more fruits and veggies into your diet to ensure you get your tasty fill.
For more articles to inspire your life and your diet, continue reading our blog.