Celebrate the season with these hands-on projects!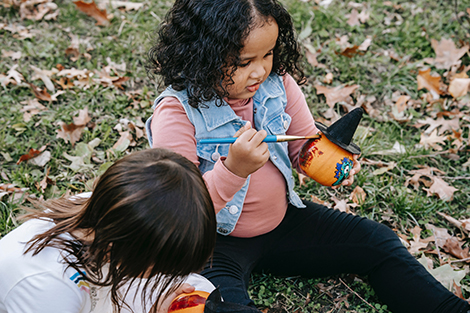 Fall can be such a nostalgic season, which makes it a perfect time to create memories with the kids in your life. Whether you're a grandparent, parent, aunt, uncle, or caring mentor, these fall-themed crafts and activities are perfect for spending quality time with the young ones while encouraging their imagination.
Here are nine of our favorite fun and easy fall projects to do with kids:
Leaf rubbings
Painted pumpkins
Apple stamps
Scarecrow creations
Nature collages
Handmade bird feeders
Autumn leaf garlands
Pumpkin spice playdough
Leaf bookmarks
Below, we'll explain the basics of these fall projects to do with kids and the materials you'll need.
Leaf rubbings
Take a little nature walk to gather a collection of leaves in various shapes and sizes before heading indoors for a leaf-rubbing activity. Place a leaf underneath a piece of paper and gently rub a crayon or colored pencil over the paper to reveal the intricate details of the leaf's veins and texture. It's a simple yet mesmerizing activity that allows kids to explore the beauty of nature while creating unique and fridge-worthy art pieces.
Painted pumpkins
Instead of carving pumpkins (since children and sharp knives aren't always a safe combination, especially for little ones), provide kids with paint, brushes, and a colorful palette of paints. Their imagination can run wild as they transform pumpkins into whimsical characters, colorful patterns, or spooky designs. We also have an article on other pumpkin crafts, like fabric pumpkins and tiny acorn pumpkins, which are fun fall decorations for adults and kids alike!
Apple stamps
After a fun morning of apple picking, set aside one or two of the least appetizing-looking ones to turn into apple stamps! Simply cut an apple in half and dip the cut side into paint before stamping it onto paper. The result is a series of apple-shaped prints that can be used for fun purposes like fall greeting cards, artwork, or even custom wrapping paper for future gifts. You can stick with traditional green and red paint or get intricate and paint designs onto your apples before applying stamp to paper.
Scarecrow creations
DIY scarecrows can be such an underrated fall activity! Gather old clothes, straw, buttons, and fabric scraps to assemble a friendly scarecrow that can be displayed in the garden or on the porch. Check out this guide to making a scarecrow, plus some creative ideas for dressing them with a theme.
Nature collages
A fun collage can really help kids capture the essence of the season. Venture outdoors and collect an assortment of fallen leaves, pinecones, acorns, and twigs. With a bit of glue and some construction paper, kids can arrange and layer their nature finds to form beautiful and textured artwork. They can also print out or cut pictures from magazines to add different visual elements like pumpkins, apples, scarecrows, and more.
Handmade bird feeders
As the weather cools down and birds head south, they'll be on the lookout for food sources along their journey. One of our favorite fall projects to do with kids is to make simple bird feeders. You can build fun pinecone bird feeders by spreading peanut butter on them and rolling them in birdseed, then hanging them up outside for a tasty snack. If you want to welcome birds all year long, you can craft more permanent bird feeders together instead. Then, spend some time watching and identifying the different species that show up!
Autumn leaf garlands
Welcome fall's beauty into your home by working with the kids to create a variety of fall leaf garlands. Invite them to collect their favorite leaves of varying colors and sizes, dip them into wax to preserve them, and then punch a hole at the stem end of each leaf. Thread a string through the holes to create a beautiful garland that can be draped across a mantle or hung on a wall. You can also decide to add pinecones into the mix if you like!
Pumpkin spice playdough
It's surprisingly easy to make your own playdough — and what's better for fall than pumpkin playdough? This is a fun option for sensory play, and will make your kitchen smell delicious (just warn the kids not to eat it — while it is technically edible, homemade playdough is incredibly salty and not fun to eat). Once it's ready, kids can mold, shape, and create their own fall-themed sculptures.
Leaf bookmarks
Do you have some little bookworms in your life? Celebrate and encourage their love of reading by creating autumn leaf bookmarks they'll love to use (or gift to their friends)! You'll follow a similar process as any other type of pressed leaf art, just on a smaller scale. Seal the bookmark by laminating or spreading a sealant over each side.
From the vibrant colors of changing leaves to the cozy ambiance of autumn, there's something enchanting about this season that sparks creativity and a sense of togetherness. So get ready to pick your favorite fall projects to do with kids, gather your supplies, and embrace the fall spirit! Make sure to check out these kid-friendly seasonal outdoor activities too.