Get in the spirit of Halloween with these fun pumpkin crafts.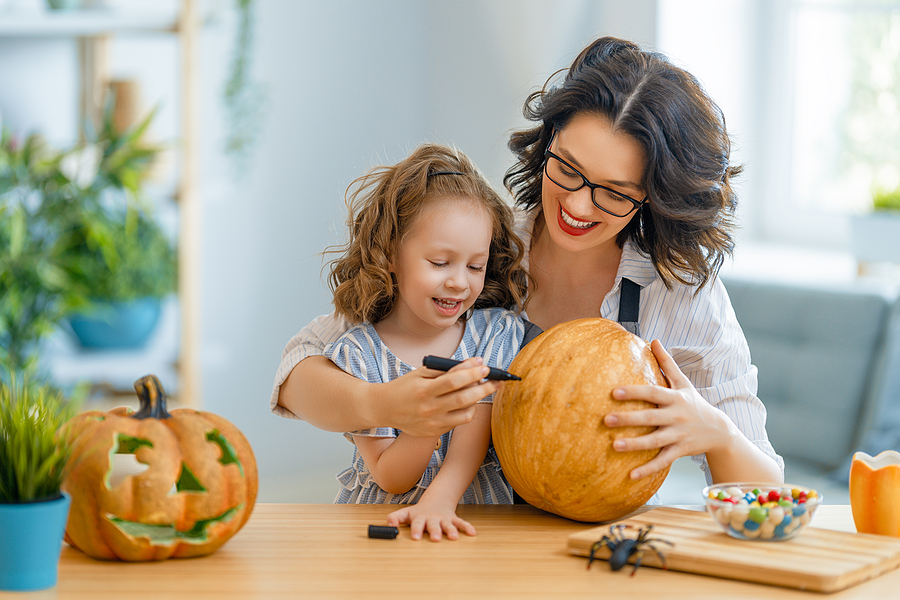 Nothing says autumn quite like pumpkin everything—like pumpkin bread, spiced lattes, aromatic candles, and especially pumpkin decorations for your home! Making pumpkin crafts in the fall is a fun way to spend time and build a collection of DIY decor.
Pumpkin crafts can also be a social distancing-friendly activity to do with others! Choose a craft with grandchildren or friends and do it together over video chat (or just swap pictures of your final results).
Without further ado, here are some fun pumpkin crafts for seniors to spark your creativity this autumn!
Classic carved pumpkins
Painted pumpkins
Yarn-wrapped pumpkins
Fabric pumpkins
Paper pumpkins
Acorn pumpkins
Keep reading to learn more about these fun and easy pumpkin crafts.
Classic carved pumpkins
A spooky jack o' lantern is just the thing to awaken the spirit of Halloween. Carved pumpkins can take many forms, from a traditional grinning face to a variety of fun designs. For example, you could carve:
A moon and stars
A ghost
Twisting vines and leaves
A roaring fire
The face of a fictional character
It's always tricky to turn your imagination into reality, but a good stencil and sharp knife will make it easier! You can also add accessories like glued-on googly eyes, wigs, hats, scarves, and more. Don't want to deal with the mess of carving a real pumpkin? Many stores now carry carvable plastic pumpkins so you can test out your designs without the hassle of scooping out the pumpkins first, and you can reuse them year after year.
Painted pumpkins
If you don't want to mess around with pumpkin guts or sharp cutting utensils at all, unleash your artistic talents more cleanly with paint or markers! Anything goes for this idea. You can create elegant silver-painted pumpkins with colorful ribbons tied to the top, paint a face with a crazy expression, draw a Halloween scene full of bats and skeletons, or spell out words (like "Trick or Treat" or a favorite fall quote). If you need more inspiration, check out these painted pumpkin ideas.
Yarn-wrapped pumpkins
Yarn isn't just for warm fall sweaters anymore – give your pumpkins a cozy upgrade! If you're a knitter or have some extra yarn lying around, you can use it to wrap up your pumpkins in fun, colorful patterns! Choose your yarns, grab a glue gun, and decorate away.
Fabric pumpkins
This idea doesn't require any actual pumpkins at all—which also means they can last for years to come so you can reuse them each fall. Follow the steps here to cut, glue, sew, and stuff your fabric pumpkin craft.
Paper pumpkins
Little paper pumpkins are easy to make and look adorable around your house. Look at a tutorial like this to learn how to cut, crinkle, and glue sheets of paper to transform them into pumpkins!
Acorn pumpkins
Oak trees are kind enough to rain down a bounty of acorns at this time of year—and you can transform them into cute mini crafts! To make acorn pumpkins:
Remove the caps of the acorns
Paint them orange (except the tip, for a "stem") and let them dry
Draw faces on with marker
It's that simple! Once you have a collection of little acorn pumpkins, you can use them to craft a mini pumpkin patch decoration, hide them around the house for a "find the pumpkin" game, arrange them in a glass jar, or whatever else your creativity sparks.
Are you feeling the festive autumn vibes? Grab a mug of hot apple cider and sit down to enjoy these pumpkin crafts for seniors. Browse the CapTel blog for more fun seasonal ideas, information about hearing loss and senior living, and more.