Make your next work trip a success with these suggestions.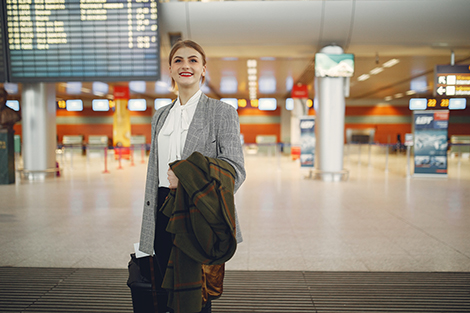 Traveling with hearing loss may involve extra considerations, especially when you're traveling for business. Navigating airports, conferences, and meetings in unfamiliar environments often pose communications challenges. Equipping yourself with the right information and communication tools can help make traveling for work a more enjoyable and successful experience.
Start with these tips for traveling with hearing loss for work:
Inform the trip coordinator
Research available accommodations
Pack intentionally
Communicate with clients & colleagues
Utilize helpful technology
Plan ahead for transportation
Share feedback with your company
Let's explore these business trip tips below.
Inform the trip coordinator
Clear communication is the foundation of any successful trip where multiple people are involved. During the business trip's planning phase, it's important to share your communication needs to your manager or travel coordinator at work.
Being clear about your communication needs will help your organization better assist you in arranging the appropriate accommodations. This could include booking direct flights instead of layovers to simplify the trip and reduce potential travel complications or making accessible hotel reservations in advance.
Research available accommodations
When planning a business trip, take the time to research your destination to find out what accommodations are available to help you thrive during your time there.
For instance, some conference venues offer assistive listening devices to enhance your auditory experience during presentations or meetings. You may prefer to request accessibility features like visual alert systems or shake-awake alarms through your hotel in advance. If your company has a designated trip coordinator, you can do this research in tandem with them. Or, you can do a little digging on your own and share your findings to help them make the appropriate accommodations.
Pack intentionally
When packing for your business trip, consider including items that will aid your communication needs. This might involve packing extra hearing aid batteries, a portable charging case, or even noise-canceling headphones to reduce background noise during travel or work time. Keeping these essentials within easy reach can help alleviate potential stressors and ensure that you're always prepared.
Here's a must-have packing list for traveling with hearing loss.
Communicate with clients & colleagues
Business trips typically involve a lot of interaction with colleagues, clients, or business partners. Especially if you're meeting or traveling with people for the first time, consider informing them about your hearing loss and preferred method of communication.
For example, some people may find lip reading beneficial (i.e., request bright lighting in meeting spaces), while others might prefer written communication or having transcripts of meetings available. Sharing this information beforehand helps foster a more inclusive and productive environment for all participants. Ask your manager if they have suggestions about how to share this awareness.
Utilize helpful technology
Take advantage of apps and tools designed to enhance communication, including these smartphone apps for travel! Speech-to-text apps, for instance, can convert spoken words into text on your mobile device, enabling smoother real-time communication in noisy environments. Video conferencing platforms often offer subtitles or real-time captioning options, making virtual meetings more accessible.
Plan ahead for transportation
Airports and train stations can be chaotic. Prior to your trip, familiarize yourself with the layout of the transportation hubs you'll be visiting. Look for signs indicating accessible routes and services. Many airports provide visual displays of gate information, flight status updates, and announcements, reducing the reliance on auditory cues. There may even be an app available for your transportation hub to send any updates about your trip directly to your cell phone. Make sure to care for your physical comfort while traveling as well: stay hydrated and follow tips to prevent ear pain while flying.
Share feedback with your company
Many organizations are striving to have a greater awareness and commitment to fostering inclusivity. With that in mind, feel empowered to advocate for your communication needs throughout your business trip. Don't hesitate to speak up if you encounter challenges or require additional accommodations. Your feedback can contribute to creating a more inclusive environment for future travelers with hearing loss.
Business trips are great opportunities for professional growth and networking, so don't let traveling with hearing loss hold you back! Next, brush up on these tips for managing hearing loss at work meetings.