Start the new season out fresh with a re-organized wardrobe!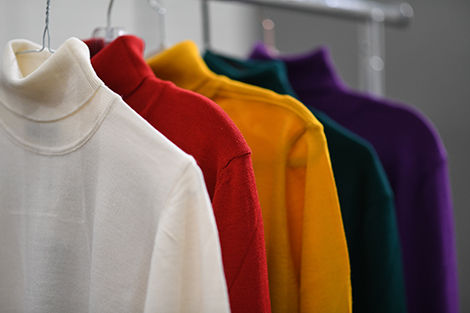 As warmer sunshine starts to melt away the colder days of winter, it's time to prepare for the change of seasons. There's nothing quite like the fresh-start feeling that comes with spring! When it comes to getting your wardrobe and closet ready for spring, there are few better ways to kick off the season than with a good old-fashioned spring cleaning.
This is your opportunity to evaluate your wardrobe, sort through the items you no longer wear, and make room for new pieces. Here are some spring cleaning tips to help you get your wardrobe and closet ready for spring:
Start with a clothing audit
Use organization aids
Try out a capsule wardrobe
Focus on quality, not quantity
Adopt the "one-in, one-out" technique
Consider what fits your current lifestyle
Let's sort through these spring cleaning tips for your closet!
Start with a clothing audit
The first step to decluttering your closet, of course, is to figure out which items are clutter! Take the time to go through your wardrobe and remove any items that you haven't worn in a long time, don't fit you properly, or just don't make you feel good when you wear them. Ask yourself questions like, "Have I worn this in the last three months? If not, why not? Can I actually see myself wearing this in the future?" (And be honest with yourself!)
Donate clothing that still has life in it to your favorite charity or thrift store, so you can make room for pieces in your wardrobe that make you look and feel great.
Use organization aids
Do you often find yourself digging through your closet to find what you need? Using organizing aids and closet storage solutions is another excellent way to get your closet looking clean and uncluttered. From hanging shelves to shoe racks, there are plenty of options to choose from.
Try adding hooks to hang up items such as scarves and jewelry, storing off-season clothes in canvas storage bins, or using baskets to store items such as hats and gloves. Labeling boxes and bins can also help, and you can even employ color-coding techniques to make the task easier.
Try out a capsule wardrobe
A capsule wardrobe is a perfect way to keep everything in your closet organized and streamline your style. This type of wardrobe consists of a few essential pieces that you can mix and match to create a variety of different looks. It's a great way to maximize the space in your closet while also making sure you have all the clothing you need for different outfits and occasions. Choose 25-50 items of clothing that can be easily mixed and matched throughout the season and styled in a variety of ways.
Focus on quality, not quantity
When it's time to switch up your wardrobe for spring, focus on selecting quality pieces that will stand the test of time. Focusing on owning fewer quality pieces will not only make your wardrobe more manageable, but they will also last longer and be more cost-efficient in the long run. Quality clothing is usually made with higher-end fabrics, better stitching, and more durable construction. Additionally, quality clothing tends to be more comfortable and look more flattering, so the clothes won't just languish unused in your closet.
Adopt the "one-in, one-out" technique
To avoid overstuffing your wardrobe in the future, adopt the "one-in, one-out" technique. Whenever you find yourself wanting to purchase a new piece of clothing, ask yourself if it's really something you'll use. If you decide it is, donate or sell one old piece of clothing to make extra room! If one shirt enters, one shirt should also leave.
Consider what fits your current lifestyle
Make sure to only keep pieces of clothing that reflect your current lifestyle and interests. Don't keep items just because they remind you of a different time in your life or are pieces you think you "should" have. Think carefully about the pieces that make you feel confident and comfortable, and get rid of the ones that don't.
It's easy to get overwhelmed with the task of organizing a closet, but with a little bit of effort, you can make sure everything you have is truly working for you. These spring cleaning tips will get you started on the right note for a fresh new season!
Once you're done with the closet, check out our ten spring cleaning tips for the rest of the house, and keep reading the CapTel blog for more lifestyle articles!