Spruce up your house in time for spring!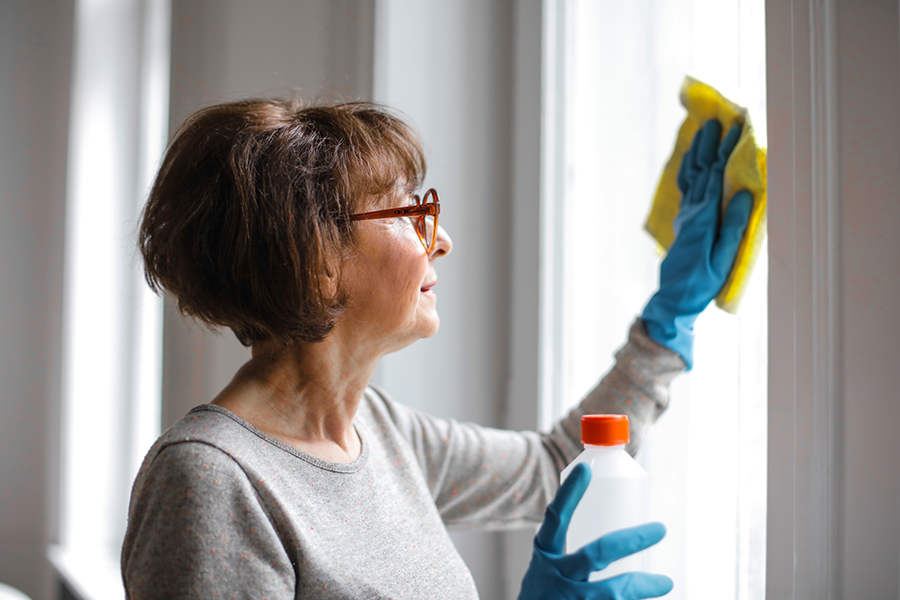 There's something about spring that just feels so fresh and new, and it makes sense that you'd want your home to match that positive vibe! If you aren't sure where to start with your to-do list, check out these spring cleaning tips to get inspired.
Identify your "cleaning personality"
Tackle one room at a time
Crack open the windows
Make DIY cleaning solutions
Pare down and organize closets
De-gunk your appliances
Get an extendable duster
Wash windows on a cool, shady day
Keep your drains clog-free
Organize your medicine cabinet and pantry
Let's grab a dust rag and dig into these spring cleaning tips!
Identify your "cleaning personality"
Everyone has a different ideal cleaning style. Maybe you love to put on heavy metal and jam out while you clean. Or maybe a podcast or gentle classical music playlist fits you better. Maybe you like to clean to blow off steam or destress (channel those feelings into grout-scrubbing!).
Do you tend to be more minimalist or love a cozy home full of items? What about your partner or others in your household? Think about what motivates you to clean and honor that to make it fun!
Tackle one room at a time
Planning an entire house clean can feel overwhelming. You might find yourself tackling one task, then getting distracted by something in a different room and getting off track. Focus on one room at a time to get those mini psychological "wins" from the accomplishment of finishing each room as its own project!
Crack open the windows
If you're cleaning on a beautiful spring day, bring that fresh cool air inside! After your house has been shut up all winter, it can start feeling musty and stale. The breeze will make you feel more energized to clean while clearing out the indoor pollutants that may have built up over the winter from your fireplace, gas oven, heaters, and more.
Make DIY cleaning solutions
You don't have to shell out a bunch of money on different cleaning products (unless you prefer them)! DIY all-purpose cleaners are fairly easy to make and usually just require some vinegar, water, lemon juice, baking soda, and optional scent agents.
Pare down and organize closets
While you're swapping out your winter clothes with lighter spring wear, take some extra time to go through everything. Is there anything you haven't worn for the past couple of seasons? Or spring clothing that's not even worth hanging up in your closet? Bag it up for donation, or tear old shirts into cleaning rags to use for the rest of your cleaning! If your wardrobe looks like an explosion, get inspired by different closet organizing ideas.
De-gunk your appliances
Blenders, ovens, fridges, toasters, dishwashers, microwaves — kitchen appliances are a prime site for grime to build up. Grab a bottle of vinegar to make a cleaning solution and start scrubbing!
Get an extendable duster
The places that are usually too high to reach end up getting rarely cleaned, so that's where dust builds up. An extendable duster lets you easily reach high shelves or the top of the fan blades (a must-do before you start turning them on in warm weather!).
Wash windows on a cool, shady day
Did you know that sunlight and warmth make it more likely for cleaners to leave your windows streaky? That's because it makes the cleaner dry before you're done cleaning. Pick a cloudy or even rainy day to tackle the windows in your house. A microfiber towel is a great window-cleaning choice.
Keep your drains clog-free
The best time to clean your drains is before they get clogged in the first place! If your drains are already clogged, go for a heavy-duty drain chemical cleaner or a physical clog remover like a drain snake. Once they're clear, aim to do a monthly cleaning with hot water, baking soda, and vinegar, and you won't have to deal with pesky clogs again!
Organize your medicine cabinet and pantry
These are two areas where it's easy to lose track of the things you have in stock. Do an inventory during your spring clean! Are there any foods or medications that are long-expired? Anything that you bought on a whim that you'll probably never cook with? Toss old foods, donate unexpired foods to a pantry, look up how to dispose of expired or unneeded medications, and make a list of anything you need to restock when you're done.
Are you excited to welcome spring into a fresh, shiny home thanks to these spring cleaning tips? Don't miss these spring activities for seniors and seasonal spring recipes!