Put a "spring" in your step with these seasonal activities.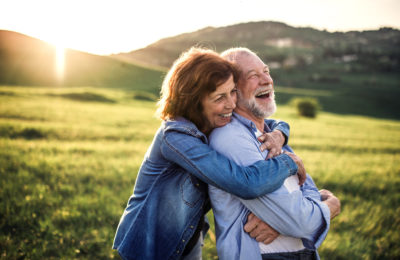 There's nothing quite like breathing in fresh air and feeling the warm sun on your skin during springtime. This rejuvenating time of year is a wonderful opportunity to relax and enjoy the outdoors. Consider putting an extra "spring" in your step with these seasonal spring activities for seniors to enjoy:
Start a community garden
Take a nature walk
Go bird watching
Visit local farmers' markets
Attend an outdoor sporting event
Go fishing
Take a bike ride
Host a picnic or cook-out
Discover more about these seasonal activities below.
1. Start a community garden
Embracing your green thumb can be incredibly good for you. Consider planting a personal garden or working with others to create a community garden near your home. Gardening is a spring activity for seniors that's a proven mood-booster and can help establish new friendships with neighbors in your community.
Learn more about the health benefits of gardening for seniors here.
2. Take a nature walk
Walking outdoors is a tranquil way to surround yourself with the wonders of the natural world – and spring is the ideal time to take it all in. For most people, walking requires nothing but a good pair of walking shoes, and offers a host of health benefits. Discover the peace and serenity that only the great outdoors can deliver when you step outside and start moving. As always, be sure to check with your doctor before introducing any new physical activity into your routine.
3. Go bird watching
In many areas, returning birds is a sure sign that spring and warmer weather are on the way. Observing birds in your area is a relaxing way to embrace the beauty and sounds of nature. Installing a bird feeder in your backyard can make for easy and convenient bird-watching opportunities. You may also want to check with your local Audubon Society to inquire about the best birding hotspots at local parks or other area stops.
4. Visit local farmers' markets
Shopping at local farmers' markets helps support your community while enjoying springtime weather and all the healthy benefits of fresh, seasonal foods. As you venture through the market, you may connect with neighbors and friends, pick up a wildflower bouquet, and discover new recipes and foods.
Use this interactive database to locate a farmers' market near you.
5. Attend an outdoor sporting event
Attending an outdoor sporting event can be an excellent way to enjoy friendly competition and the newfound springtime weather. Look around your community for seasonal sports like soccer, tennis, and baseball and join in the fun! You can build new memories as you cheer on your favorite team.
6. Go fishing
Fishing can be a relaxing spring activity for seniors where you can enjoy peace and quiet on your own or socialize with family or friends for the afternoon. Check your local area for the best fishing locations to cast your rod – whether from a dock, pier, or boat.
7. Take a bike ride
Bike riding is an invigorating low-impact activity where you can enjoy fresh springtime breezes and sights from two wheels. As you're riding around, there are so many ways your health can benefit. From weight loss and improved heart health to anti-aging effects and lower stress, your body and mind are sure to thank you. Before setting out on an adventure, be sure to wear a bike helmet for safety.
8. Host a picnic or barbeque
Picnics and outdoor barbeques are two more spring activities for seniors that you can host at a park or in your own backyard. Invite family and friends to socialize, eat, and enjoy the day together. If your gathering will be at a park, choose a picnicking area with seating and plenty of shade.
These spring activities for seniors can help you get the most of this new season and create memories that can last a lifetime. For more tips for active senior living, keep reading our blog.