Protect your hearing health while enjoying time outdoors this winter.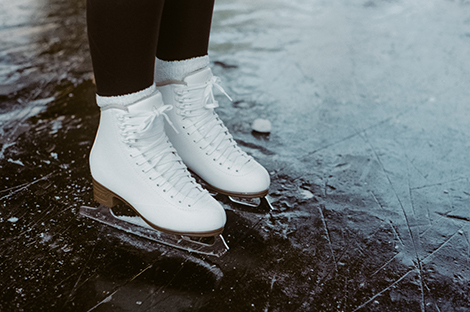 Winter can be an incredible time of year if you live somewhere that gets chilly temperatures; gorgeous snowfalls, a roaring fire, and plenty of tasty winter drinks can make you feel like you're in a winter wonderland.
But it's important to remember to take care of your health this winter, especially your hearing health! While there are many hearing protection tips to care for your long-term hearing health, let's focus on some tips specifically aimed toward winter sports.
There are so many fun activities you can try this winter, from snowshoeing and skiing to having a snowball fight with the family and more. When you're enjoying these winter sports, there are some key hearing protection tips to follow:
Wear hearing protection when needed
Wear a warm hat or headband
Secure your hearing aids and other devices
Get ready to dry your hearing aids
Remember sun protection, even in winter
Pack additional hearing aid or assistive devices in carrying cases
Read on to learn more about each of these hearing protection tips!
Wear hearing protection when needed
Even when you are outside in the winter elements, remember to use hearing protection when participating in louder activities. Winter sports, such as hockey games or ice skating events, often include loud music or crowd noises (air horns, anyone?). If riding a snowmobile, drilling a hole for ice-fishing, or even operating a snowblower, make sure to wear earplugs or over-the-ear hearing protection. It's important to keep the decibel level in mind and use hearing protection as needed, even in the dead of winter.
Wear a warm hat or headband
You might do this already just to keep warm, but it's a great idea to protect your ears and any hearing assistive devices you may use! Not only do hats, ear warmers, thick headbands, or earmuffs protect your ears from the cold, but they can also protect your hearing aids or other devices from the cold and moisture, as well as help protect your hearing by dampening louder noises.
Many hearing aids may not be completely waterproof, and even if they're water resistant, a cold and wet climate may keep them from performing at their best. To keep your devices in tip-top shape for the long term, consider bundling them up under some layers with a hat or headband! Check out more winter weather hearing protection tips here.
Secure your hearing aids and other devices
If you wear hearing aids when you're participating in an activity or winter sport, your hearing devices may become a bit jostled or loose. Ensure that your hearing aids are secured properly and are protected from bumps as much as possible before you start an activity to avoid losing them in the snow or on the rink!
Get ready to dry your hearing aids
Even in winter, it's entirely possible to work up a sweat during an intense sporting event! Even if you haven't worked up a sweat, some snow or ice may have worked its way around your hearing aids. Have a hearing aid dehumidifier ready to remove any excess moisture from your devices. As an added bonus, keeping your hearing aids clear of moisture can positively impact your ear health, too, as it decreases the risk of ear infections.
Remember sun protection even, in winter
One of our top winter hearing protection tips is to protect your whole ear by applying sunscreen! You read that right — even in winter, when the sun's rays aren't as intense, you're still exposed to UV light. It's still important to make sure you're applying sunscreen to your face and, yes, your ears as well! If you wear hearing aids, be sure to remove them before applying sunscreen as it may damage your devices. Taking care of your ears while spending time outdoors will pay dividends later down the road.
Pack additional hearing aid or assistive devices in carrying cases
When you're hitting the slopes skiing, snowboarding, sledding, tubing, or even having a snowball fight, accidents can happen! You may take a tumble or have some snow get under your hat or headband. In that case, it makes sense to have some spare devices, batteries, and more in a small carrying case. Using a hard-shell case can protect your devices from those impacts, too!
While it's key to protect your hearing health year-round, it's especially important in the winter during those cold, damp months! These winter sport hearing protection tips are sure to help you (and your ears) keep warm, dry, and safe.
For more ideas on what to do this winter, check out our snow day ideas blog and more on the CapTel blog!