Get cozy with these warm drink recipes.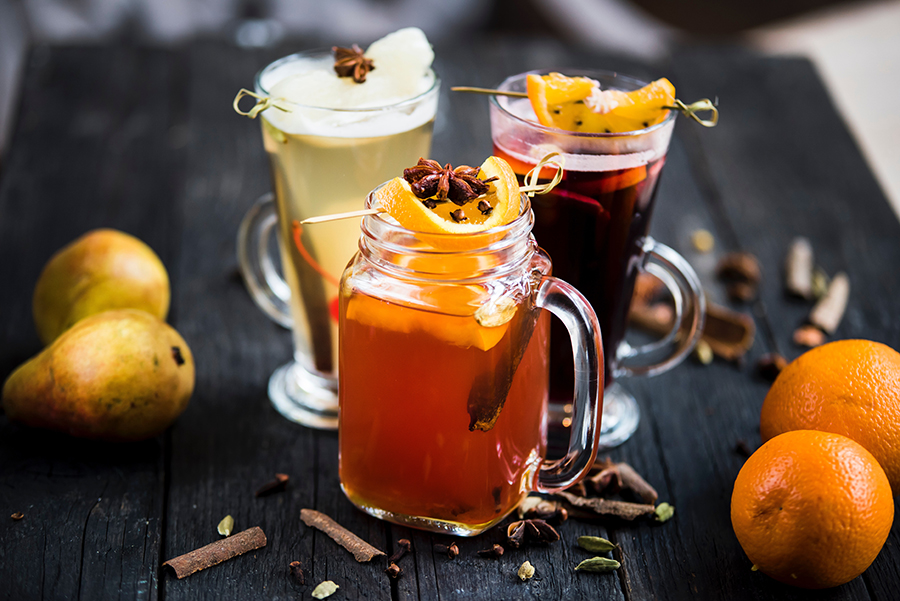 There's nothing better than a warm, cozy drink and curling up on the couch on a cold, wintery day. Whether your favorite beverage is tea, coffee, or something else, there are easy ways to spice up your favorites. Check out this list of warm drink recipes to try this winter — you may find a new favorite!
Our top picks (or twists on old favorites) include:
Spiced hot chocolate
Mulled cider
Chai
Caramel mocha
Mulled wine
Spiced apricot tea
Keep reading for details on these delicious recipes!
Spiced hot chocolate
Hot chocolate may be the most iconic and classic winter drink, but there are easy ways to spice it up (literally!). Whether you use a packet of ready-made hot chocolate or melt down your favorite chocolate bar to make your own, you can create a delicious treat by adding additional spices. Adding clove, cinnamon, nutmeg, or allspice can kick up the flavor and festiveness of your delicious hot chocolate, and can add some additional health benefits from these spices! Just add in a dash of your chosen spice (or mix and match your favorites) to create your own recipe!
Check out this article on more ways to spice up your hot chocolate!
Mulled cider
Mulled cider is a winter classic, and this warm drink recipe is sure to impress. An added benefit is that this delicious drink will make your kitchen smell festive and warm, too! It's deceptively easy to make; all you need is apple cider and some spices like cinnamon, clove, allspice, nutmeg, and star anise. If you want to get really fancy, garnish with an orange peel or cranberries! Check out this easy, classic mulled cider recipe!
Chai
Chai is a staple in many homes year-round but can be especially delicious in the fall and winter. This tea has a warm, complex flavor profile and can even be slightly spicy depending on which recipe you decide to follow, but is sure to be a great option on a cold day!
There are a few different options to make your chai. You can stick with a classic tea blend from a store and add a bit of honey, make your own chai in a slow cooker, or branch out and create a vanilla chai latte that is sure to wow.
Caramel mocha
If you're wanting a coffee shop drink without needing to leave the house, try this caramel mocha warm drink recipe. There's nothing better than curling up with a nice book, your favorite TV show, or a hobby with a warm drink that looks professional! The whipped cream and caramel or butterscotch drizzle adds a hint of sweetness that is sure to bring you joy on a cold day. Check out the mocha recipe here.
Mulled wine
Popular since the Roman Empire, mulled wine has been a winter staple for centuries as it brings warmth and sweetness to any cold day. It's easy to make and can serve multiple people if you're hosting an event or get-together in the cold winter months. All you'll need is your favorite red wine, some brandy, and mulling spices like allspice, cloves, cinnamon, some sugar, and citrus.
If you're looking for something similar without the addition of brandy, check out this hot spiced wine; it has all the benefits of red wine antioxidants and spices without as much added sugar. There are even non-alcoholic variations you can make with alcohol-free wine or fruit juice!
---