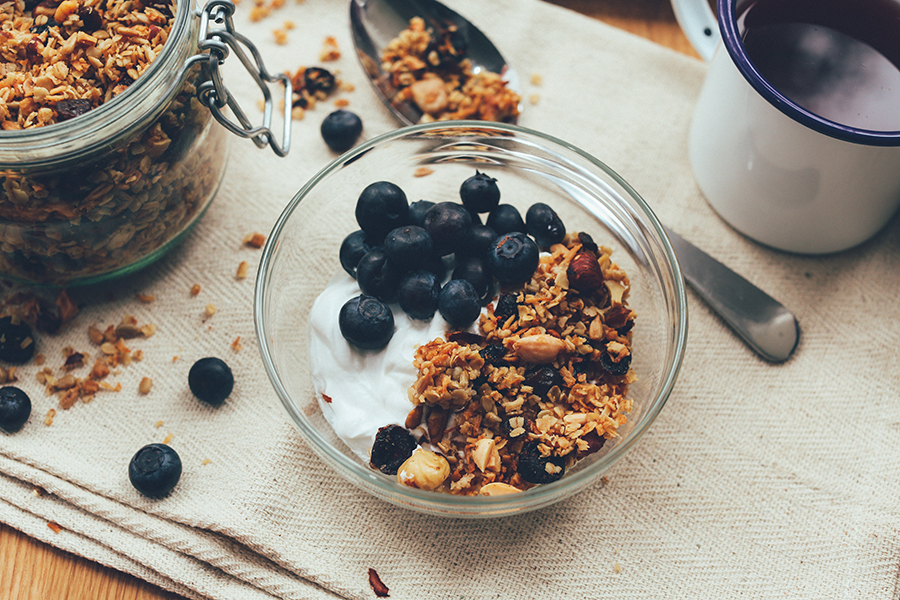 Some people say that breakfast is the most important meal of the day. We think all three meals are fantastic in their own ways — but breakfast can set the tone for everything that comes after!
If you start your day with a meal that's not packed with nutrients and protein (think sugary cereals or overly sweetened coffee drinks), your energy will likely crash faster, and you may even crave more junk foods later. But if you make healthy breakfast swaps that keep you nourished and satisfied, you'll be more likely to keep that trend going all day.
What kind of healthy breakfast swaps can you add to your mornings? Here are a few simple ideas:
Protein pancakes
Superfood smoothie cubes
Whole-grain cereal or oatmeal
Frittata cups with veggies
Unprocessed proteins
Green tea instead of juice
Avocado for butter
Below, we'll show you how to whip up these seven healthy breakfast swaps!
Protein pancakes
Whether you make pancakes from scratch or use a mix, did you know that you can increase the nutrition by adding protein powder? Substitute up to one-third of the flour with vanilla protein powder (or use 1 tbsp per cup if using a mix), and add extra liquid if you feel like the batter looks too thick. Look for protein powders with minimal added sugars. This swap turns your pancake breakfast into a well-balanced meal!
Superfood smoothie cubes
Do you enjoy drinking a smoothie every morning? There are so many ways to add extra nutrition here, but one of the easiest is to make frozen smoothie cubes ahead of time, so you can just toss them in the blender and be ready. Here's an idea of how to do it! Add ingredients like:
Nut butters
Greens
Flaxseed
Superfood powders (spirulina, mushrooms, etc.)
Protein powder
You can either add your favorite frozen fruits and milks right to the cubes or wait until you're making the smoothie and use fruit, milk, and cubes together then!
Whole-grain cereal or oatmeal
A good rule of thumb with cereal is to avoid any kinds with sugar in the first five ingredients. Opt for ones made of whole grains instead of refined ingredients. Here are some of the healthiest cereals you'll find on the grocery store shelves, including options with nuts, seeds, oats, flax, chia, and other nutritious ingredients. Oatmeal is also a great alternative on mornings when you feel like a warm breakfast. Here are some excellent healthy oatmeal recipes!
Frittata cups with veggies
Are you the kind of person who prefers to eat eggs for breakfast every day? Save yourself some time (and boost the nutrition) by prepping veggie-full frittata cups for the week. Choose all your favorite veggies, like peppers, onions, spinach, mushrooms, broccoli, garlic, and more, to mix into your egg batter and bake muffin-style. In the mornings, all you have to do is warm them up, grab, and go! For those who don't eat eggs, try these frittata muffins made of chickpea flour!
Unprocessed proteins
In the morning, many people reach for processed meats like breakfast sausages and bacon. Since processed meat can be linked to poor health outcomes, try to steer clear of starting your day with those. You can make a high-protein breakfast burrito with unprocessed proteins like black beans and eggs, add nut butter to oatmeal or high-protein bread, or use some of the other ideas in this post!
Green tea instead of juice
Traditional breakfast juices like orange juice and apple juice typically come loaded with sugar and don't have as much nutritional value as eating the fruit itself would. Green tea is the perfect healthy breakfast swap to start your day strong, thanks to all its evidence-based benefits. It's rich in antioxidants, reduces inflammation in the body, can improve brain function and give you quick energy, and more. You can drink it hot or iced and add ingredients for a little sweetness if you want!
Avocado for butter
There's a reason avocado toast has gotten so popular in the past decade or so! Avocados are rich in heart-healthy fats and other nutrients and are good for your eyes, bones, digestion, and more. Enjoy it instead of butter on your toast or bagel next breakfast! Toast isn't your only vehicle for this green goodness, though — you can eat it many ways, like with eggs, in a smoothie, etc. Here are some of our favorite avocado recipes!
Looking for some more healthy breakfast swaps, and options you can grab and go? Check out these seven quick and easy breakfast ideas!