Take care of your skin this season with these simple tips.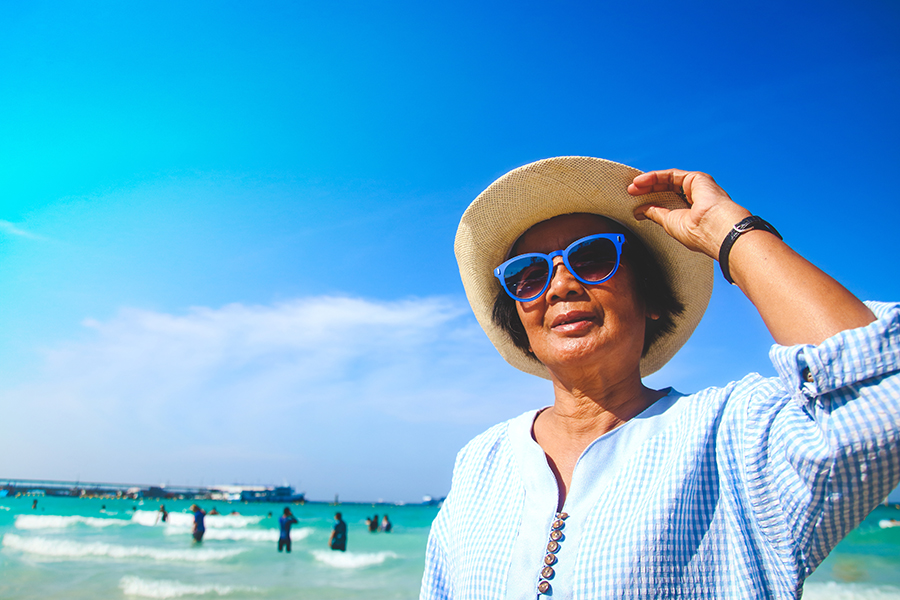 Want to keep your skin glowing and healthy this summer? There are a variety of summer skincare tips that can help you enjoy the sun and warm weather this season while protecting and caring for your skin!
Let's check out a few of the best summer skincare tips below:
Wear (and reapply) sunscreen
Put on sunglasses and a hat
Avoid heavy makeup and skin products
Drink plenty of water
Monitor any burns or skin changes
Use aloe vera on overexposed skin
Review sun-sensitive medications
If you have any skin-related medical conditions, be sure to check in with your dermatologist or doctor about any additional steps you should be taking to protect yourself from the sun.
More on these seven summer skincare tips below!
Wear (and reapply) sunscreen
This is probably the number-one piece of advice for protecting your skin during the summer. Too much exposure to UV rays can increase your risk of skin cancer, in addition to causing burns and skin damage. Make sure to get a broad-spectrum sunscreen for complete protection — here are some recommendations from dermatologists.
Keep track of application times so you can refresh your sunscreen at the recommended intervals. And don't forget to cover delicate areas like your ears, hands, feet, and any exposed parts of your head!
Put on sunglasses and a hat
These should be two of your summer outfit staples! Sunglasses shield your eyes from the bright sun (and many have built-in UV filters, too), while hats give your face extra shade everywhere you go. A sunburned face and neck are no fun, so opt for a wide-brimmed hat instead of a baseball cap if you can! Wide-brimmed hats usually cover the ears too.
Avoid heavy makeup and skin products
If you're wearing several creams or makeup products during the hot summer months, it can make the skin feel suffocated and clog pores. Especially when you sweat, these products can potentially make your skin feel greasy and uncomfortable. Opt for light products instead, like quick-absorb moisturizers, water-based products, and CC cream instead of foundation.
Drink plenty of water
Staying hydrated is great for the skin! High water intake is associated with increased blood flow to the skin and improves skin elasticity as well. Drinking water during the summer is also essential for other reasons, like helping you stay energized and preventing dehydration. Check out these seven easy ways to drink more water!
Monitor any burns or skin changes
It's always a good idea to note changes in your skin, so you can talk about any significant developments with your doctor or dermatologist. If you have a severe sunburn, you may need medical attention, so watch for blisters or signs of infection like fever.
Use aloe vera on overexposed skin
If some of your skin does happen to catch a little redness despite your best efforts, make sure you have some aloe vera gel on hand to treat it! You can even grow your own aloe vera plant and break off a stem when you need it. The gel is soothing, moisturizing, and cooling on hot, irritated skin.
Review sun-sensitive medications
If you take any medications, even over-the-counter ones, make sure to review their list of side effects. Some medicines cause additional sun sensitivity, which is a good thing to be aware of. Check out this resource about it from the FDA, and ask your doctor if any of the medications you take could cause your skin to be more sensitive to sunlight.
With these summer skincare tips, you'll be ready to enjoy the outdoors this season while keeping your skin happy and healthy! For more tips on health and wellness, ear care, and more, keep on browsing the CapTel blog.