Refresh your space with these easy home decor DIYs.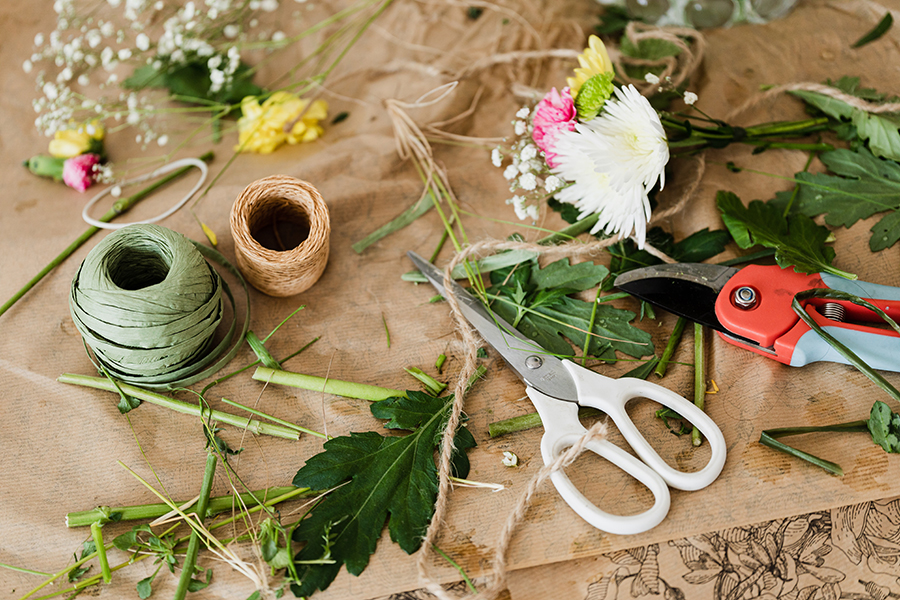 If you consider yourself a crafty person (or would like to be), then your options for useful and attractive home decor are endless!
There are plenty of simple do-it-yourself craft ideas that don't require power tools or a lot of space to complete. As we enjoy this season of blooming flowers and bright colors, let's look at some DIY projects for spring!
Homemade wreaths & centerpieces
Window herb gardens
Custom planters
Framed flowers
Upcycled furniture & decor
Abstract wall art
Birdhouses & bird feeders
Find more details on all these DIY projects for spring below!
Homemade wreaths & centerpieces
When you, your family, or friends and guests walk through the door or sit around your table, welcome them with cheerful spring colors and flowers in wreath or centerpiece form!
Try one of these:
Window herb gardens
They're simple, smell great, make a lovely decoration, and provide delicious ingredients for your favorite recipes — what could make better DIY projects for spring than herb gardens? Check out some of these ideas for crafting your own windowsill or window box herb gardens.
You can use mason jars, metal pots, recycled containers, old wooden pallets, a decorated drawer or box, or any other container you have around the house! Here are more of our tips on planting a thriving herb garden.
Custom planters
Herbs aren't the only thing you can grow in a creative fashion! Outdoor planters let you grow things like flowers and vegetables without the need to get down in the dirt or worry about weeds. Here are some ideas for raised planter boxes, which you can build yourself and decorate to your heart's content!
Framed flowers
When your favorite spring flowers begin to bloom, pick out some favorites to dry and preserve inside a beautiful art piece! A canvas frame can help you create a flower-filled wall hanging to keep spring in your home for as long as you'd like. Pinterest has many variations of pressed flower art projects you can try.
Upcycled furniture & decor
Do you have a collection of old items or furniture in your basement or attic that you aren't sure what to do with? You can "upcycle" them into something even better than the original! These projects require plenty of creativity based on what you have around the house, so check out these clever examples plus beginner-friendly upcycling tips to get inspired.
Abstract wall art
What are your favorite colors of spring? Do you love bright greens, yellows, and pinks? Softer pastel shades? Pick out your favorite combinations, then let your imagination run free! You can go in a direction like this art piece, this one, or something entirely your own.
Birdhouses and bird feeders
One of the most classic DIY projects for spring is building our feathered friends a place to rest their wings or stop for a snack. If you have a backyard or front porch where you enjoy watching birds and wildlife, one of these birdhouse or bird feeder crafts could be perfect for you! Pick a design and color scheme, gather some wood or repurposed materials, and then you can get started with a few simple tools.
Want to add your kids or grandkids to the mix too? Don't miss these kid-friendly spring craft ideas!