Celebrate the change in season with these festive spring crafts.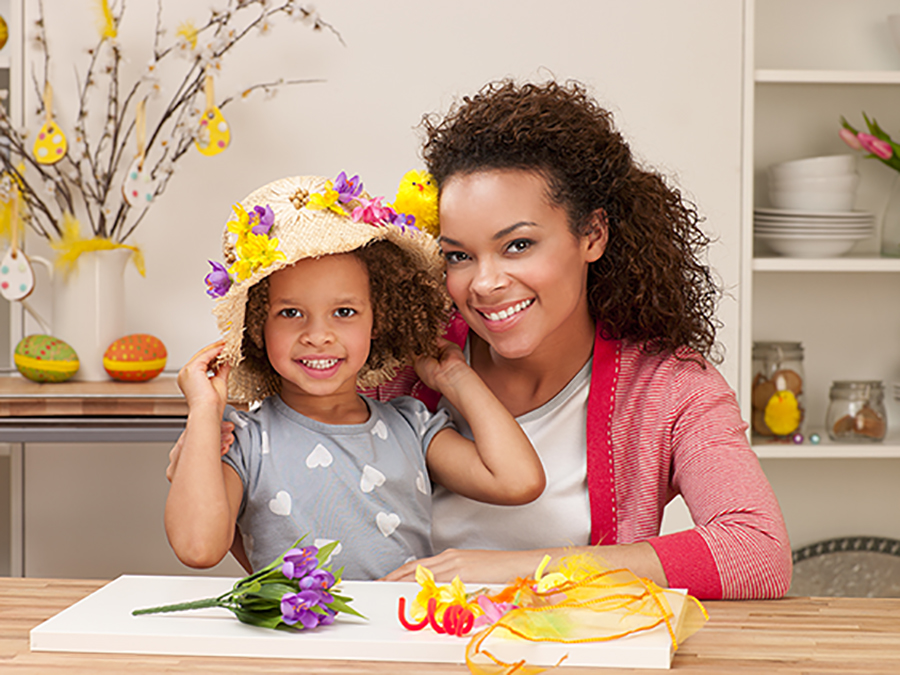 Spring is a wonderful, uplifting season. With fresh flowers blooming and the weather getting warmer, you'll be inspired to make crafts that celebrate this beautiful and colorful time of year. Whether you're able to see family in person or you're hanging out over video chat, making crafts with your grandchildren is a fun way to get in a festive spring mood.
Celebrate the season with these joyful spring crafts to do with grandkids:
Egg carton flowers
Edible jellybean bouquets
Cupcake liner butterflies
Plastic spoon bugs
Fluffy nesting chicks
Easy DIY spring wreaths
If you're looking for spring crafts to do with grandkids, keep reading!
Egg carton flowers 
Use your leftover egg cartons to make this easy and fun craft with your grandchildren. Cut your egg carton into parts with sections for four eggs, and trim to make a round shape. Let the kids paint their own flowers with non-toxic, child-safe paint. To celebrate spring, use pastels or bright colors such as pinks, yellows, and greens.
Edible jellybean bouquets 
Edible craft projects are fun and delicious! Jellybeans are a traditional spring candy, and since they come in every color of the rainbow, they're perfect for this bouquet. All you have to do is poke each jellybean onto a toothpick, then put a large marshmallow into a cup and stick each toothpick into the marshmallow to arrange the bouquet. Add green jelly beans or other green candies to the bottom for grass, then decorate your cups for a festive treat!
Cupcake liner butterflies
These butterflies are the perfect thing to make for your grandkids to play with, and you can use up the extra cupcake liners you have in your pantry. Open two cupcake liners and fold them to form a bow-tie shape, then glue them together. Clip a clothespin over the liners.
You can decorate the clothespins however you want — add glitter, paint, or use string or pipe cleaners for antennas! Match each one to your grandkids' personalities, or use bright colors to celebrate the spring season.
Plastic spoon bugs 
These bugs are cute and colorful, and they provide the perfect opportunity to teach your grandchildren about the different kinds of insects they'll find out in their yards or the park. Follow these instructions to paint spoons and add dots. You can also use green felt to give the critters a leaf to sit on. Add googly eyes for an extra bit of fun!
Fluffy nesting chicks 
These fluffy, sweet chicks are great for grandchildren of all ages. You make them by coloring cotton balls with chalk and adding googly eyes. A paper plate, brown paint, and shredded basket filler are some of the materials you can use to create a nest. Your grandkids will love adding as many cute chicks to their nest as they want!
Easy DIY spring wreaths
For older kids or teens who can use a hot glue gun, these DIY wreaths make a super easy decoration for their rooms or to give as a gift. You'll pick up pre-made wreaths from the hobby store then paint them light green (or find pre-painted ones to save yourself a step!). From there, get creative with pre-made felt flowers and leaves, or make your own, and glue them around the wreath so they look like they just sprouted up. You can leave it as-is when you're done, or add some festive ribbon for hanging.
These spring crafts to do with grandkids will help you and your family welcome the bright, sunny season. Enjoy making these crafts with your grandchildren — before you know it, it'll be summer!
If you're looking for even more seasonal craft ideas, browse the CapTel blog. And when you want to catch up with your grandchildren without missing a word, CapTel can help you find the right captioned phone for you.