Learn how to protect your hearing health while soaking up the sun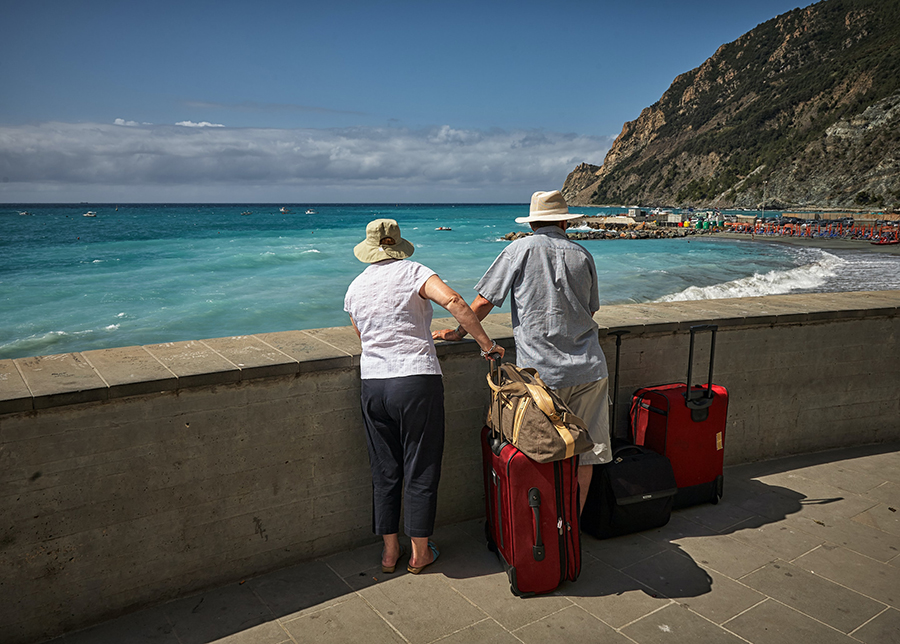 So you're off on a well-deserved winter vacation — congratulations! You're most likely looking forward to relaxing in the sun and getting a break from the frigid temperatures if where you live gets cold in winter.
If you have hearing loss, there are a few things to keep in mind to make sure your trip goes smoothly. Look to these hearing loss tips to plan a successful and comfortable warm-weather getaway:
Research travel accommodations before you go
Communicate with the staff about your needs
When in doubt, pack it
Apply sunscreen
Protect your hearing
Watch out for moisture
Read more about each hearing loss tip below!
Research travel accommodations before you go
Start your trip on a high note by researching any hearing loss-related accommodations available at the airport, on your flight, on the train, or however else you're getting to your destination. You may also want to notify any staff you interact with, like the gate or security agents, of your hearing loss so they can communicate with you easier in case of any changes or issues.
Communicate with the staff about your needs
If you are staying at a resort or a hotel, be sure to call ahead and let them know about your hearing loss needs. The staff can help you navigate the different hearing loss accommodations they have available, whether that's turning on closed captioning on the television or getting visual signalers or a shake-awake clock for your room.
Find more tips for staying in a hotel with hearing loss here.
When in doubt, pack it
When packing hearing aid supplies and other hearing loss-related items, it's better to over-pack than to be caught needing something you wished you included in your suitcase. Plan your packing list in advance and go over it a few times to ensure you don't leave any essential items at home.
Apply sunscreen
As you are basking in the sun on your vacation, take special care to protect your ears! Many people lather their face with sunscreen but forget sensitive areas like their ears or lips. Keep your ears safe by regularly applying and reapplying sunscreen and wearing a wide hat that can help shield them from the sun. If you wear hearing aids, but sure to remove them before applying sunscreen as it can damage the delicate instruments in your device.
Protect your hearing
While vacations are full of fun activities, those activities can come with loud music and crowds of people. Practice hearing loss tips like standing far away from speakers, using earplugs, and taking a break from the action when you can. Consider balancing out any concerts or loud restaurants by adding quieter activities to your itinerary, like a yoga class or nature hike.
Watch out for moisture
Warm-weather vacations typically mean time spent at the beach or the pool, but moisture can spell trouble for hearing loss devices like hearing aids. Be sure to bring a headband or protective sleeve to help prevent moisture from getting into the device. It's also a good idea to pack a drying kit or dehumidifier to use in case your hearing aids do end up getting wet. Find more tips on caring for hearing aids while traveling here.
With these tips, you'll be sure to enjoy your warm-weather getaway and come back home refreshed and ready to take on the rest of the year!
For more tips on traveling with hearing loss, keep reading the CapTel blog!