Use these hearing loss tips for holiday travel and make your next trips a breeze.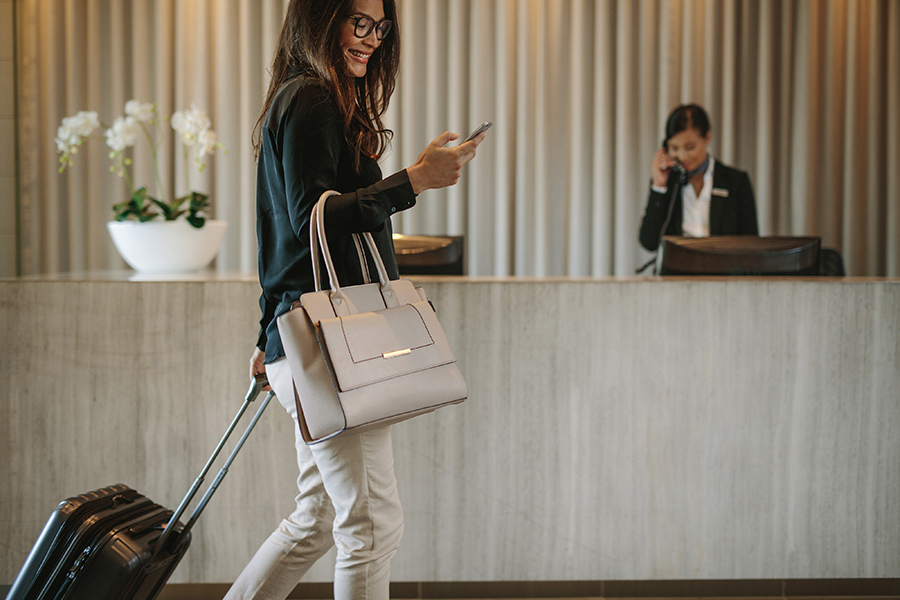 The holidays are popular times to travel, whether it's to visit family or escape to a warmer climate for a few weeks. And in many cases, holiday travel means booking a stay at a hotel! When you're traveling with hearing loss, there are some things to consider to ensure a smooth stay.
Here are five hearing loss tips for hotel stays to get you through without a hitch:
Reach out about accessibility beforehand
Bring your own alarm clock
Make sure you know their safety protocols
Plan ahead for swims or workouts
Pack your hearing care kit
Let's learn more about these hearing loss tips for holiday travel hotel stays!
Reach out about accessibility beforehand
Instead of trying to have a conversation in a loud hotel lobby with lots of guests vying for the staff's attention, visit the hotel's website or call ahead to find out about accessibility options. It's also a good idea to do this research before you book your stay so that you can choose the best hotel for your needs.
Here are some questions to ask when booking a hotel stay, from considerations like closed captioning on the TV to having a visual notification system for critical alerts. Many hotels offer a "kit" with hearing-loss related amenities, such as visual signalers or shake-awake clocks, for use in your room.
Bring your own alarm clock
Depending on your level of hearing loss, regular alarm clocks may not be enough to rouse you when needed. You'll likely feel more at home if you use your everyday system to wake up. That might be a sunrise alarm clock that simulates a natural wakeup at dawn or a bed shaker alarm that wakes you up by vibrating to shake the bed. You can also ask the hotel if they have alternative alarm systems to save you the extra space in your suitcase.
Either way, it's wise to have a plan to make sure you get a good night of sleep and wake up on time to make it to your holiday events.
Make sure you know their safety protocols
In the event of an emergency at the hotel, it's wise to make sure that you know what to do or what to expect. For example, are there staff trained in communicating with people with hearing loss? Are there visual or tactile alerts? What path should you take if you need to exit quickly? It's good to know the procedures ahead of time, so you don't have to worry about confusion in the moment.
Plan ahead for swims or workouts
Does your hotel have a gym or an indoor pool you'd like to use? Plan ahead for ear protection during these activities. Here are some tips to avoid swimmer's ear while you're using the pool, like wearing moldable earplugs and carefully drying your ears after you're out of the water and lounging on the chairs. Gym ear protection tips include keeping music at a low volume, taking out your hearing aids, and cleaning your ears afterward. Consider packing a sweatband, too, to keep sweat away from your hearing aids if you use them!
Pack your hearing care kit
If you wear hearing aids, having a little travel kit for your hearing aids or other listening devices is a wonderful idea, so you can just grab it and go when you're on the move. Here's more info on how to care for your hearing aids while traveling! Pack up extra batteries or charging cords, cleaning supplies, a storage sleeve, and a drying kit or dehumidifier. Keep all these things together in an organizer bag, and form the habit of always repacking them in the same place.
Now that you know the top tips for navigating hotel stays with hearing loss, don't miss our other hearing loss tips for holiday travel!