Spice up your holiday table with these creative projects.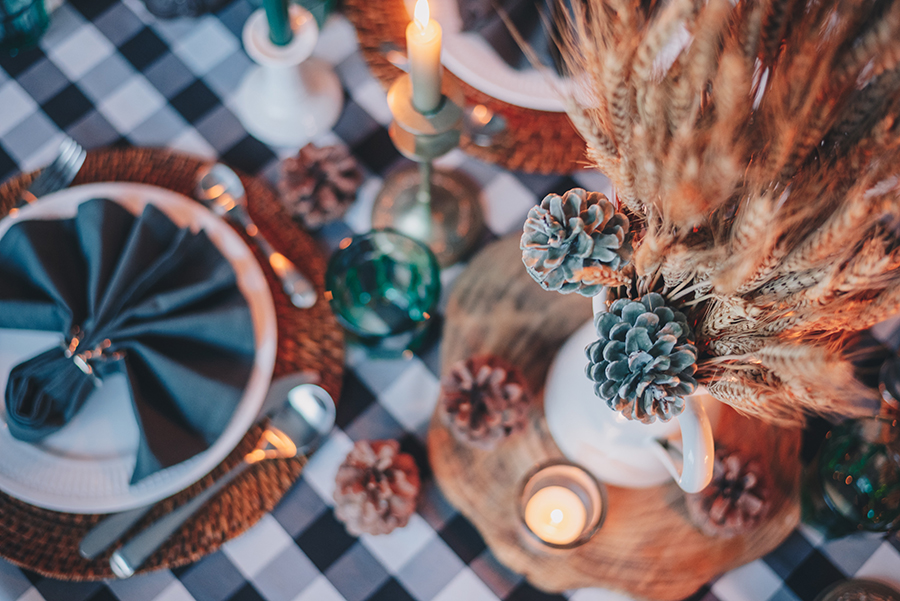 Are you hosting Thanksgiving dinner this year? There are so many fun ways to spruce up your home with festive crafts! Since the table is unquestionably the central gathering point of this holiday, these Thanksgiving table decor ideas are a great place to start.
Here are eight Thanksgiving table decor ideas to help you welcome family and friends to your holiday celebration!
Fall flower centerpiece
Pumpkin vase
Artsy cornucopia
Votive candles
Wheat stalk decorations
Mini pumpkin patch
Gourd & pinecone centerpiece
Handmade name placards
Let's look at how to create these Thanksgiving table decor ideas!
Fall flower centerpiece
Flowers add instant beauty and seasonal feelings to any celebration, and Thanksgiving is no different. Some of the most gorgeous fall flowers include chrysanthemums (aka "mums"), celosia, dianthus, black-eyed Susans, and more. Put on your florist hat for the day and learn how to arrange fall flower centerpieces!
Pumpkin vase
Now, you can put those gorgeous fall flowers into a regular glass vase —or you can take the "autumn" vibe to the next level by placing them inside a pumpkin vase! To make a pumpkin vase, you can choose between a fresh pumpkin or a faux pumpkin from a craft store. Of course, the fake option is less work since you'll have to scoop the guts out of the real kind!
Artsy cornucopia
The cornucopia is another eye-catching traditional vessel that's perfect for filling up with whatever arrangements your imagination can dream up! You can use colorful corn, flowers, leaves, fruits, paper crafts, and so on. Depending on how crafty you're feeling, you can buy a pre-made wicker cornucopia or fashion a DIY one yourself. Cornucopias are also known as "horns of plenty," so use them to show off all your favorite parts of a harvest bounty.
Votive candles
Dinner by candlelight (or with regular lights plus extra candlelight) immediately amps up the coziness. You may want to avoid any strongly scented candles until after the meal since smell is an integral part of taste, but unscented or gently scented candles can be gorgeous inside a themed autumn votive holder. Follow this video tutorial to make fall leaf votives, or choose one of these 12 pumpkin candle holder craft options!
Wheat stalk decorations
Wheat is another one of the traditional fall harvest crops that can be used in several fun ways to make Thanksgiving table decor ideas and other decorations around the house. Wrap it with ribbon and put it in a wicker basket, fashion a wreath, wrap wheat inside a DIY burlap vase for a "bouquet," etc.
Mini pumpkin patch
Pumpkin picking is one of the most beloved fall activities, so bring it to your table! Take the family to pick out everyone's favorite mini pumpkins. You can have everyone decorate their own, or arrange them on a tray or basket, or use real or faux moss and vines to fashion a realistic tiny pumpkin patch in the middle of the table.
Gourd & pinecone centerpiece
Pumpkins aren't the only type of gourd that matters in the fall! Check out this tutorial for a beautiful centerpiece that celebrates gourds, pinecones, and other natural elements like moss and berries.
Handmade name placards
Plan to assign seating? Make everyone their own name placard that could even turn out pretty enough to keep as a memory of the day! Browse through these 38 ideas, including walnut shell "ships," wood burned place cards, rosemary sprigs on the paper, printed leaf-shaped designs, etc.
With these Thanksgiving table decor ideas, you'll be ready to welcome your loved ones to a tasty spread to remember! Check out these healthy Thanksgiving recipes and tips for communicating with hearing loss during the holidays.