Prepare for your next medical visit with these six helpful tips.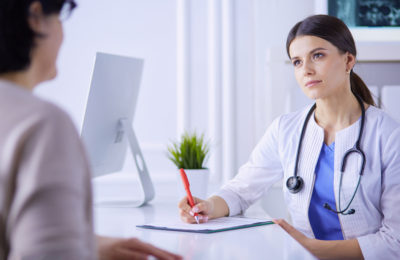 For most people, going to the doctor is routine at least once every year – and the data proves this to be true. Statistics from the CDC report over 883 million office-based physician visits in 2016. If you experience hearing loss and are looking for some advice on how to better navigate hearing loss at the doctor's office, review these helpful hints:
Schedule a visit online or use captions over the phone
Arrive early to share a communication plan
Bring a trusted hearing companion along
Ask for in-room accommodations
Tune your assistive listening devices
Seek assistance and understanding
Learn more about each of these suggestions before your next doctor's visit below.
Schedule a visit online or use captions over the phone
When it comes to scheduling a doctor's appointment, consider checking to see if you can book it online. Some providers have websites with built-in scheduling capabilities where you can enter a date and time, and they'll send an electronic message to confirm your appointment. Alternatively, they may have an email address or online messaging system where you can submit an appointment request.
If your doctor's office doesn't have online appointment capability, or you prefer to talk to someone over the phone, a captioned telephone may help. These telephones for people with hearing loss work by providing written captions of everything the other party says. You may also consider asking the person on the other end to speak slowly and clearly, and repeat any important information to ensure you heard it correctly.
Arrive early to share a communication plan
Arriving early for your doctor's appointment will give you time to communicate with staff and doctors about your preferred communication methods. You can even create a communication action plan (CAP) that includes any assistive listening devices you use, preferred accommodations, and any other services you need for your appointment. For instance, you can request a pocket talker, video remote interpreter (VRI), or simply inform them that you prefer written communication. You can also describe in your CAP how you'd like to be notified in the waiting room when it's time to see your provider. For example, ask the receptionist to come and get you from the waiting room instead of calling your name. Requesting a vibrating pager or a written note handed to you are other options you may want to consider.
Bring a trusted hearing companion along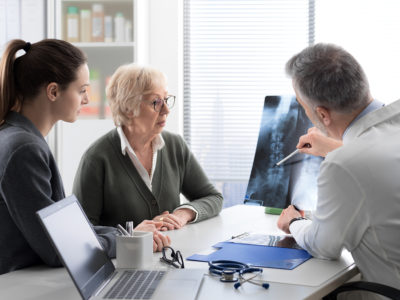 Another tip for how to navigate a doctor's visit with hearing loss is to invite a trusted friend or companion to come along. Your hearing companion can act as an intermediary between you and the staff at your provider's office, and help relay important information. They can also serve as a support role during any procedures and exams. When deciding who should accompany you, make sure you're comfortable with them knowing personal details about your health and wellbeing.
Ask for in-room accommodations
A quiet, well-lit room may make it easier for you to communicate with your doctor during your visit, particularly if you rely on visual cues and lip-reading. Consider requesting a room separate from a bustling nurses' station, laboratory, or patient check-in area. When walking to and from your exam room, ask to finish the conversation in a quieter environment. You may also consider providing any instructions needed on direct communication when you're in the exam room. For example, having your doctor speak clearly while facing you or keeping his or her mouth visible may be helpful hints you can give them.
Tune your assistive listening devices
If you wear hearing aids or other types of assistive listening devices, make sure to adjust the settings before your appointment for the best acoustic quality. If you're a new hearing aid user, check with your audiologist about the best settings for you. If you use a personal amplification system, request that your doctor wears the microphone for enhanced clarity of sound. While using an assistive listening device comes down to personal preference, some people find that they can help make it easier to navigate doctor's visits.
Seek assistance and understanding
This last tip for navigating a doctor's visit is a helpful reminder: you have a right to understand everything your doctor has to share about your health. If you didn't hear something correctly, don't hesitate to ask your doctor to repeat it, or even write it down for you. Consider reciting sentences back to your doctor to ensure you heard everything correctly. Lastly, ask as many questions as you need to help you understand your diagnosis, results, or recommendations. You can also request written information about your health record, medicines, or treatment options to further aid with your decision-making and understanding.
Looking for more ways to get the most out of your doctor's appointment? Check out this article from our blog.
These helpful hints on how to navigate hearing loss at the doctor can make it easier to prepare for your next medical visit. For more articles on hearing loss and hearing loss resources, head to our blog.
To learn how CapTel phone captioning technology can help you stay connected to friends and family, call 800.233.9130 today.