If you're looking to downsize or to join a senior community, here's how to find the right fit.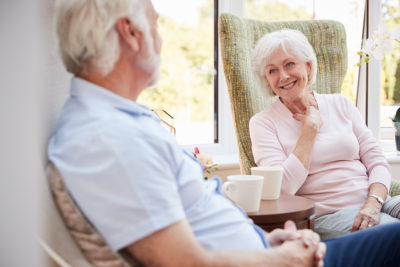 Whether you're downsizing, looking to join an active senior community, or simply searching for a new home, these tips for finding senior housing can steer you in the right direction. Whether you're home shopping for you or helping someone you care about, here are a few tips to help find the right fit:
Create a list of your needs
Narrow in on your ideal location
Take tours
Ask questions
Check out reviews
Get on the wait list
Consider future needs
Keep reading to learn how to find the best assisted or independent living option for you or someone you care about.
1. Create a list of your needs
This first tip for finding senior housing is to start by making an ideal list of services and amenities you'd like to have at your new home. This list can include elevators, security system, on-site home maintenance, as well as values like independence, flexibility, or a sense of community. If you have hearing loss, think about the accommodations you'd like your new home or community to offer, including FM systems, amplified or captioned telephones, or TTY equipment. Determining a new home wish list before you look around can help guide your senior housing search and help ensure you have access to everything you need and want.
2. Narrow in on your ideal location
If location and proximity to family, friends, or other conveniences matter to you, consider narrowing your focus to the geographic area where you would most like to live. Look for senior housing options in neighborhoods that complement your lifestyle, whether it has walking or biking trails nearby, being close to a library or art supply store, or is home to an active senior community that nurtures your hobbies and interests.
3. Take a tour of the spaces
Visiting potential housing properties will give you an up-close look at what it would be like to live there. While on-site, consider asking neighbors about their opinions about the community and ask to meet the staff that you would regularly encounter. Check out the living spaces, shared community spaces, and look for signs that may indicate whether this senior living home is right for you.
4. Ask questions
Before you arrive for your tour, consider preparing a list of questions that may influence your decision, such as:
What are the opportunities for social interaction and community activities?
Are there any additional fees or charges outside of rent and utilities?
What is the guest and pet policy?
What are the parking options?
How are maintenance emergencies handled?
Making a questions list in advance can help ensure you cover everything while you're on-site.
5. Check out reviews
If you're on the fence about a particular property or community, research what others have to say before you say "yes." Many senior housing facilities have online reviews and word-of-mouth testimonials from current and past residents that can help provide insights you may find valuable in the decision-making process.
6. Get on the wait list
Some senior housing options have wait lists that allow prospective residents to be first to know about available space at their facility. Since it is typically free to apply and get on a wait list, consider joining as soon as possible if you find a place you love. Even if you change your mind once space becomes available, most communities don't require you to commit if you change your mind during the waiting period.
7. Consider future needs
When finding senior housing that's right for you, think about your present situation – but also consider the future. Planning for later needs and life events now can help you choose a wonderful new home where you can make many happy memories for years to come.
These tips for finding senior housing can help make your search for a new home more enjoyable as you look forward to what's next. For more tips living your best life, discover these 31 ways to maximize your retirement life here.
To learn how a CapTel captioned telephone can help people with hearing loss stay connected to family and friends, call us today at (800) 233-9130.