Get whisked away by these spectacular romantic getaways for lovebirds.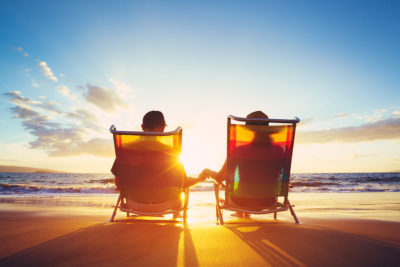 Historians believe that Valentine's Day originated in the 3rd century AD when two ancient Romans – both with the name Valentine – were honored after losing their lives on February 14 of different years. In the centuries that followed, the day was romanticized by wordsmiths like Shakespeare and Chaucer, paving the way for Hallmark's first mass-production of printed valentines in 1913. If the love- and chocolate-filled holiday has you thinking about jetting off somewhere dreamy with your sweetheart, here are a few hearing-loss-friendly romantic travel destinations you may enjoy:
Hawaii
Montreal, Canada
Napa Valley, California
Charleston, South Carolina
New York, NY
Keep reading to discover activities and accessibility options that might make these spectacular romantic getaways worth a visit.
1. Hawaii
For a taste of the Aloha spirit, head to the lush green landscapes and bright blue water of the breathtaking state of Hawaii. In addition to hitting the beaches or finding trails to hike, the islands feature many other hearing-loss-friendly activities you and your partner might enjoy. On Oahu, visit the Polynesian Cultural Center and request assistive listening headsets and reflective captioning devices. Or stop at Pearl Harbor where you can visit museums, memorials, and the USS Missouri Battleship. Captions and induction looping are available in the movie theater, and you can also request an Acoustiguide script for the Missouri Battleship Memorial.
Discover more hearing loss-friendly activities in Hawaii here.
2. Montreal, Canada
If a charming European feel – without the actual time and cost of a flight to Europe – sounds like your ideal romantic getaway, Montreal may be for you. Beyond wandering the streets and ducking into quaint cafes, hearing loss-friendly activities here include taking in history and culture at museums like the McCord Museum, which features audioguide headsets and visual signs. You may also enjoy touring the stunning architectural details and stained glass at the historic Notre-Dame Basilica, where an FM system is available.
For more hearing loss-friendly activities in Montreal and other Canadian cities, use the "Search for an Establishment" feature on Kéroul, a site that helps tourists find accessible things to do.
3. Napa Valley, California
Are you a couple of wine aficionados? Then Napa Valley may be a little slice of romantic heaven, thanks to its beautiful scenery dotted with hundreds of wineries. There are plenty of hotels with hearing-accessible rooms nearby including the Hilton Garden Inn and the Hampton Inn. If you want to treat yourself to a uniquely luxurious experience during your romantic stay, check out the ADA Suites at the Bardessono, which include portable hearing assistance devices.
4. Charleston, South Carolina
With its charming cobblestone streets, Charleston is a history-buff couple's ideal hearing-loss friendly romantic travel destination. This southern coastal city is mindful of the importance of accessibility—just look at this master list of the features offered at area businesses. Overlook the harbor from Waterfront Park, tour historic properties like Drayton Hall where you can ask for a written tour, or take a romantic stroll through many gardens and parks nearby.
5. New York City
If you and your sweetheart like the hustle and bustle of a city, then The Big Apple might be your kind of romantic getaway. Stop at the New York Botanical Garden, which provides assistive listening devices and transcripts of audio tours. The famous Metropolitan Museum of Art also has programs with captioning and assistive devices. And if you'd like to catch a show on Broadway, you can find accessible shows with features from handheld captions to assistive listening devices. On a warm day, pack a picnic with champagne or sparkling water for a romantic afternoon in Central Park.
Planning to travel to one of these hearing loss-friendly romantic travel destinations with another couple? Make travel planning with friends easier with a CapTel captioned telephone that can help you catch every word.
For more articles on traveling and living with hearing loss, keep reading our blog.