A vacation to Hawaii is an incredible trip. From the pristine beaches to the exotic fruit, every day will bring new, beautiful experiences and unforgettable memories. Whether you want to pack your itinerary with activities or plan to spend the majority of your time relaxing on the beach, there's something for everyone on these tropical islands.
Even if your priority is to enjoy some down time, having a few planned activities during your getaway can help ensure that you get the most out of your trip. When visiting Hawaii, make time for these hearing loss-friendly activities:
1. Polynesian Cultural Center (Oahu)
Spend the day learning about Hawaii's rich cultural history at the Polynesian Cultural Center. From noon to 6 p.m. daily you can visit authentic recreations of six villages, each representing one of the cultures of the South Pacific: Tonga, Tahiti, Hawaii, Fiji, Aotearoa and Samoa. Native people from each area demonstrate traditional music, art and games during the day and give visitors the opportunity to participate in the activities. If you're hungry, you can sample traditional fare at the luau held every evening before watching the "H: Breath of Life" evening show.
You can also enjoy a 14-minute film titled "Hawaiian Journey," an immersive experience that will even involve your sense of smell. Infrared assistive listening headsets and reflective captioning devices are available for the show. Request yours from an usher.
American Sign Language interpreters are available upon request. Contact the Guest Services & Reservations department at least one week in advance to arrange for this service.
2. Pearl Harbor (Oahu)
On the morning of December 7, 1941 – a day that will live in infamy – Japanese planes bombed the U.S. military base located at Pearl Harbor, Hawaii. Four U.S. Navy battleships were sunk and about 2,400 Americans were killed. The sunken U.S.S. Arizona remains beneath the crystal waters of the harbor. Today the site welcomes visitors to a campus that includes a number of must-visit sites, including the Pearl Harbor Museums, the USS Arizona Memorial, USS Missouri Battleship, USS Bowfin Submarine and Pacific Aviation Museum. If you're staying on another island, you can arrange a tour – with air transportation included – from Maui, Kauai or the Big Island.
The movie shown in the theater has English captions and an induction loop is also available for visitors who use hearing aids. AcoustiGuide script is additionally available for tours of the Battleship Missouri Memorial.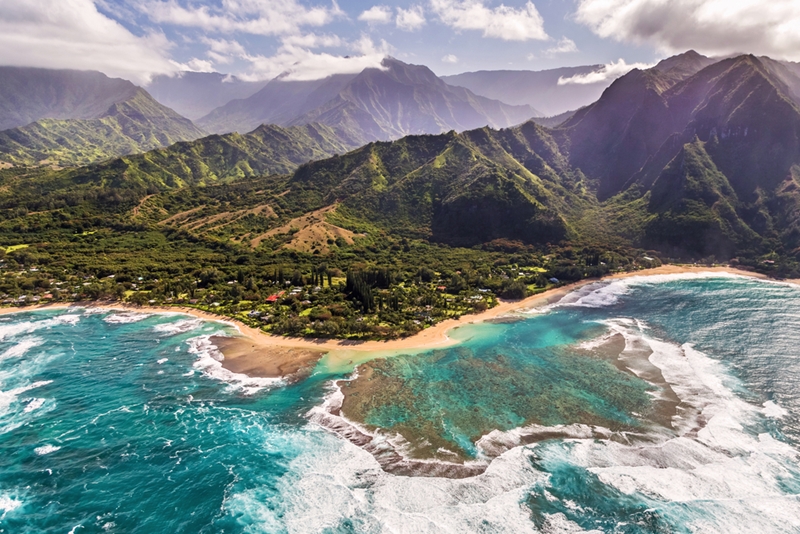 3. Waimea Canyon (Kauai)
If you're looking for the best views in Kauai, Waimea Canyon is a must see. This beautiful state park, nicknamed the "Grand Canyon of the Pacific," features plenty of hiking trails to explore and two outlooks: Puu ka Pele and Puu hinahina. The two lookout points have parking lots so you won't need to walk very far to enjoy the view, but you should still wear comfortable shoes and bring a water bottle to stay hydrated. Pack a lunch and take advantage of the picnic tables for an outdoor meal with a spectacular view.
4. Hawaii Volcanoes National Park (Hawaii)
There are five volcanoes on the island of Hawaii: Kohala, Hualalai, Mauna Kea, Mauna Loa, and Kilauea. While Kohala is extinct and Mauna Kea is considered dormant, Hualalai, Mauna Loa and Kilauea are still active today. The Hawaii Volcanoes National Park offers areas to camp, programs hosted by the rangers and guided hiking tours. You can also do a driving tour of Crater Rim or Chain of Craters Road if the day is hot and you want to enjoy the park from the comfort of your car.
Sign Language Interpreters are available to visitors. If you wish to use this service, you will need to contact the park at least two weeks in advance.
5. Maui Ocean Center (Maui)
Though you can see plenty of examples of the islands' marine life by snorkeling off the coast, to get up close and personal with some of the rarer species, you should visit the Maui Ocean Center. The center is the top rated aquarium in the state and home to more than 60 exhibits, including a 240-degree view acrylic tunnel that visitors of all ages will enjoy walking through.
Audio guides are available at the front gate for $3.