Kickstart your day with these nourishing smoothies!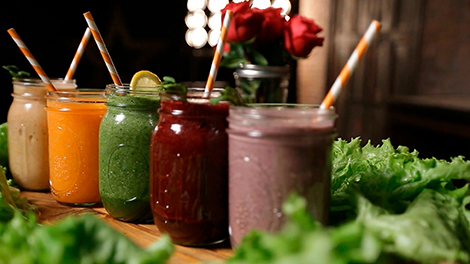 For many people, mornings are a rush. You're trying to get ready for the day and be on time — and while you know breakfast is important, sometimes you might not have the time to cook up an elaborate, healthy recipe. Smoothies are a perfect solution to get the nourishment you need in a tasty, drinkable package! Packed with fiber, vitamins, minerals, and antioxidants, a good breakfast smoothie can provide a healthy and energizing start to your day.
Consider these recipes for healthy breakfast smoothies to kickstart your eating habits the right way:
Green protein powerhouse
Peanut butter banana
Tropical mango
Chocolate raspberry
Matcha ginger
Caramel apple pie
Blueberry oat
Here's how to make each of these recipes for healthy breakfast smoothies.
Green protein powerhouse
This creamy and energizing smoothie is packed with antioxidants, healthy fats, and protein, making it ideal for a quick breakfast or pre- or post-workout pick-me-up. Use spinach, kale, or a combination as your primary green. Banana makes a great fruit base, but you could also use other fruits like mango or strawberry. Nut butter and protein powder join the party for healthy fats and protein. Finally, chia seeds help thicken everything up — and you can also add flax or hemp seed for even more protein and nutrition.
Peanut butter banana
Want a smoothie that tastes like a milkshake but is packed with nutrition? Peanut butter and banana are a nostalgic combination that might remind you of childhood. And making smoothies doesn't get much easier than this: you really just need banana, peanut butter, cinnamon, yogurt, and almond milk. For additional fiber, add a tablespoon of flaxseed.
Tropical mango
This smoothie recipe is like a vacation in a glass, with plenty of health benefits to boot! All you need to make the most basic version is banana, mango, and vanilla soy milk (which adds protein). Pineapple would also make a nice tropical-tasting addition, and you can always throw in a handful of greens if you like. If you want to amp up the anti-inflammatory benefits, try adding one tablespoon of freshly grated ginger and a spoonful of grated or powdered turmeric.
Chocolate raspberry
Chocolate fans, it's your turn — this smoothie tastes like a decadent treat but packs a healthy punch at the same time! A banana base makes it thick and creamy, raspberries add that sweet-tart zing, and chocolate protein powder and cocoa come in for the indulgent sweet-tooth satisfier. This kind of smoothie feels like you're living your childhood dreams of ice cream for breakfast.
Matcha green smoothie
For those mornings when you need a nice clean energy boost along with the nutrition, opt for this ultra-green smoothie recipe. Matcha is a form of powdered green tea with plenty of health benefits like boosted brain function and liver protection. Enjoy it in smoothie form by combining a tablespoon with greens, almonds, and a banana. Many people love the flavor combination of matcha and vanilla, so think about adding some vanilla extract or flavored protein powder too.
Caramel apple pie
Here's another one for the dessert lovers! This smoothie tastes like a sweet slice of caramel-drizzled apple pie, but with all the benefits of a healthy breakfast. Natural sweetness (and the caramel flavor) come from Medjool dates, while cinnamon, apples, and oats complete the delicious pie taste. If you want more protein and fiber, add one scoop of vanilla protein powder and a tablespoon of hemp or chia seeds.
Blueberry oat
Berries are the tiny unsung heroes of the fruit world: blueberries boast a ton of health benefits, from their sky-high antioxidant count to digestion-friendly fiber. And since this recipe contains oats, you're also getting all the benefits of oatmeal in a cold refreshing smoothie. Throwing in a handful of spinach or kale is always a bright idea: you're increasing your greens intake and can't even taste it.
These recipes for healthy breakfast smoothies offer a variety of flavors to fit any palate, and you can always feel free to customize them to your individual tastes. If you want to mix it up with your weekly breakfast menu, don't miss these seven quick and healthy breakfast ideas too!