These tips can help people with hearing loss start off strong at a new job.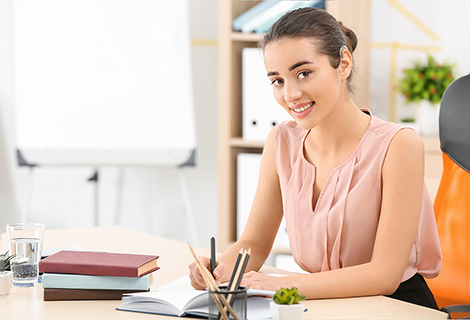 If you're starting work at a new company, congratulations! It can be so exciting (but also a little nerve-wracking) to start a new position. For people who experience hearing loss, there may be an extra layer of concern about how hearing loss may impact their new role.
Establishing hearing-loss friendly accommodations in your new workplace from day one can set the office expectations, and enable co-workers to help support you in your new role.
To jumpstart your work in your new position, check out these tips for hearing-loss friendly offices:
Share communication preferences
When you start a new position, you may have a communication system from a previous job that works well for you. For example, you may have a preference that most communication comes through email or that meeting agendas are written out. Share communication preferences with your managers and coworkers up front, to help ensure you get the information you need in an accessible manner.
If you don't already have a preference for communication in the workplace, take this new opportunity to try out a few different approaches to determine what works best for you and your team.
Check that your technology is accessible and right for the job
When you're working with hearing loss in various environments, make sure that your preferred technology is suitable for the job. For example, if your new job requires a lot of phone work, you may want a CapTel captioned telephone available at the office. Likewise, a voice-to-text app that works great for one-on-one conversations may not work well in a busy warehouse or retail environment with lots of background noises. If you use hearing aids, be sure to keep spare batteries available in your desk or locker.
Before beginning your new role, you may also want to check in with your employer to see which devices, if any, they can provide for you (like a CapTel captioned telephone for work calls).
Review what accommodations your company provides
Your company, in accordance with ADA laws, is required to provide you with reasonable accommodations for your hearing loss. Ask your supervisor or human resources manager what additional accommodations or assistance they're able to provide or have provided in the past to other employees with hearing loss. These accommodations can be very simple, such as arranging office furniture and lighting to allow for the best visibility, to more specialized such as providing interpeting services during group meetings. It is okay to advocate for yourself and tell your employer what you need; they are invested in your success as well.
Additional tips on working with hearing loss
Help educate your new co-workers right from the start, by asking them to face you directly or not cover their mouths when speaking. People are willing to help make communications accessible, they just might not know how. Part of interacting with your co-workers is helping them to do their part for effective communication.
There are so many ways to begin your new job on the right foot. Sharing your communication preferences, having the right technology, and advocating for yourself is a great place to start. Check out the CapTel blog for more tips on working with hearing loss and more.