Flex your crafting skills with these cozy, creative projects.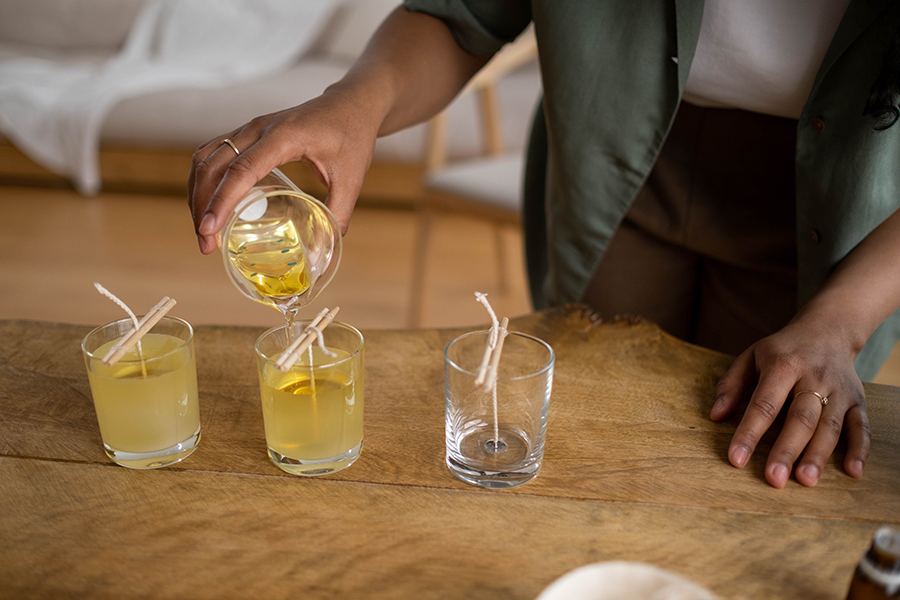 There's nothing quite like giving a thoughtful, practical holiday gift to a friend or family member — unless, of course, it's a gift you made yourself!
These craft ideas to give as gifts are all about having a warm and cozy holiday season, from warming up their space with candles to sipping on a delicious warm beverage. Whether you're totally new to handmade gifting or are a crafting pro, these ideas have something for everyone!
Try out one of these cozy craft ideas to give as gifts this holiday season:
Self-care essentials
Nifty knitting projects
Snuggly no-sew ideas
Baking mixes
Sips and simmers
Candles and wax melts
Centerpieces
Keep reading to learn more and get tutorials for each of these crafty gift ideas!
Self-care essentials
The holidays can be hectic — help your gift recipient relax with some DIY self-care supplies! You can give a handmade body scrub in a festive decorated jar, homemade bath bombs, or even holiday soaps if you're up for a bit of a crafting challenge!
Nifty knitting projects
Love to knit or crochet? Use your skills to create thoughtful, cozy gifts this season! Whether you're creating hats and mittens, a crocheted throw, or even coasters for warm drinks, there's something to make for everyone on your gift list.
If you're just starting out or want a needle-free project, try one of these easy chunky hand-knit blankets!
Snuggly no-sew ideas
There are plenty of fun fabric crafts you can create even if you don't have a sewing machine or aren't familiar with hand sewing! You can make a festive no-sew door draft stopper, a fleece throw blanket, fleece pillows, or one of these easy no-sew felt crafts for beginners.
Baking mixes
Give the gift of hassle-free baking this season with a pre-made baking mix in a jar! Choose from cookies, brownies, breads, mug cakes, or pancakes, layer the dry ingredients in a jar, add a festive label and include instructions on what the recipient needs to add to finish the recipe.
Sips and simmers
Another fantastic use for mason jars is to create a pre-made beverage mix your recipient can use to whip up a cozy drink in minutes! There are so many fun options for this project, including cocoa mix (try pairing this with a fun homemade chocolate spoon!), mulling spices for cider or wine, tea time in a jar, or even cocktails in a jar!
Not sure what type of beverage your recipient likes? You can also give the gift of cozy simmer pot ingredients to help fill their home with the scents of the season.
Candles and wax melts
If you have time for a slightly more hands-on project, candles and wax melts are a fantastic way to flex your creativity and help warm up the recipient's home with delicious, cozy scents. You can make your own candles with essential oils and pour them into a festive vessel like a mug or decorated jar. If you know the person you're gifting to has a wax warmer, consider creating homemade holiday wax melts for all of the great smells of a candle without the hassle of placing the wick!
Centerpieces
Looking for some craft ideas to give as gifts to the host or hostess in your life? Create a handmade centerpiece to help spruce up their holiday table! There's a centerpiece project out there for every skill level, from upcycling an old cake stand and mason jars, to flexing your woodworking skills on handmade candle holders.
For more fun holiday tips and tricks, keeping reading the CapTel blog! If someone on your gift list this year has hearing loss, check out our gift recommendations just for them!