Get the most out of your group fitness experience with these suggestions.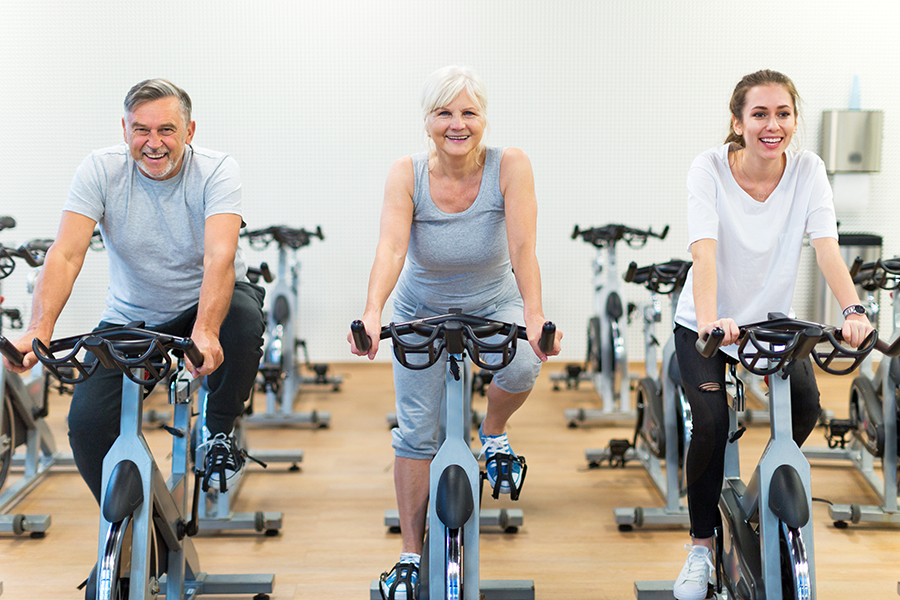 Group fitness classes are a great way to get moving, stay motivated, and meet new people! Whether you're trying a spin class at a local cycle studio, strength training at a neighborhood gym, or senior-focused fitness courses at the YMCA, there's something out there to enjoy for everyone.
If you've never tried a group fitness class before you might have some questions, or potentially feel nervous about working out with others for the first time. But don't worry! With these tips for group fitness classes and a supportive instructor, you're sure to have a great time.
Our tips for group fitness classes include:
Researching what the class will be like
Arrive early for your first class
Call ahead to ask questions
Start with modifications
Focus on you
As with any new exercise routine, please check with your doctor before joining a group fitness class to make sure it's a good fit for your health situation.
Let's learn more about each of these tips below!
Researching what the class will be like
If you've never attended a group fitness class before, you might not be sure what to expect. Whether the activity is one you've done on your own or a type of exercise that's totally new to you, it can be helpful to research the class and what might go on during it before you go. Will there be a warm-up and cool-down? Should you bring your own mat or other equipment? How many people are typically in a class? A bit of online research should be able to tell you all of that and more!
Arrive early for your first class
Your first visit to a group fitness class should be a relaxing or reinvigorating experience. Help ensure that by showing up to class a few minutes early! This gives you time to ask the instructor any questions you have, stake out your spot, fill your water bottle, and grab any equipment needed. By not rushing in at the last minute, you'll be able to start the class off relaxed and ready to go!
Call ahead to ask questions
If you have a pressing question about the class that you can't find an answer to online, don't be afraid to call the studio or fitness center to ask! The staff will likely be knowledgeable on most of the basics of the class, but if there's something they don't know, they'll also be able to get in touch with the instructor for you.
Start with modifications
If it's been a while since you've worked out or you're trying a type of activity you've never done before, don't start out too intensely! Use lighter weights, pace yourself, and start with any modified movements or positions the instructor might suggest. This will help you ease into the new activity and help you bounce back from any muscle soreness quicker, so you're ready to go the next time you attend class.
Focus on you
If you haven't worked out with other people before, or it's been a while, you might be nervous about what other people might think about your abilities. But don't worry! Chances are, everyone else in the class has had those worries at some point. And at the end of the day, people will be focused on themselves and their workout, so just focus on you and the fact that you're doing something great for your body!
Want more wellness and fitness information for older adults? Keep reading the CapTel blog!