There's a podcast out there for every interest and hobby!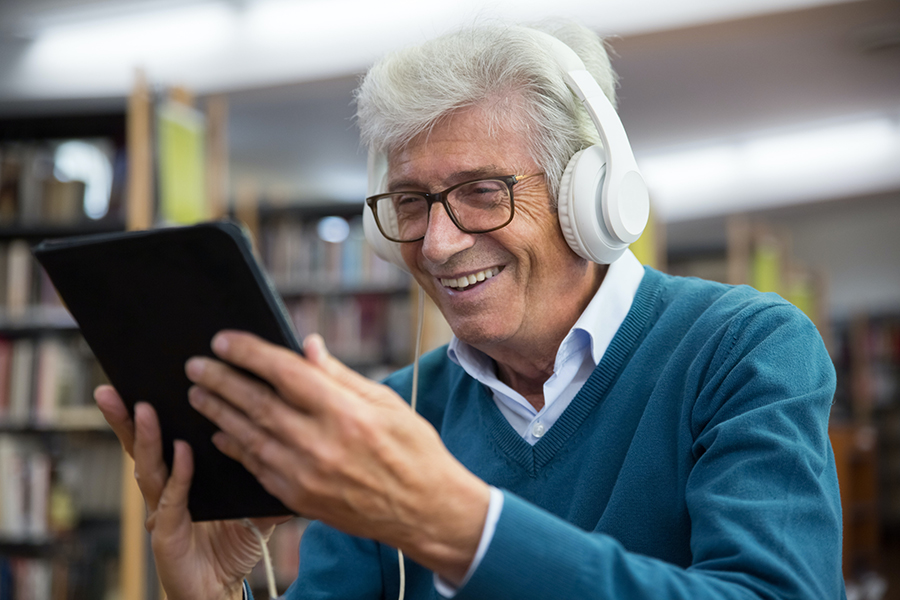 Podcasts are essentially the new radio! You can find podcasts for seniors in just about any topic you're interested in: world news, history, finance, health and wellness, entertainment, and more. There are serious topics and comedy, true stories and fiction, podcasts to help you learn a new skill or fascinating information about your favorite hobbies, and much more.
While your interests will determine your personal favorite podcasts, the best way to find them is by experimenting with a wide range! Here are seven exciting podcasts for seniors to try out:
The Daily (news)
This American Life (true stories)
Baby Boomer Tales (nostalgia)
Stuff You Missed In History Class (history)
Freakonomics Radio (socioeconomics)
Natural Meditation (mindfulness)
Have You Heard? A Listening Project (hearing loss)
Understandably, people with hearing loss have previously shied away from podcasts. But now producers are now making their podcasts more accessible to people of all hearing levels, including posting written transcripts to accompany the podcast. Listening options have improved as well, with headsets or hearing aids that can connect directly to an audio device.
Learn more about these podcasts for seniors and what they cover below. You can listen to podcasts on Spotify, Apple Podcasts, Google Podcasts, or any other platform of your preference.
The Daily (news)
Do you ever wish you could just hear the most important news of the day in one bite-sized package? With The Daily podcast by the New York Times, you can! The Daily offers just one short episode a day catching you up on the biggest stories in global news — without hearing the same stories repeated over and over as they can be on television news.
This American Life (true stories)
If you've never listened to podcasts before, this is a great option to start with. Our fellow citizens of the United States and the world have so many interesting experiences and stories that we would never hear about without podcasts like this!
In each episode, This American Life collects stories that match a certain theme — maybe it's extraordinary coincidences people have had, situations when everything seemed to go wrong, or memories from summer camp. They weave these stories together in a relatable way that will make you feel more connected to your fellow humans than you did before.
Baby Boomer Tales (nostalgia)
Do you know the feeling of getting together with an old friend and reminiscing on an earlier era of your life? It's always fun to revisit the past in the company of someone who grew up at the same time and has overlapping memories. That's what this podcast is all about: a warm walk down memory lane, back to the time of summer jobs and comic books. This is the quintessential podcast for seniors!
Stuff You Missed In History Class (history)
This podcast could also be called "stuff they didn't teach you in history class," depending on how thorough your classes were! Learn about all kinds of strange stories from days gone by and meet colorful characters whose names you've never heard. Ever wondered about the invention of the dishwasher? Do you find shipwrecks fascinating? We've all heard of Ponzi schemes, but who was Charles Ponzi? Explore all this and more!
Freakonomics Radio (socioeconomics)
Many people don't realize just how much economics impact everyday life. Freakonomics dives into the connection between economics and everything else, from where we live to who we marry, from air pollution to the rise of cryptocurrency. Along the way, you'll learn tidbits about current events (or historical ones) to understand the forces shaping our reality behind the scenes!
Natural Meditation (mindfulness)
We've written before about how good meditation can be for your health. Now, this podcast can help you reap those benefits! Many people enjoy following along with a guide as they meditate, and there's no one better than podcast host Stephan Wormland, who has a master's degree in psychology plus more than 30 years of experience with meditation. He mixes guided meditation sessions with practical discussions about mindfulness. It's accessible to everyone, from beginners to beyond!
Have You Heard? A Listening Project (hearing loss)
Since so many people deal with hearing loss as they age, it's important to have podcasts for seniors covering this issue. OEI's podcast features stories and practical advice on living with hearing loss. Whether it's adjusting and accepting when you first learn you have hearing loss, making accommodations for traveling, or advocating for yourself, this podcast has a lot of useful information to share.
If you live with hearing loss, the idea of listening to podcasts might not seem so simple! Check out these tips for listening to podcasts with hearing loss to make sure you get the most out of all these excellent podcasts for seniors.