Meet other older adults with these fun social activities.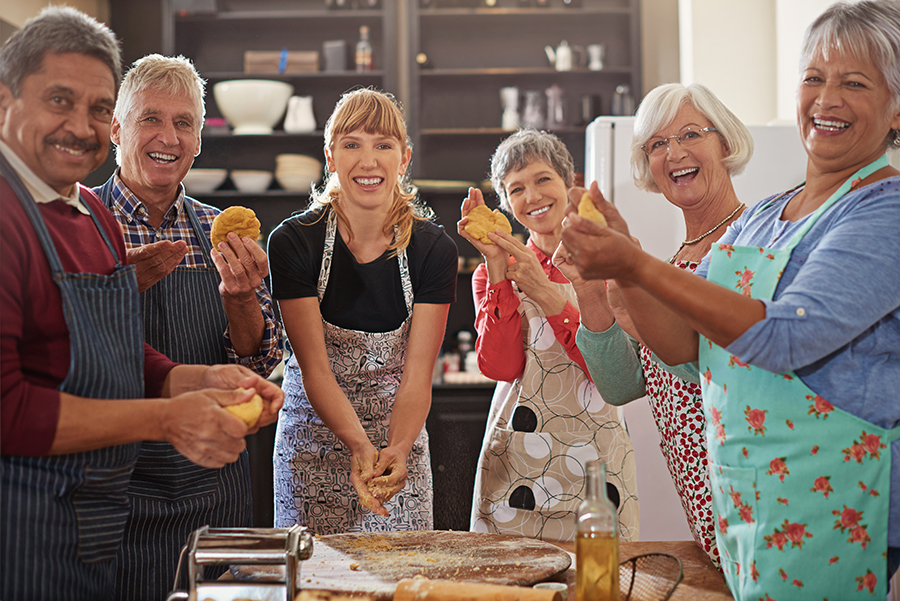 Did you know that July is Social Wellness Month? It's a great month for it — the sun is shining, the weather's warm, and people tend to be in a good mood. This is a time to celebrate the people around us and engage socially to add new connections to our circles. Staying social enriches our lives and can even be good for our health!
Meeting new people as adults usually takes some intentional effort, but that doesn't mean it can't be fun! Here are some of our favorite fun ways to meet new people:
Join a volunteer organization
Take an adult education class
Exercise at a gym or studio
Find a group sharing your hobbies
Garden at a community plot
Travel with a group
Host a "bring-a-friend" potluck
Check out all these fun ways to meet new people below!
Join a volunteer organization
What better way to meet kind, caring people than by volunteering to help others? You could volunteer at a soup kitchen, join your local Rotary club chapter, work with a nearby charity, and more. Check out our article on ways to be charitable!
Take an adult education class
Some of the most interesting people are the ones who are endlessly curious about the world and love to learn. Connect with them by pursuing your own learning passions! Learn a new language, experiment with art or music, explore a new cuisine with a cooking class, take a history course in an era that interests you, and more. Classes can help keep your brain active and allow you to socialize all in one.
Exercise at a gym or studio
Do you feel more motivated to stay active when you're not doing it alone? Totally normal! Join a Zumba or kickboxing class, yoga studio, swimming or water aerobics group, spinning class, or any other kind of group workout program that appeals to you. A little music and energetic company is the perfect recipe for staying fit and making connections with active folks in your area. As always, check with your doctor before beginning any new exercise regimen.
Find a group sharing your hobbies
What things do you love to do? Maybe you go on day hikes, read classic literature, enjoy board games, play an instrument, enjoy woodworking — the options are endless! And equally endless are the groups of people who would love to share those activities with you. To find them, check bulletin boards at your local library or community center, or ask friends if they know about a book club, board game group, etc. You can also try a search online on a site like Meetup.com!
Garden at a community plot
Do you have plenty of experience gardening in your yard? Then you'll make a great asset to a community garden! Each garden is organized a little differently. You may have your own plot to manage, or the whole garden might be communal. The produce might be shared equally among participants, or you might collectively decide to donate some. No matter how it works, you'll meet new people and reap the health benefits of gardening along the way!
Travel with a group
Have you always dreamed of seeing the world and learning about different cultures? Retirement is the perfect time to plan those long-awaited trips! You'll make lifelong friends by going with a group and sharing incredible memories. Here are some tour group travel tips for people with hearing loss.
Host a "bring-a-friend" potluck
One of the best fun ways to meet new people is to turn all those "friends-of-friends" into friends of your own! Invite your friends to a backyard potluck and ask them all to bring someone you don't know. Gatherings like this help combine everyone's tiny circles into one big friendship circle!
With old and new friends, it's important to keep in touch regularly to keep your connection strong. That's never been easier for people with hearing loss, thanks to the power of captioned phone technology.
Now that you have learned fun ways to meet new people, learn how CapTel works and explore our line of captioned telephones here, so you can turn your new connections into friendships that last for years.