Enjoy some friendly competition and fresh air with these fun games.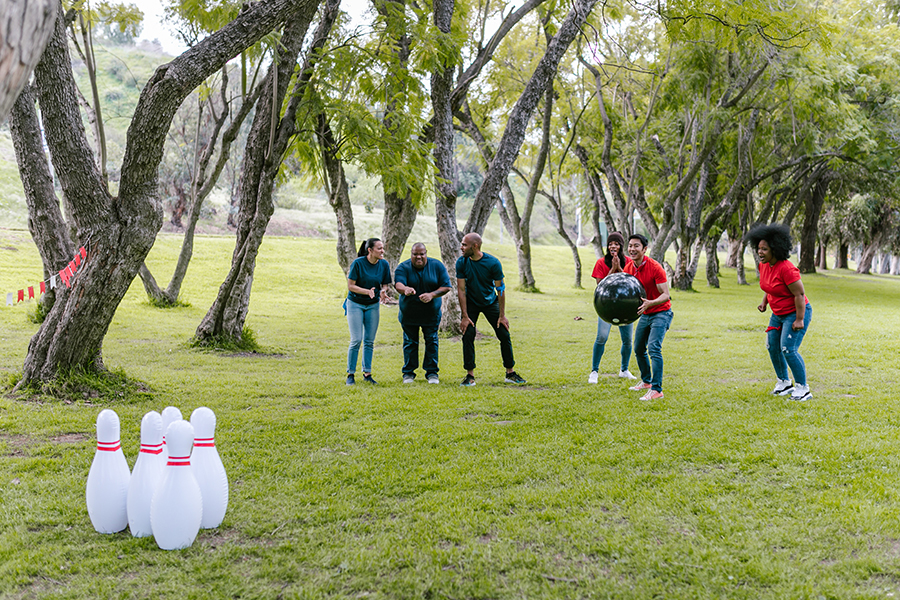 With the season of picnics, BBQs, and summer holidays quickly approaching, it's time to brainstorm some fun outdoor game ideas to keep guests entertained at your next gathering. You can always go with the classic bean bag toss or game of badminton, but there are also a lot of creative outdoor game ideas you may not have tried before!
Let's check some of them out:
Giant Jenga or chess
Water balloon dodgeball
Outdoor obstacle course
DIY dunk tank
Whiteboard Pictionary
Bocce ball
Lawn Twister
Here's how to turn these awesome outdoor game ideas into reality!
Giant Jenga or chess
Investing in a giant lawn game will help you delight your guests for many summers to come! You can buy a giant Jenga set or even woodwork your own if you have the available tools and skills. You can also find huge plastic chess pieces on a mat-style board for those who love a battle of the minds. Try searching the internet to see if big versions of your other favorite games exist — you'll find yard dice, bowling, enormous decks of cards, and much more!
Water balloon dodgeball
On those hot summer days when everyone's packing their swimsuits, turn the traditional water balloon fight into organized dodgeball! Check out some rule suggestions here.
Outdoor obstacle course
Are your family and friends fans of shows like American Ninja Warrior? Give the people what they want with an outdoor obstacle course! You may be able to rent an inflatable obstacle course or get creative and build your own. Just remember to be safe, and don't make the course too tricky if you're trying to design a kid-friendly one.
DIY dunk tank
With the help of a five-gallon bucket and a few hands-on skills, you can make your own DIY dunk tank with a variety of methods. Then, as you play some of these other outdoor game ideas, you can send whoever loses to the dunk tank!
Whiteboard Pictionary
Pictionary is popular as a classic indoor game, but it's even better out in the fresh air and sunshine! Just bring out a whiteboard and markers (or blackboard and chalk) and your regular Pictionary board and cards to show off your artistic skills (or hilarious lack thereof) at your party.
Bocce ball
This is an often-forgotten lawn game that's easy and fun! Whether as single players or in teams, players take turns throwing their bocce balls towards a smaller target ball. Here are more detailed bocce rules with pictures to go with them!
Lawn Twister
Bring back the 90s and get some great stretching in at the same time! With the help of lawn paint and a circle stencil, you can make an outdoor twister board that will get everyone laughing.
While you're out enjoying these creative outdoor game ideas throughout the next few months, make sure to do it safely! Check out these summer weather safety tips next.