Enjoy the great outdoors with these suggestions.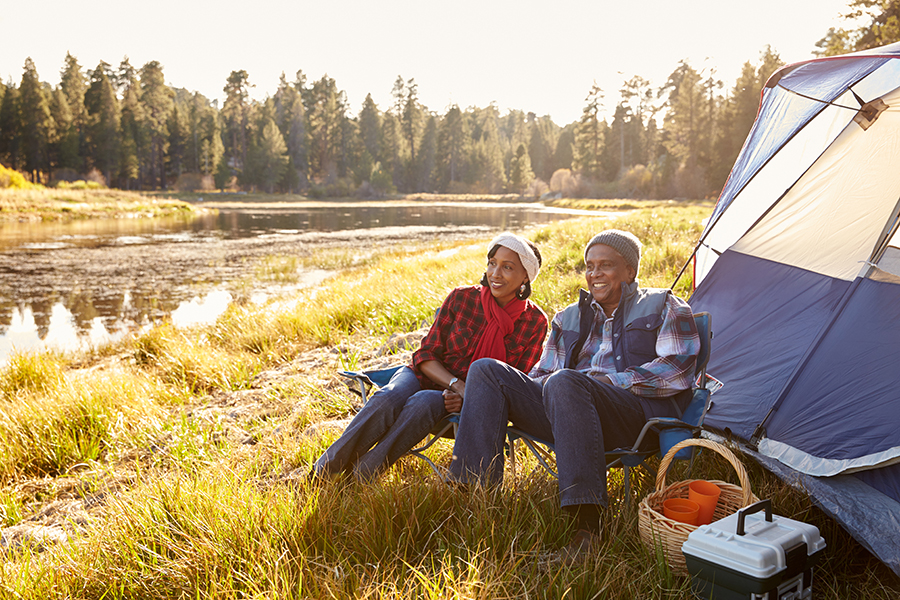 Camping can be a great way to enjoy the great outdoors, spend time with family and friends, and enjoy the sights and sounds of nature. Of course, camping as an older adult may look a little different than it did when you were younger.
Now that we're older and wiser, it's worth keeping in mind these camping tips for seniors and investing in a few comforts to enhance the experience.
Start your planning with these camping tips for seniors!
Invest in a tall pop-up tent
Bring an air mattress and a warm sleeping bag
Pick a family-friendly campground
Don't forget to pack meds and equipment
Cover your bases with sun protection
Plan for the weather
Pack some different things to do
Consider upgrading to an RV
Keep reading below to plan a camping trip with memories you'll enjoy for a long time to come!
Invest in a tall pop-up tent
It's nice to have a tent that you can move around in! Hunching over to fit in a small tent can make you feel unstable or stiff. If you anticipate using it often, investing in a good-quality tent that's tall enough to stand in will pay off. Pop-up tents are easy to set up and pack away, which can simplify your experience.
Bring an air mattress and a warm sleeping bag
No more sleeping on rocks and cold ground! When it comes to tent camping tips for seniors, finding a comfortable way to sleep is one of the most important. Try shopping for a self-inflating air mattress for an easy setup. Even in the summer, nights can get chilly when you're camping, so add a well-insulated sleeping bag to your equipment list. You can never go wrong with extra pillows and cozy blankets too!
Pick a family-friendly campground
Usually, campgrounds that cater to families focus on being quiet and safe. You might even be able to find campgrounds that specifically advertise for 55+ travelers. This should help you avoid "party" campgrounds where your sleep may be disrupted. Look for campgrounds that have electric hookups, good bathrooms, and spacious campsites. Read reviews before booking to see if other seniors have shared their experiences.
Don't forget to pack meds and equipment
If you take medication or use equipment like hearing aids or assistive listening devices, those should be at the top of your packing list! Here are some things to pack when traveling with hearing loss.
Cover your bases with sun protection
When you're camping, the point is to spend lots of time outdoors — so plan accordingly! Bring enough sunscreen to use for multiple applications per day throughout your trip. A wide-brimmed hat, sunglasses, and breathable long-sleeve shirts and pants will also help.
Plan for the weather
When you're booking a campsite ahead of time, you can't know what the weather will be like until the trip is coming up! Keep an eye on the forecast, and don't be afraid to cancel if there's a heatwave or storm on the way. If you expect just a light drizzle, you can get away with packing a raincoat and umbrella. Napping in a tent with rain falling is relaxing too!
Pack some different things to do
Hiking, bicycling, swimming, or kayaking might be on your agenda while camping — all classic summer activities! But don't forget to build in some time to relax and recuperate. Pack a good book or two, a deck of cards, a hammock, and other things to keep you entertained when you aren't out and about.
Consider upgrading to an RV
RVs are popular among senior travelers for a reason! If you have dreams of traveling the country and seeing the beauty it has to offer, an RV lets you do it in comfort and style. You'll always have a comfy place to sleep, and maybe even a bathroom and kitchen depending on the model you buy or rent — what could be better? If you have the budget for it, this is one surefire way to upgrade your camping experience.
If you experience hearing loss, check out these tips for camping with hearing loss next! For those who use hearing aids, follow these steps to care for your hearing aids while traveling.