Make your tablet or smartphone even smarter with these apps.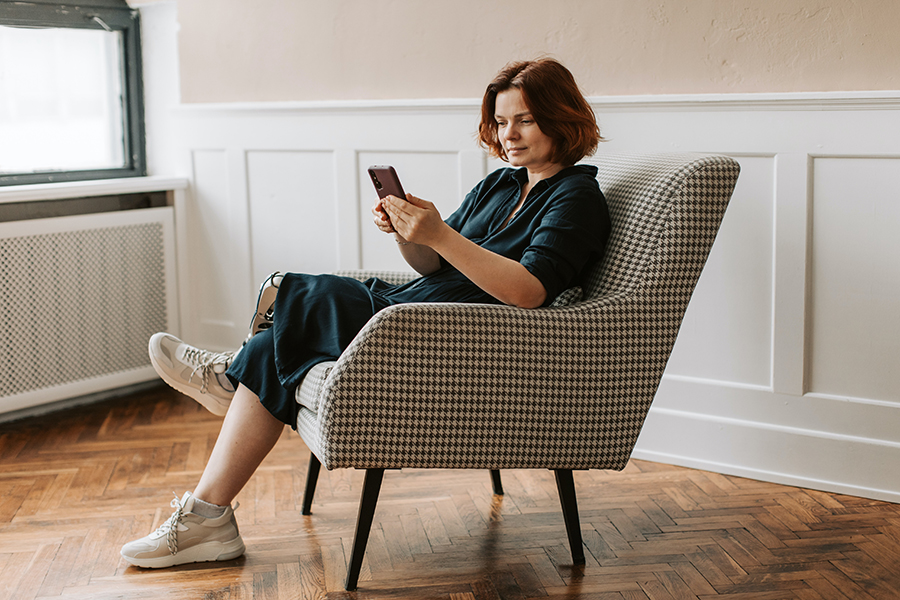 Thanks to rapidly advancing technology, there are more tools than ever to help navigate the world with hearing loss — especially if you have a smartphone.
Here are a few of the top hearing loss apps for your smartphone or tablet to help with everything from enjoying movies and TV shows, to holding conversations, and more!
Hamilton Mobile™ CapTel®
Volume Boost
Subtitle Viewer
Google's Live Transcribe
Sound Alert
Chatable
Ava
Read on to learn more about these great hearing loss apps.
Hamilton Mobile™ CapTel®*
The Hamilton Mobile™ CapTel® app gives you the same captioning technology you enjoy on the CapTel captioned telephones, right in the palm of your hand! The app shows you word-for-word captions of everything the other party says on your smartphone display, whether your call is incoming or outgoing.
Volume Boost
These straightforward apps increase the volume of your phone or tablet and adjust volume levels specific to each ear. The apps work best when paired with headphones while listening to music, audiobooks, and podcasts. Versions of this app are available for Android and Apple phones.
Subtitle Viewer
Subtitle Viewer is designed to make enjoying movies and TV shows easier by displaying subtitles on your mobile device. The app allows you to download captions to a movie or TV show, then displays the captions on your mobile device, following along with the audio while you watch.
Live Transcribe
Google's Live Transcribe app can help make everyday conversations easier to follow for those with hearing loss. This app uses automatic speech recognition to transcribe conversations into text in real-time, and includes features such as setting your phone to vibrate anytime your name is mentioned, allowing you to add custom words, and even storing previous conversations for up to three days.
Sound Alert
This hearing loss app allows you to record household noises and set up visual notifications and vibrations through your phone to alert you to sounds around your home, such as the doorbell, microwave timer, smoke alarm, intercom, and security alarm. Sound Alert is available for both Android and Apple phones.
Chatable
If you've ever been in a noisy environment and wished you could dial down the background sounds, Chatable can help make it possible! The app, for use with Bluetooth earbuds, wired headphones, or MFi hearing aids, removes background noise and provides clear, loud speech. You can find this app in the Apple app store.
Ava
Ava converts dialogue to text on your smartphone or tablet and can be used over the Internet (for instance, on a Zoom or Microsoft Teams meeting) or for in-person meetings and discussions. Options are available for business use or for individuals to use on their Apple or Android phones.
Keep reading the CapTel blog for more helpful hearing loss tips and technology updates!
*Voice and data plans may be required when using Hamilton CapTel on a smartphone or tablet. Hamilton CapTel may be used to make 911 calls but may not function the same as traditional 911 services. For more information about the benefits and limitations of Hamilton CapTel and Emergency 911 calling, visit HamiltonCapTel.com/911.