Shake up your normal holiday cooking routine with these delicious healthy holiday recipes.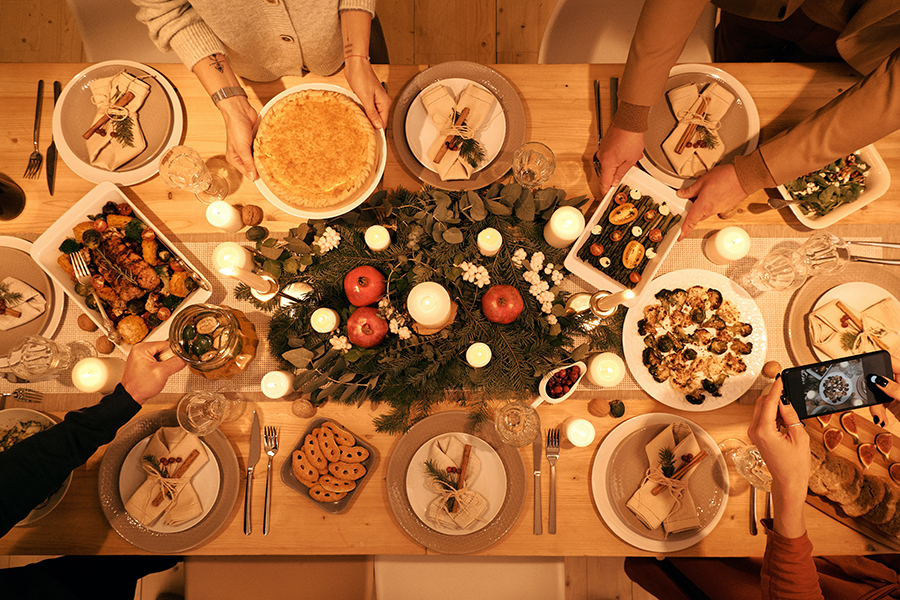 Holiday food that tastes amazing and is actually good for you isn't too good to be true! Take a peek at these delicious healthy holiday recipes and see for yourself. With these, you and your guests can happily go back for seconds without feeling over-stuffed after the meal.
Stuffed acorn squash
Flavorful roasted veggies
Mashed sweet potatoes
Wild rice stuffing
Low-sugar cranberry sauce
Lemon-garlic green beans
Healthy pumpkin pie
Cinnamon apples
Let's dive fork-first into these eight delicious healthy holiday recipes!
Stuffed acorn squash
Acorn squash makes such a beautiful, festive entree for the fall and winter holiday season. Bake the acorn squash halves with olive oil, salt, and pepper, and stuff it with your veggie-forward filling of choice. The linked recipe uses mushrooms, walnuts, tempeh, herbs, and cranberries, but you can also wing it with your own fillings! Squash is good for the eyes, skin, and even your mood.
Flavorful roasted veggies
Roasted veggies should always be on the menu for a deliciously healthy holiday meal! There are so many different kinds you can make. The medley in this recipe features brussels sprouts and carrots front-and-center, flavored with tangy balsamic vinegar and mixed with pecans and cranberries.
Mashed sweet potatoes
Sweet potatoes are a little healthier than white potatoes due to their lower glycemic index and increased concentration of vitamins. Instead of overwhelming the mash with additional sweetness from brown sugar or marshmallows, this recipe balances the natural sweetness with the savory flavors of garlic, rosemary, salt, and pepper.
Wild rice pilaf
Got someone gluten-free attending the meal, or just want to mix it up for curiosity's sake? This wild rice pilaf stuffing makes a delicious and healthy holiday recipe alternative! Wild rice is heart-healthy and rich in protein and fiber.
Low-sugar cranberry sauce
Canned cranberry jelly from the store is often packed with sugar and light on nutrition. When you make your own, you get to control what goes into it! This version is naturally sweetened with maple syrup, and orange zest adds an extra tangy pop of freshness. Cranberries are considered a superfood due to their high antioxidant content. They can also help protect against heart disease, cancer, and even dental problems!
Lemon-garlic green beans
Traditional green bean casserole is smothered in heavy canned soup and fried onions — so even though a veggie is in the name, it's not always the healthiest thing you can eat (although it is delicious)! If you're looking for a fresher, healthier way to feature green beans, try this lemon-garlic sauteed bean recipe. Green beans are high in fiber, calcium, folate, iron, vitamin K, and more!
Healthy pumpkin pie
Even the dessert menu has plenty of delicious healthy holiday recipes to choose from! This pumpkin pie is low in added sugar, and canned coconut milk makes it extra creamy and smooth. Flaxseed and oats join the mix for heart benefits! Check out the health benefits of pumpkin here.
Cinnamon apples
For one final sweet, cozily-spiced treat before taking that post-dinner nap, there's no better choice than stewed cinnamon apples. Add nutmeg, ginger, and coconut sugar to round out the flavors. It's like apple pie, but without the refined flour, sugar, and fat of the crust.
Once you have your menu planned, it's time to think about the decor! Check out these suggestions for holiday crafts and centerpieces.